'About A Boy' Is Changing & That's OK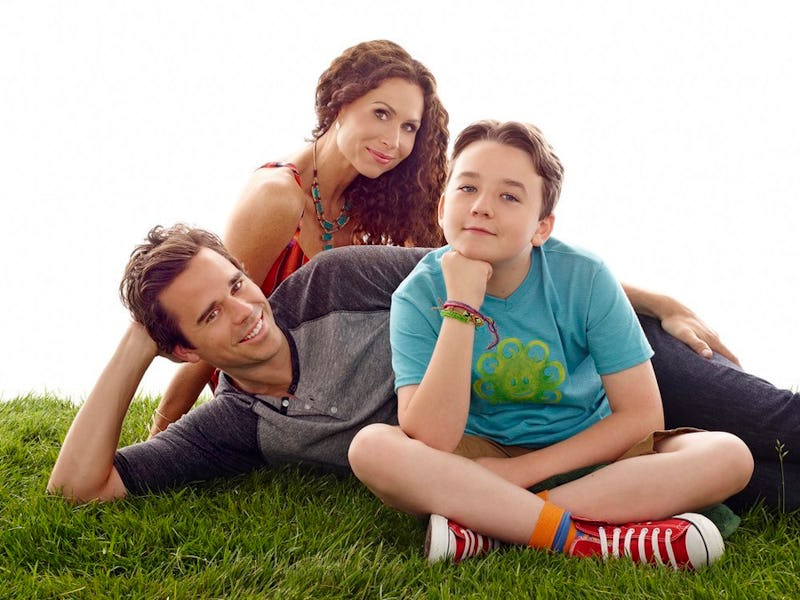 Jason Katims may be best known for such tearjerking dramas as Friday Night Lights and Parenthood, but he proved just as adept with comedy when he premiered About A Boy on NBC last year. As a midseason replacement show based on a Hugh Grant movie most people stopped thinking about 10 years ago, there was every reason to believe that Boy would be a nonstarter and wouldn't live past one season. But I've learned my lesson — never bet against Katims — because not only was Boy the best new comedy of the 2013-'14 season, but it defied expectations by earning a Season 2 renewal.
But now that the show is about to embark on its second batch of 13 episodes, the question must be asked: how much more material can Katims plumb from a single 105-minute movie? (Or the 278-page Nicholas Hornby novel on which the film is based?) Fortunately, Katims' Boy has never been a strict adaptation of the 2002 film or the 1998 novel; in the way that Bryan Fuller's Hannibal (also on NBC) distorts and blends the Thomas Harris novels into a configuration, so does TV-Boy rework Hornby's material into easily digestible 30-minute chunks.
Remember, the Hugh Grant film climaxed with Will coming to Marcus' rescue by helping him sing a song at the school talent show. This is how the first episode of the show ended, so no matter what else happens between now and the series finale, Katims will at least have to come up with a new ending.
The fact that the show condensed almost the entire plot of the film into one half-hour episode means that Katims is free to explore original plots with the rest of his series. And while plenty of the show has been brand new (like Michael Bublé, slopmasters, and rib chutes), Katims has also taken to plucking out specific plot points from the film not included in the pilot's Sparknotes version of events.
The biggest example of this is Will's wooing of Dr. Samantha Lake (FNL alum Adrianne Palicki), a more mature relationship that Will is capable of thanks to experiences with Marcus (Benjamin Stockham). This is the show's version of Will's relationship with Rachel (Rachel Weisz) — although Rachel and Sam themselves are very different. Sam is a young professional in a state of transition; Rachel is a career woman already raising her own teenage son. The film ended with Will fully committed to making things work with Rachel; on the show, Will's partnering with Sam feels like nothing more than a stop-gap on his way to a relationship with Fiona.
Speaking of Fiona, her character is probably the biggest difference between the film and the show. As portrayed in the movie by Toni Collette, Fiona was a depressed single mother who attempted suicide and frequented support groups. As portrayed on the show by Minnie Driver, Fiona is a down-to-earth, confident hippie. Yes, she's occasionally sad, but it's nothing like movie-Fiona's serious depression and self-harm. The TV version of Marcus' mother has also become a more eligible match for Will, and watching the two adults grow gradually closer was one of the joys of the first season.
Whether or not Will and Fiona end up together, there's no doubt that the show will continue evolving farther and farther away from its source material. And that's OK. While About A Boy is a beloved film, it doesn't have to be treated with as much reverence as a cult classic, like Outlander; or a pop culture touchstone, like Game Of Thrones. What's more important than following the plot of About A Boy to the letter is following the spirit of the material — and in that regard, Katims's version has been a resounding success.
Images: Robert Trachtenberg, Isabella Vosmikova/NBC; Universal Pictures