'Marry Me' Has a Dose of 'Broad City'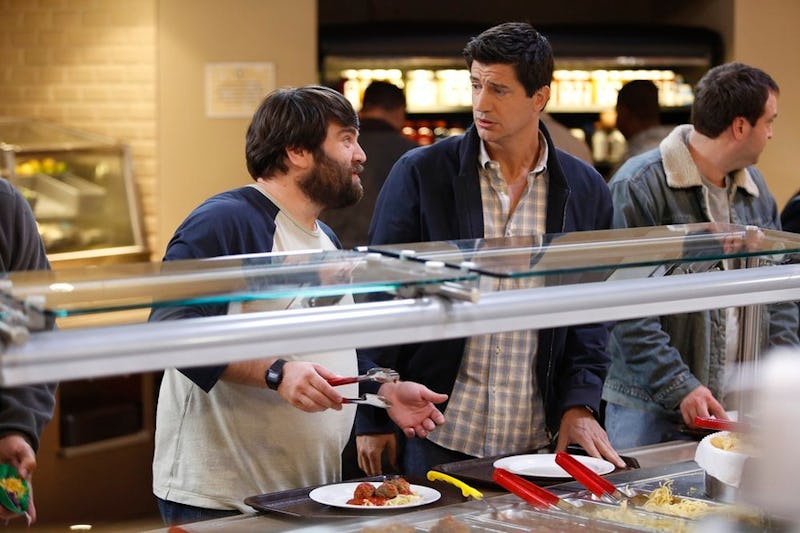 NBC's sitcoms have finally started getting good: Marry Me, which stars Carey Wilson and Ken Marino as a longtime couple who get engaged after six years of dating, actually has some potential. Written by David Caspe, the creator of Wilson's last series Happy Endings (and her real-life husband), Marry Me has stacked its supporting cast with a handful of great comedians. One of their promising secondary characters John Gemberling, playing Ken Marino's recently divorced friend. Gemberling probably looks pretty familiar to comedy fans, and not just because every single sitcom this fall has a bearded, crude best friend character — he's Bevers! Broad City's favorite overbearing roommate (well, roommate's boyfriend) who's always parked on her couch playing XBox or somehow messing up the delivery of important mail, has a new gig on NBC.
Bevers is the perfect, disgusting foil for Abbi, and he's so well-formed and specific it's easy to imagine how Gemberling will adapt his comedic persona to Marry Me. Gemberling has been working for years as a writer, performer, and improvisor in New York's UCB Theater, the same stage where Abbi and Ilana first met and started working on the ideas that became Broad City. Maybe now that he's in Los Angeles, working on Marry Me, he'll be switching to the LA outpost of his famous UCB improv team, Death By Roo Roo.
With his writing partner, Curtis Gwinn, he created Gemberling , a series for Channel 102, the New York output of Channel 101, one of the first portals for online web series that was actually founded by Community creator Dan Harmon. Gemberling's series was picked up by Adult Swim in 2005, and ran one short season as Fat Guy Stuck in Internet.
Gemberling has always been at his best when working on his own series, or But he's also guested on several other sitcoms, including Caspe's Happy Endings, wrote for Human Giant, and frequently appears on Scott Aukerman's Earwolf podcast network — he's entrenched in the alt-comedy-turned-mainstream-comedy scene.
Hopefully he'll still be able to be on Broad City while working on Marry Me. There's no chance we could lose Bevers, is there? Broad City will be airing starting in January, and according to Abbi and Ilana, who just did a panel at New York Comic Con, the second season will spend way more time diving into their secondary characters, so hopefully Gemberling can balance both shows. Losing Bevers would be losing a small, incredibly gross piece of Broad City's huge, marijuana-laced heart.
Image: Greg Gayne/NBC; Giphy (2)