Real Freak Shows Vs. 'AHS: Freak Show'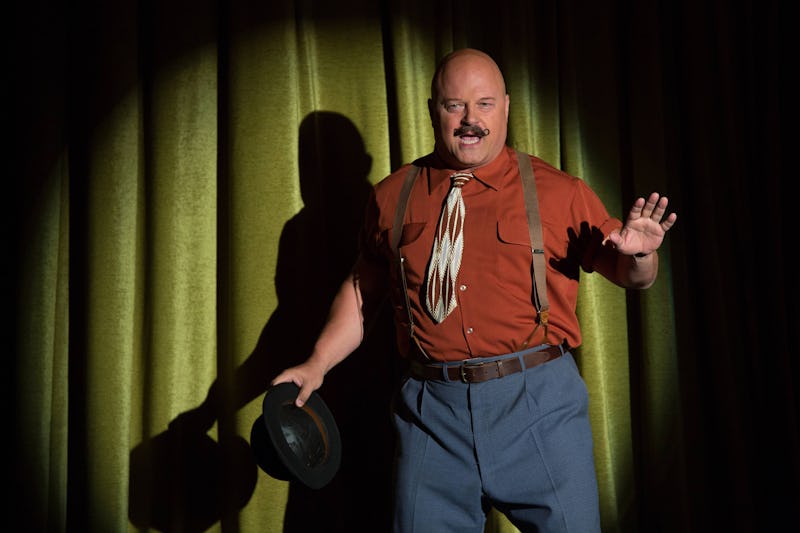 Freak Shows or Circus Side Shows have been going on for much longer than you would imagine, but how realistic is AHS: Freak Show's take on the phenomenon? This week on American Horror Story: Freak Show , Michael Chiklis' character joins the freaks in Jupiter, Florida. He tells Elsa Mars that he was working for the Giuseppe Brothers' circus in Chicago. It sounds a bit familiar so it got me thinking: Did the Giuseppe Brothers run a real historical freak show?
It turns out that there is no show in Chicago called the Giuseppe Bros so you can stop your hunt for tickets. Even though freak shows aren't super popular these days because we are too busy watching things like fake freak shows on American Horror Story (and because the concept can be kind of offensive), they still exist and they've got a rather storied history.
Before Barnum was part of Barnum and Bailey he was buying and investing in side show acts, which as you can probably tell, raked in the money at the time. And before that, back in the 1600s there was a man named Lazarus-Joannes Baptista Colloredo who was born in Genoa with his conjoined twin that hung off his belly. The parasitic twin had a thigh, hand, body, arms and a head. Known for being one of the earliest conjoined twins on record, Colloredo used his deformity to exhibit himself for people to look at thus technically creating the first solo side show.
And while the Giuseppe Bros. didn't follow, these five are oh-so real:
P.T. Barnum
At 25, Barnum paid $1,000 for Joice Heth, a woman who claimed to be 161 years old. According to the Ringling Bros site, she brought in $1,500 a week for Barnum. In the 1800s, Barnum created a museum of curiosities and oddities. He then bought an embalmed mermaid for his musuem and later hired the world famous General Tom Thumb who at the time was the smallest person in the world at 25 inches and 15 pounds. (As we know now, AHS: Freak Show star Jyoti Amge is smaller than General Tom Thumb.) Barnum already had the greatest traveling show around when he paired with James A. Bailey and the rest is history. Basically, Barnum helped shape all the other freak shows.
Mancow's Freak Show
In the '90s, Mancow's Freak Show featured the Lobster twins, who were probably where the inspiration for Evan Peters' lobster boy character came from. Kathy Stiles and her brother Grady III came from a long line of Ectrodactyly which is a congenital hand deformity.
The Brothers Grim
In 2000, Ken Harck's Brothers Grim debuted in Milwaukee. They were known for having a "fat lady" and a bearded lady named Melinda Maxi. The show went on through 2010 and even toured with Ozz Fest in its later years.
999 Eyes
Considered the last traveling freak show, in 2005, 999 Eyes went on the road performing around the U.S. Their cast included a lobster boy named Black Scorpion, a few little people and a woman who is tattooed head to toe like a tiger.
The Venice Freak Show
Last year AMC brought us the reality show that we didn't really want to see, but we couldn't look away. Freakshow followed the acts at the Venice Freak Show in California. Venice Beach is known for its cheap shopping and crazy acts on the sides of the road, but AMC aired the show following Todd Ray (basically the Elsa Mars of Venice Beach) and gave them a new way to perform. Basically, between AHS and reality TV there just might be a chance for another big freak show revival.
Images: Michele K. Short/FX; Dan Coulter/Flickr; Getty Images (2)