For Once, Jim Marchese Was Right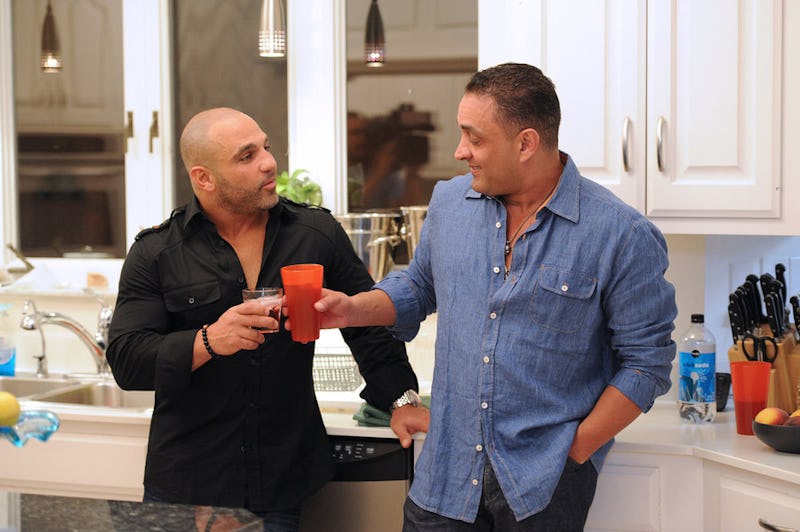 I can't believe I'm saying this, but Jim Marchese may actually have a point about something. Nicole Napolitano's boyfriend, Bobby Ciasulli, is known on The Real Housewives of New Jersey as a "good guy," a volunteer fireman, a total gentleman. And while Bobby may be those things, he also happens to be the heir to a huge fortune. His father, Robert Ciasulli, owns the New Jersey Mall Auto Group, a network of car dealerships in New Jersey that's supposedly worth half a billion dollars. Ciasulli Senior is mildly famous for supposedly paying the largest divorce settlement in state history to his ex-wife when they split up in 2005.
Before his highly inappropriate selfie at the scene of a car crash (Jim had a field day with that one) Bobby was an under-the-radar member of the Colt's Neck Fire Department. But in addition to now being a TV star, Bobby is set to inherit some part of his family's fortune, and works as a fireman to give back.
But this puts Jim's comments over Twitter hammering Bobby as a "fraud" into a different light — Bobby isn't a typical blue-collar guy. It's part of an image that he's cultivated for the show. "Sources," AKA probably Jim Marchese again, have said that Bobby joined the volunteer firefighters right at the start of the season to make him more appealing.
He's not... lying. Exaggerating, maybe. Look, Bobby isn't lying either — he does mention that his dad owns some car dealerships in the penultimate episode of the season — but he's not exactly discouraging the blue-collar assumptions. But RHONJ have gotten in trouble for flaunting their wealth aggressively in the past (ahem Giudices ahem) so maybe Bobby is just well versed in the show. I mean, while we're listening to things that Crazy Jim has been saying, he insists that Bobby really wanted to be on the show, and was willing to do just about anything, including faking a relationship, to make it happen.
But for all of Jim's complaining that Bobby is disingenuous, he's no better — casting himself as this genius super villain when in reality he's just a huge jerk who loves to gossip. This season on RHONJ has been all about the boyfriends/husbands. Maybe that's why Dina seems so over the entire thing — she's already cut one guy out of her life, so it's easy for her to see right through Jim and Bobby's ridiculousness.
Image: Jeff Daly/Bravo