5 Rejected 'Peanuts' Halloween Specials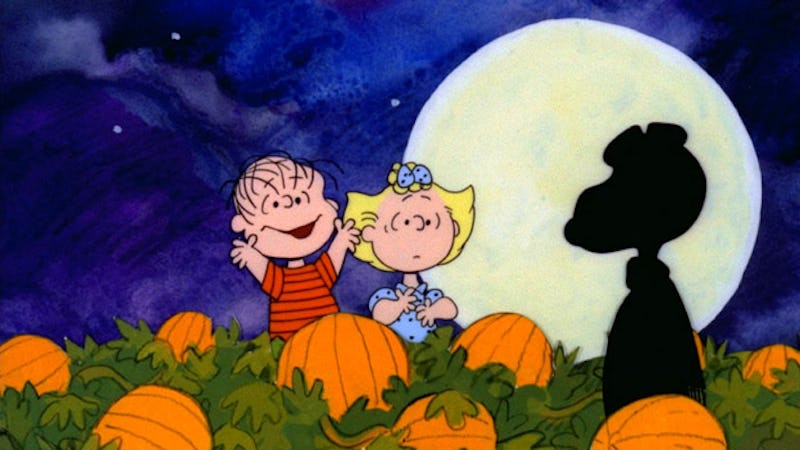 Like most of us, I grew up with the Peanuts characters, and I get excited every year when I'm gifted with the usual slew of holiday specials. Wednesday night, ABC re-aired the Halloween classic, It's the Great Pumpkin, Charlie Brown, a heartwarming tale about how there is no genuine pay-off to unfaltering belief, and it's very likely you were invited to that party by accident. You have to respect that brand of round-headed innocence.
Or not. Currently, #rejectedPeanutsspecials is trending on Twitter, leaving viewers to think up their own unique episodes of Charlie Brown, Lucy, Linus, Snoopy and the gang. To say the least, not all of them are as pure as the original content, and so many of them are about Patty and Marcie being lesbians. So many. I'm shocked that it hasn't warranted it's own special at this point, actually. It's 2014, people!
Anyway, as much as I enjoy the tried and true Charlie Brown specials, it may be time to start changing it up. I've compiled some of the best spooky suggestions for a modern Halloween revamp.
It's the Zombie Apocalypse, Charlie Brown!
The gang gets infected with a strange virus at Violet's Halloween shin-dig, leaving them to become sluggish and decaying. The only survivors are Snoopy, seemingly immune to the effects of the virus, and Charlie Brown, who wasn't invited to the party (as is tradition). Will the two of them be able to use Snoopy's antibodies to cure their zombie friends? Will dog germs, in fact, save the day?
I'm Not Your Sweet Baboo: A Look Inside the Mind of a Stalker
In a last ditch effort to win the affections of Linus, little Sally kidnaps him. I won't get graphic, but torture is definitely inflicted in her efforts to keep him there. A hammer to his leg, putting his blanket in the warm water wash when it belongs with the cold, you know, really dark stuff.
Snoopy's Struggles: The Truth About PTSD
What if Snoopy really DID fight the World War I villain The Red Baron? I mean, it would make him about 5,000 in dog years, but hypothetically, what if he was experiencing traumatic flashbacks from his time in battle? In this nail biting psychological thriller, Snoopy seeks Lucy for help with all his night terrors, panic attacks, and violent outbursts. Five cents, please.
The Devil in Miss Marcie
When Marcie gets possessed by a vicious demon, Peppermint Patty asks Charlie Brown for help. I mean, she didn't really ask, she kind of just invited herself over. That blockhead Charlie Brown messes it up, it being his first exorcism and all. Gosh, Charlie Brown, can't you do anything right? Will Franklin finally step in and save the day? And, more importantly, why does the demon insist on calling Peppermint Patty "Sir?"
It's the Great Slenderman, Charlie Brown!
After an eventful night trolling the 4chan forums and devouring creepypasta, Linus convinces Sally to go into the pumpkin patch and... nope. Not even going to touch this one.
Image: ABC