Let's Hope He's as Good at Surviving as He Claims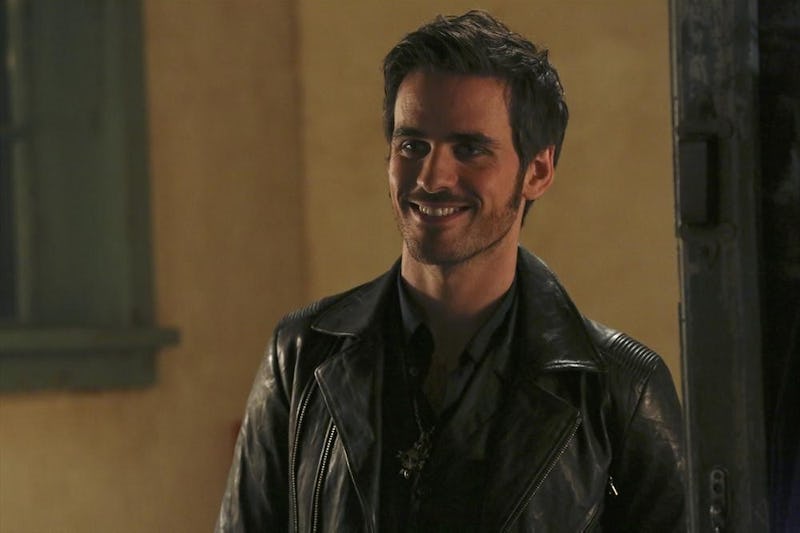 Foreshadowing alert? Emma finally revealed her reason for avoiding Hook throughout Once Upon A Time Season 4 so far, and it wasn't because of Tink, or her new baby brother, or even because she feels like she's failing as the savior. No, she is just genuinely afraid that if she gets close to Hook, she'll lose him. In that final scene between the show's hottest couple, Emma all but told Hook she loves him and nothing good can ever come of that. Unfortunately, she's right: everyone she's ever been with is dead. So when Hook responded that the one thing he's good at is surviving, I pretty much almost cried. Once Upon a Time is certainly no stranger to foreshadowing comments and I can't help but think this is one of them. If I know Storybrooke like I think I do — Hook might be looking at a near-death, if not completely fatal, experience sometime soon.
Please don't hate me! You know you were thinking it too. It's very possible that Hook will be the one to break this chain and trust me, I hope he does. But the deaths of Graham, Neal, and even Walsh were all foreshadowed and it makes me a little nervous for the Captain. Let's look at the facts.
NEAL PROMISED HENRY HE WOULD NEVER LEAVE HIM, ONLY TO DIE A FEW EPISODES LATER
Never make a promise you can't keep, especially when your life is constantly being threatened. When Neal made this promise to Henry, Pan was in Henry's body, so Henry never actually heard him say it. Two episodes later, all of Henry's memories of his father were erased and by the time they were recovered, Neal was gone. In a way, Neal broke this promise twice (at no fault of his own): once when the second curse hit and again when he gave his life for his own father's.
GRAHAM'S HEART JUST WASN'T IN IT — BECAUSE REGINA HAD IT
As soon as it was revealed that the Evil Queen had Sheriff Graham's heart in her hands (literally), you had to know this relationship wasn't going to end well. Did I think she would actually crush it? Hell no, but I certainly knew she was going to use it to interfere. Just when Emma opened herself up to love finally, too. Ugh, sound familiar?
WHO PROPOSES SO QUICKLY, UNLESS HE'S A FLYING MONKEY FROM OZ?
OK, I lied — totally didn't see the flying monkey thing coming. But the bitter end to this shelf-life romance was foreshadowed, too. As soon as Hook showed up at Emma's door in New York, claiming to know her parents, there was no way Walsh was going to last. I'm thinking that after Tamara, Emma wasn't about to bring a rando to Storybrooke. The only question was how they were going to get rid of him and, well, with Emma death is pretty much the only answer.
I'm really trying to have faith in Hook that he'll stick to his survival tactics and last through the season, but only time will tell. At the very least, I predict he'll have a near-death experience, as if he hasn't had several of those already. And if all else fails there's one thing those Charming women are damn good at — and that's finding, and saving, the people they love.
Images: Jack Rowand/ABC; goshdallas, willparry, piratessavior, emmas-killian/Tumblr