A Former 'Voice' Contestant Visits A Creepy Fair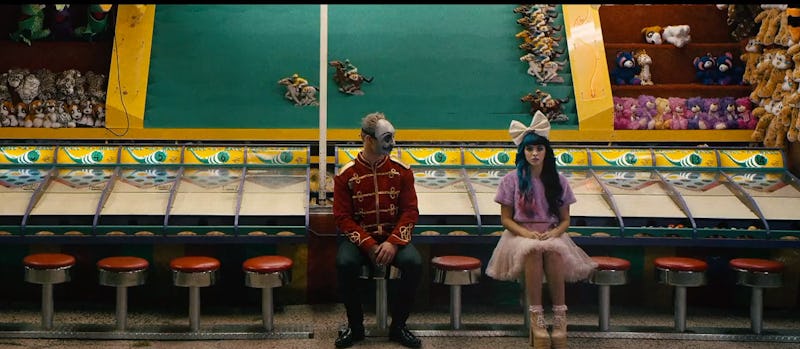 Well, here is a thing I did not know until yesterday: A former member of Team Adam is the artist responsible for the spooky song that's featured in the American Horror Story: Freak Show promo. Yup, "Carousel" is by Melanie Martinez. Perhaps her name sounds familiar, but you can't quite place which Voice contestant she was. First of all, don't kick yourself or your memory. Season 3 was a long time ago. And secondly, I bet you will immediately remember the 19-year-old singer-songwriter the instant you see her two-toned hair (topped with a giant bow, natch) in the "Carousel" music video.
The vid hit the Internet on Wednesday, and I've watched it at least a dozen times since. I cannot get enough of the creepy carnival love song, and I cannot get enough of the creepy carnival music video.
Just how creepy is the video? Oh, it is very creepy. And it isn't just creepy. It's also spooky. It is all things Spook-tober. (But don't worry, nothing in the video is as scary as Twisty from AHS: Freak Show .)
Here are the moments from the "Carousel" music video that gave me the heebie-jeebies:
When this guy walks backwards and disappears into the darkness:
When Melanie appears out of thin air:
When this guy shows off his lack of eyeballs:
When everyone crumples at the waist in unison:
And straightens back up in unison:
When Melanie floats:
When Melanie sings and dances in the sky:
When Melanie begins float-chasing suspenders guy:
When Melanie floats around with dead eyes:
When Melanie continues to float-chase suspenders guy:
When that carnival employee suddenly appears:
Whatever is happening here:
When this doll begins floating:
When the eyeless man shoots water into Melanie's mouth, which somehow causes the doll to move upwards...?
NOPE:
When the eyeless man vanishes:
When the float-chase resumes:
Oh, here's some more dead-eye float:
When these two show up again:
When suspenders looks at Melanie like this:
When Melanie realizes suspenders tied her to the carousel:
When the eyeless man points and laughs at Melanie and doesn't help Melanie:
When these two make these faces:
When Melanie vomits up an endless stream of Laffy Taffy without really opening up her mouth:
When the laffy taffy vomit sort of looks like a tongue:
When the fairground lights go out (and Melanie escapes the carousel):
When Melanie decides to stay at the carnival:
Can she leave? OR IS SHE STUCK THERE FOREVER?!
Images: melanie martinez/YouTube (28)