They're Going Through a Tough Financial Time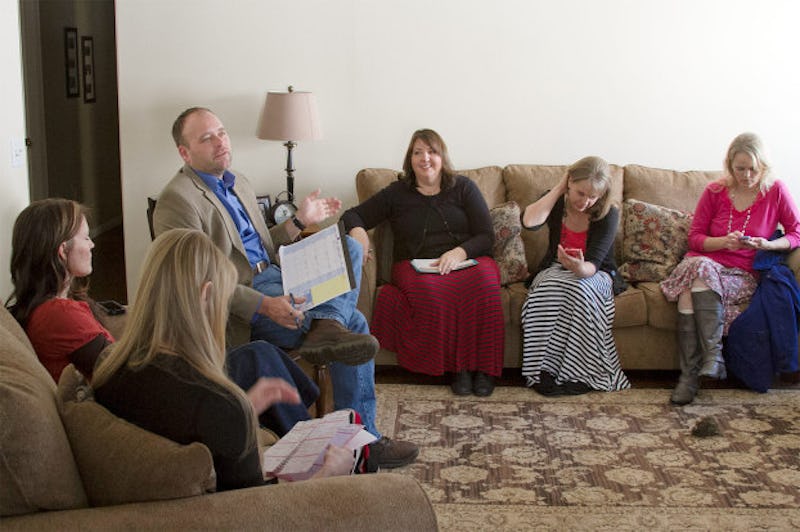 For me, there's something about the polygamist lifestyle that is absolutely fascinating, even if it's a lifestyle I personally wouldn't choose to live. Sharing a husband may not be my idea of marital bliss, but I will be the first in line to watch other people do it on TV. I'm a longtime devotee of Sister Wives, and now that the Williams family of My Five Wives has joined the TLC lineup, I've quickly jumped on the bandwagon. This dude, Brady Williams — who I find totally unlikable, for reasons that have nothing to do with his polygamist lifestyle — has one more wife than Kody Brown does, and apparently a lot more problems at home. Of course he also has a job, though it may not be emphasized on the show as much as his home life, so what does Brady Williams do?
Having multiple wives might look like it's all fun and games when it's on a TLC reality show, but in practice? It sounds pretty stressful. For Brady, he's juggling five wives and their various children (24 at last count) and as you can imagine, all those people under one roof gets pretty pricey. To support all of those people, I'd assume he has a pretty lofty job, but by all accounts, the Williams family sounds like any other just trying to get by.
Brady works in construction, but he's going back to school Too
According to his TLC bio, Brady works as a project manager for his brother's construction company, Williams Construction — and his bare Google + profile echoes this fact. His construction job is something we've seen evidence of on the show before, mostly when Brady was being kind of a jerk to Nonie while she was trying to plan the annual Christmas party and Brady basically wanted nothing to do with it.
When he's not working, Brady's studying philosophy at a local college. No news on whether this is just a hobby or he's aiming for a career change, but the philosophy field is more lucrative than you might think.
Now he's going through bankruptcy
TMZ reported in July that Brady filed for bankruptcy and the details are heartbreaking. Not only is he more than $400,000 in debt, but he claimed to have $22 in his wallet and $3.61 in his savings account. But don't worry, the Williams should be able to get through this because...
His Wives Work Too
Well, not all of them, but most of them. As we've seen on the show, Paulie (Brady's only legal wife) works as a dental hygenist, Nonie works at Brady's construction company, and Rhonda's a medical assistant. Hopefully together, the Williams can get overcome this difficult financial time.
Images: TLC