Can She Just Have A Dad Again?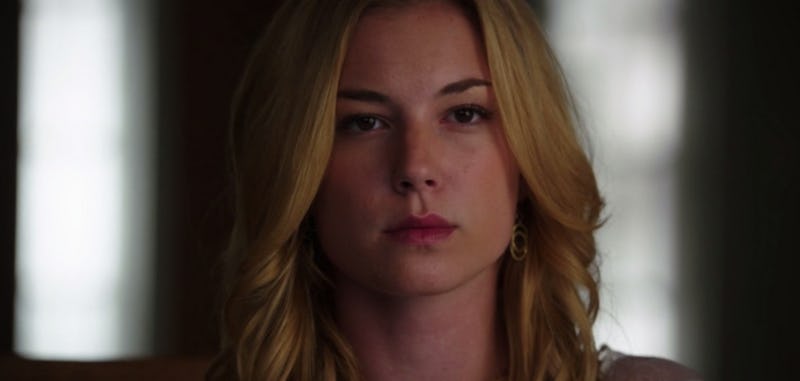 If there's one thing I'm thankful for when it comes to ABC's Revenge, it's that they really don't make you wait too long for the good stuff. After weeks of watching David Clarke kidnapping Victoria and lurking around, last Sunday, Revenge had David finally see Emily again. Of course, he was there trying to kill her because Victoria made him believe she was a villain, but it all worked out. This Sunday, a recently released sneak peek revealed that Emily and David will reunite in "Meteor" and, apparently, it's going to go pretty well because Revenge Season 4 spoilers reveal that David will be in Emily's life this season.
But don't expect this to be a sappy reunion like the one Charlotte and David had during last Sunday's episode. During the "Meteor" sneak peek, Emily sees her father again for the first time at the police station, where she picks him out of a lineup of men suspected of breaking into her house. Yes, it's as emotional as you'd expect it to be — Emily just stares at David as tears well up in her eyes and she realizes that that's actually her dad, staring back at her from a line of criminals.
There isn't a single Revenge fan that hasn't been waiting for this moment since the series revealed that David was alive in the Season 3 finale. But I can't say that I ever anticipated that it would go well or go anywhere at all. I mean, Emily wasted her entire life, sacrificed her ability to have kids, lost the love of her life, and generally lost herself all to avenge this man's death when, in reality, he'd been holed up in mausoleum the entire time. If I were her, I'd offer David a big SCREW YOU and walk off to deal with my trainwreck of a life with the few people that actually care about me. But this is Revenge, people.
In the Season 4 premiere Emily admitted to Nolan that she didn't have anything to "go back to" now that her revengenda was complete. But now that she knows David's alive, Revenge exec Gretchen Berg told E! Online, "The drive of season four will be Emily discovering who Amanda Clarke is and Emily figuring out her new life with her father in it." Well, that's a far cry from Revenge becoming "The Victoria Grayson Show" that we thought it would be going into Season 4 and after the season's first three episodes.
So, what does Berg's spoiler about the trajectory of Revenge Season 4 mean? Well, it means that we'll finally get to see what kind of man and father David Clarke is to his daughter. We've seen him be violent and manic and in love, but we've only seen him as a father with Charlotte, who he'd never really met, and in flashbacks from Emily's point-of-view. We'll also, undoubtably, get to see this enigmatic character react to being lied to and poisoned by Victoria because there's no way he'll believe that she didn't know Emily's true identity (I'm betting on Charlotte to crack and tell him that Emily revealed her identity to her).
The fact that Emily won't reject David for staying away from her is huge for him and for the Emily Thorne we've watched for the past three seasons of Revenge. Even if it'll probably be overshadowed by David's inevitable desire to kill Victoria.
Image: ABC (screengrab)