Henry's Got Himself An Apprenticeship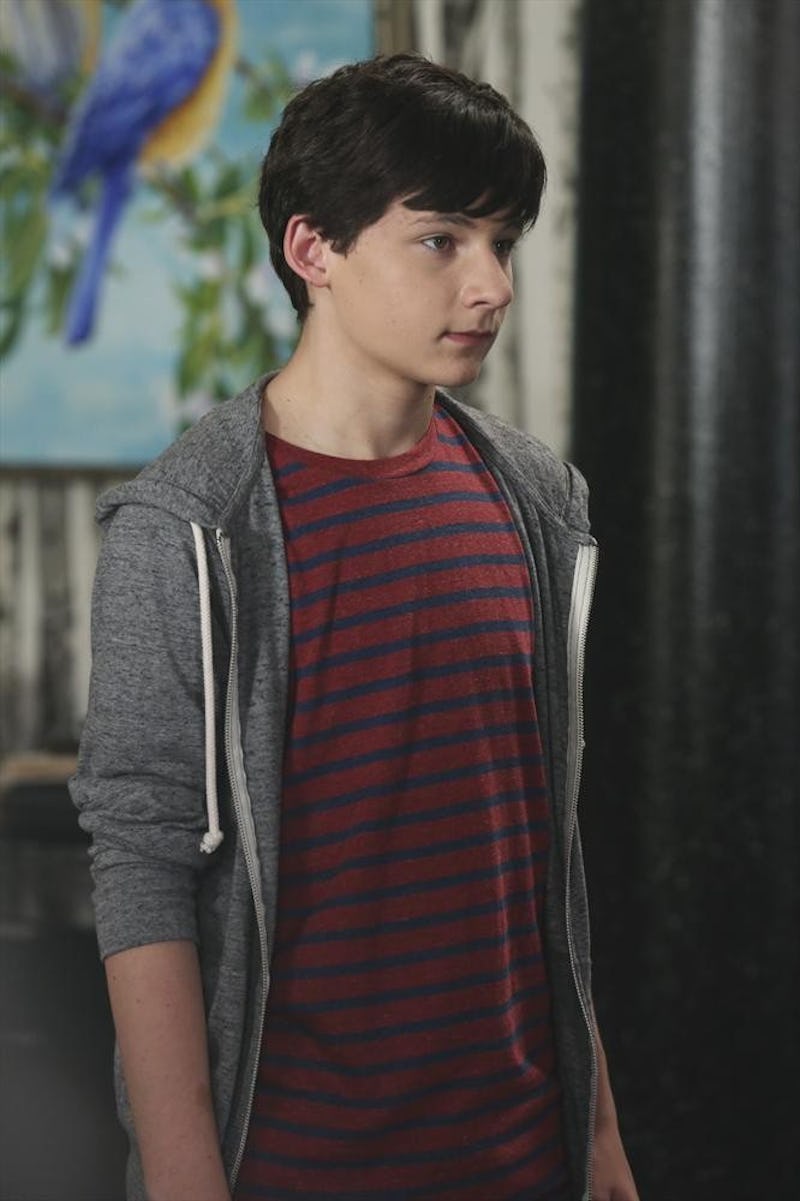 Rumplestiltskin is one busy man on Once Upon A Time. Seriously, when does he ever have time to even open his shop? It just makes no sense. On Sunday night, Once Upon A Time introduced its Sorcerer's Apprentice arc and, of course, it's got something to do with Rumplestiltskin. Back in the OUAT Season 4 premiere, Rumple found a sorcerer's hat and we speculated as to who it belonged to. Well, it appears that it now belongs to Rumple and not-so-little-anymore Henry has become his apprentice. So cue the walking broomsticks, because OUAT is about to go there.
Sunday night's episode, aptly titled "The Apprentice," kind of highlighted the backstory of that hat and introduced the idea that OUAT might actually go all Mickey Mouse on us when Rumple turned the original apprentice into an actual mouse. The series tied its Frozen arc to this new piece of the puzzle by having Anna interact with the original apprentice to do Rumple's bidding in return for her life. But the biggest development in this story was that Henry, in an attempt to help Regina get the happy ending she feels she deserves from his fairytale book's author, is the new apprentice. Which would make Rumplestiltskin the sorcerer himself.
Do you see what I mean about Rumple being a busy Dark One? Now, it seemed like Rumple still hadn't figured out how to get the Sorcerer's power for himself when he sucked up the former Apprentice into the magical hat. But, if that's the case, it just means that OUAT will eventually be getting to that point with Rumple in Season 4.
In case you've forgotten — Rumple, while being Rumplestiltskin, has also been the Beast from Beauty and the Beast, the Crocodile from Peter Pan, and, of course, Peter Pan's son. So, now he can add Sorcerer to his long resumé, apparently. Because Henry can't just be any old apprentice, he has to be the sorcerer's apprentice — otherwise, why would OUAT bother involving him and Regina's quest in that particular storyline? It wouldn't.
As I watched Sunday's episode, I was obviously wondering why the series decided to introduce this storyline at this particular moment when there's so much Frozen development going on. But Rumple, Henry, and this sorcerer's hat might turn out to be the more interesting arc in the first half of Season 4. Mostly because I can't figure out how in the hell OUAT is going to pull this one off, but it'll absolutely involve some of those walking broomsticks.
Image: Jack Rowand/ABC