How the 'Jane the Virgin' Love Triangle Should End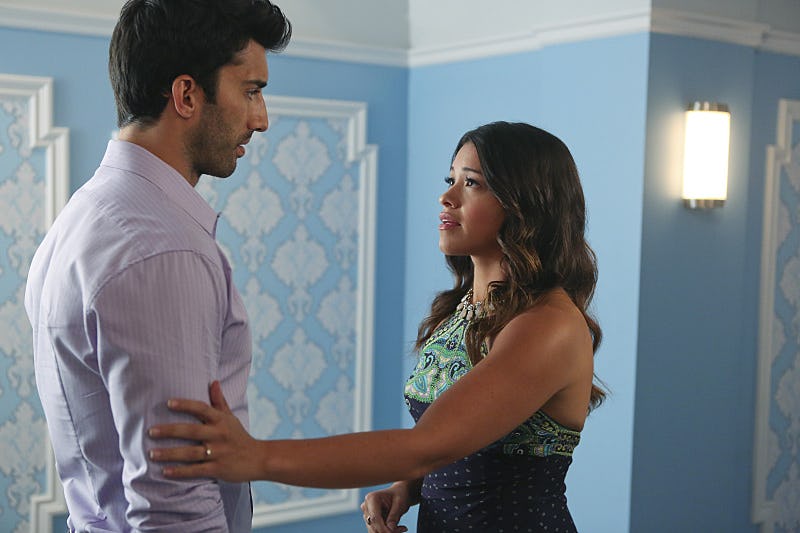 Can we all agree that the series premiere of The CW's newest show Jane The Virgin packed in more plot exposition and storylines in a single episode than most shows can throw at us in an entire season? All while presenting itself as a fun, soapy yet sweet take on a simple but important premise: One young woman's decision on how to handle an extremely difficult situation. So while Jane The Virgin tackles a shocking pregnancy, a new engagement, a possible divorce, a criminal investigation, an affair, and so much more, I also want to focus on another important premise from the episode: The soon-to-be forming love triangle between Jane, Michael, and Rafael. The fiancé or the old flame? The (alleged) good guy or the (reformed) bad boy? It's a tale as old as time. In my opinion, the only person Jane should focus her attention on right now is herself.
It's clear that both men in Jane's life have their strong traits. Rafael is the father of Jane's baby, she once harbored a huge crush on him, and he seems to have reformed his bad boy ways. But he didn't have the best introduction to the series and re-introduction into Jane's life. He's hiding a lot from Jane, and while it's up to him if he ever wants to tell her about his cancer, his other secrets should probably be brought to light if they ever enter a relationship. Secrets like how involved he is in the investigation into Roman and the hotel. That plotline is definitely worrisome.
On the other hand, you have Michael, a sweet man who loves Jane dearly and seems supportive of her decision to wait until she is married to have sex. He wants to be with her enough to propose, he's got a respectable job as a detective, and he's adorable. But again there are issues like his immediate dismissal of Jane's artificially inseminated pregnancy. While this isn't necessarily a complete dealbreaker, it is most certainly a bad sign for their future if Michael can't respect Jane's personal dilemmas and, ultimately, her decisions. Then there's the comment made by the narrator in the series premiere that Michael is not the man he seems to be. That feels like a warning about which Jane should worry. Also from the the official synopsis of Episode 2, Michael looks to be getting jealous of his new fiancé's growing relationship with her accidental baby daddy, which apparently leads him straight to Rafael's maybe soon-to-be ex-wife Petra for an alliance.
With both men hiding things from Jane and being involved in some suspicious things, maybe Jane shouldn't be with either of them. I think that right now, Jane needs to be with her family and decide what kind of adult she wants to be, what kind of partner she wants, and whether she definitely wants to give up the baby she's carrying if Rafael and Petra split up, since their seemingly strong and loving relationship is a big part of what pushed her to make that decision in the first place. It's a lot to figure out, and she might be better off doing it alone.
Image: Patrick Wymore/The CW