Jim Halpert Ruined Your Love Life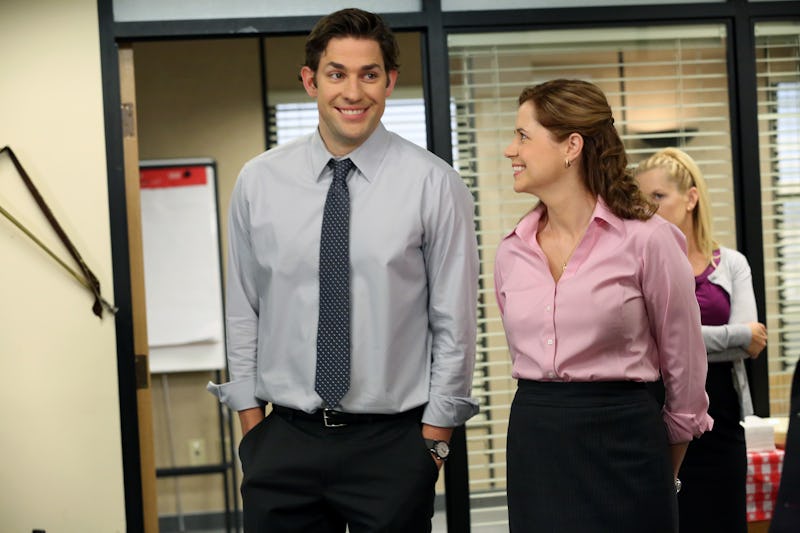 Television has given us plenty of imaginary boyfriends through the years, and I'm not here to play favorites. But if I had to choose, gun to my head, one of the world's greatest was Jim Halpert. For all nine seasons of The Office — yes, I watched every episode — his charms only grew stronger, from the classic stapler in Jell-O to proposing and marrying under large amounts of water. Although I love Jim and his ridiculous smirk, he admittedly set the bar far too high for real life. So today, as John Krasinski turns 35 (he's also aged well, like a fine wine and cheese combo) let's celebrate all of the times that Jim gave us unrealistic expectations for all relationships.
I'm not talking just the romance department here. Yes, he can get a special bag of chips for Karen and be a doting, adorable dad with Pam forever, but it was his silly looks at the camera and goofy pranks with Dwight and Michael that also made everyone yearn for a Jim in their lives. So whether you feel platonic or romantic about Jim, prepare to laugh, cry, and laugh-cry with these seriously amazing moments. Let's take a walk down memory lane.
Whenever he pulled a prank on Dwight
Anything in Jell-O made me want to be his friend... or his lover.
The more hyper-specific, the better!
Jim-as-Dwight is even hot.
His stolen moments with Pam, especially at the beginning
Looks like the perfect pillow.
Like their far away high fives
Notably, this one was also while he was wearing his "three-hole-punch Jim" costume. Classic.
And, you know, his "I love you" speech is right up there
Is your heart in your stomach yet?
When he officially asked her on a date, that sealed the deal
Be right back, crying.
His rainy-day proposal is too much.
It's more romantic than a Nicholas Sparks movie.
Followed closely by an equally water-soaked wedding
Maid of the Misty Eyes.
And the reason why that happened: the cutting of the damn tie
Plus the whole flash-mob-style walk down the aisle didn't hurt, either.
Then he became a totally adorable dad. Sigh.
"DILF" seemed like too dirty of a thing to say with this GIF.
Let's not forget about his goofy moments, like when he Skyped in his underwear.
Hubba, hubba.
Or when he went undercover with Michael and Dwight
Less hubba, hubba.
Or whenever he and Michael shared the screen.
Friends. Forever.
This stayed true until the series finale
Are you crying yet?
OK, his facial expressions made you love him even more
Extreme cases of zoom are just a bonus.
Especially when they were accompanied with hand gestures.
Who has two thumbs and is ridiculously perfect? THIS GUY.
And most of all, when he was Golden Face in Threat Level Midnight
#neverforget.
Images: Giphy (19)