10 Creepy Party Foods To Serve On Halloween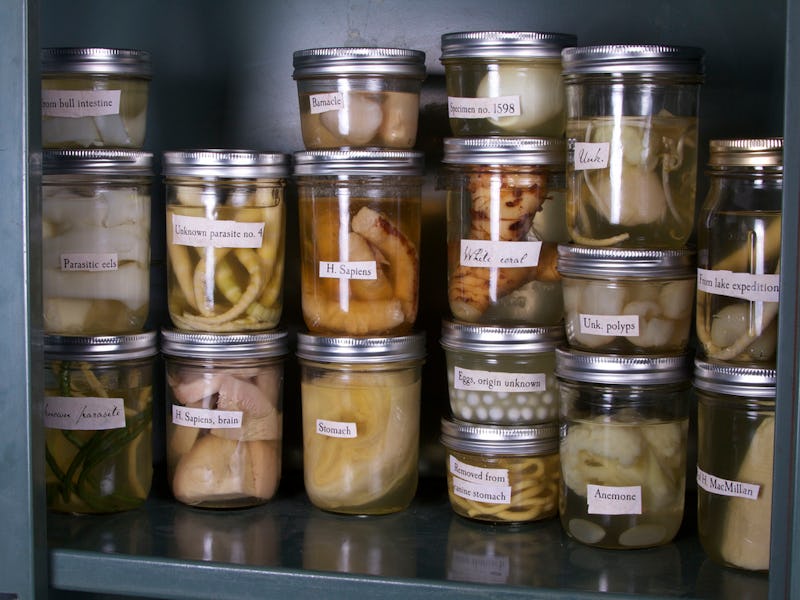 Now that you have your Halloween costume picked out, it's time to focus on the party. While your guests will love your truly scary Halloween decorations, what we all really look forward to at any party is the food. This year, don't settle for traditional — shoot for Halloween snacks that are terrifying. Go beyond the chips and salsa. Get more creative than pouring guacamole out of a pumpkin's mouth (although guac is always a plus). This Halloween, don't just bake a cake — make it bloody. And if you're going to have a punch bowl, at least put some shrunken heads in it.
Add a few tricks to your treats this Halloween with these 10 easy-to-make frightening foods that are so good it's scary. These finger foods are great for party guests of all ages, and the best part is that all of these DIY recipes are quick to make and well under budget. No need to put your blood, sweat, and tears into these treats. Just take that extra step on the spooky side to become the creepy chef everyone will be talking about after they're full of fright and delight. So strap on your apron, and get ready to throw the best Halloween party ever.
1. Monster Donuts
Your party guests will go nuts for donuts with these little monsters by ThriftyFun. All you need is a few dozen glazed donuts, a bag of chocolate chips, and a pack of vampire teeth to turn your ordinary Krispy Kreme into a crispy scream. When your guests are done with their treat, they've got a set of teeth to take home with them. Party favor: check!
2. Dracula's Dentures
These DIY dentures by The Girl Who Ate Everything only require four ingredients: cookies, red frosting, mini marshmallows and sliced almonds. Cut one cookie in two halves, spread frosting on one side, and stick on the marshmallow teeth. Then, add the almond fangs for the finished look. Your guests will crave these more than vampires crave blood.
3. Mozzarella Eyeballs
Mozzarella balls topped with sliced olives and pimentos suddenly turn into an eye-popping treat you're going to want to serve up come Halloween.
4. Cupcake Brains
Increase your baking IQ by turning your average cupcakes into brilliant brains. This eerie effect is all in the decorating technique. Use a piping bag with pink frosting to create these creepy treats.
5. Bloody Cake
Nothing says "spooky celebration" more than a bloody cake. After you've got your fluffy cake covered in white frosting, melt a cup of red frosting and lightly drip it over the edge of the cake. Then, cover the top of the cake in a hot red mess, and stab your cutting knife right in the center. Say It With Cake brings us this creepy cool confection.
6. VooDoo Cookies
Why wait till Christmas to bake gingerbread cookies? Pull out that cookie cutter early and start baking these voodoo dolls by Not Quite Nigella. Add a few stitches and a missing eye, and you've got one creepy cookie.
7. Witches Fingers
Make this "finger food" by shaping strips of Pillsbury dough into fingers, adding in creases around the knuckles, and stick them in the oven to bake. Once the witches' fingers have cooled off, stick on an almond nail with strawberry jelly. This is one Shockingly Delicious finger food.
8. Poisoned Apples
It wouldn't be a Halloween party without a little poison. Make these "poison apples" by simply adding black food coloring into your already-melted caramel. They'll taste the same, but they make the party a little darker. Polish The Stars has the recipe.
9. Jello Brain
It doesn't take a brain surgeon to know that this oldy but goody never disappoints. A brain-shaped Jello mold is all you need to make this disgusting snack. A little raspberry sauce gives the whole thing deliciously gruesome appeal.
10. Mummies in a Blanket
A terrifying twist on a party classic. Dress up your pigs in a blanket as mummies this Halloween using a few drops of mustard for eyes.
Images: Windell Oskay, annieseats, Nancy Dorsner, gadgetgirl, Lisa Bunchofpants/Flickr; ThriftyFun; Christy Denney/TheGirlWhoAteEverything; Shamene/SayItWithCake; Lorraine Elliot/NotQuiteNigella; Dorothy Reinhold/ShockinglyDelicious; Megan/PolishTheStars