Did Someone Leak Their Return on Twitter?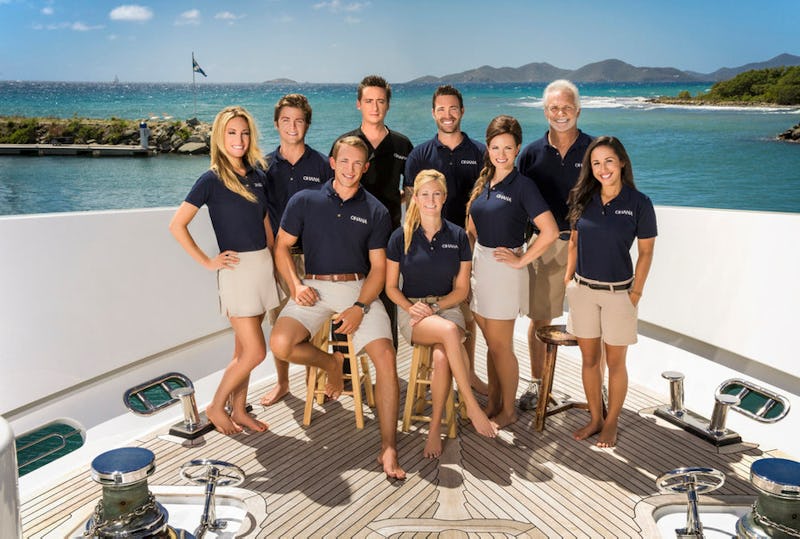 After a season of special Ohana mojitos, laborious slides, and a "rocket ship" blanket, Season 2 of Below Deck is about to come to a close. It's been real, Ohana crew, and Tuesday nights will surely not be the same without you. So let's just cut right to the chase and talk about your plans for Below Deck Season 3 already.
Bravo renewed Below Deck for a second season the day after Season 1 wrapped in August 2013. As Season 2 comes to a close, I am obviously anxious to hear if Bravo will have a similarly quick turnaround with its decision on whether or not to allow Below Deck to set sail yet again. There has been no official word on the show's fate from the network, but maybe we can glean some clues about whether or not Below Deck will return from the Twitter accounts of Season 2's crew members.
The Ohana crew is extremely chatty on Twitter, constantly live-tweeting episodes, answering viewer questions, and giving us an update on their current gigs and whereabouts. Naturally, you would think that with all that talking someone would let it slip that he or she will be climbing aboard the Below Deck yacht once again, or at least spill the beans that a Season 3 is definitely happening. Bravo must have trained these folks well, because the Below Deck cast didn't give me much to work with in their Twitter accounts.
However, that won't stop me from speculating. Amy did post this very interesting tweet recently:
Hmmm, if the details surrounding Season 3 are "under wraps," it seems likely that there will be a Season 3. Amy wouldn't spill on her involvement in a possible Season 3, but what about her brother Kelley? I wonder if they're a package deal for Bravo and if the show would be as good with just one Johnson sibling on board and not the other. Kelley tweeted that he's going to continue yachting, but he's not sure if he'll be popping up on our TV screens again any time soon:
Though you wouldn't think Captain Lee enjoys being on Below Deck by watching him on the show, he's actually jonesing for the show to return for Season 3. He even makes it seem like he's personally trying to make it happen. However, with Captain Lee's deadpan demeanor, it's hard to tell if he's being serious or just messing with us:
Kate has basically provided all of the entertainment value this season with her creative blanket folding, unique mojito recipes, and font classifications. Her charisma may inspire Bravo to ask her back on Below Deck if there is a Season 3. Or maybe it could earn her a spot on a totally different reality show...
And then, of course, there's always the chance that cast members from Season 1 will return for Season 3. I have a feeling we haven't seen the last of Adrienne either:
So all in all, not the most revelatory content regarding Season 3 from the Below Deck crew. But that's OK. Whenever Bravo or the cast members feel like cluing us in, we'll be ready. Below Deck is worth the wait.
Image: Tommy Garcia/Bravo