5 Reasons 'Below Deck' Should Return for Season 3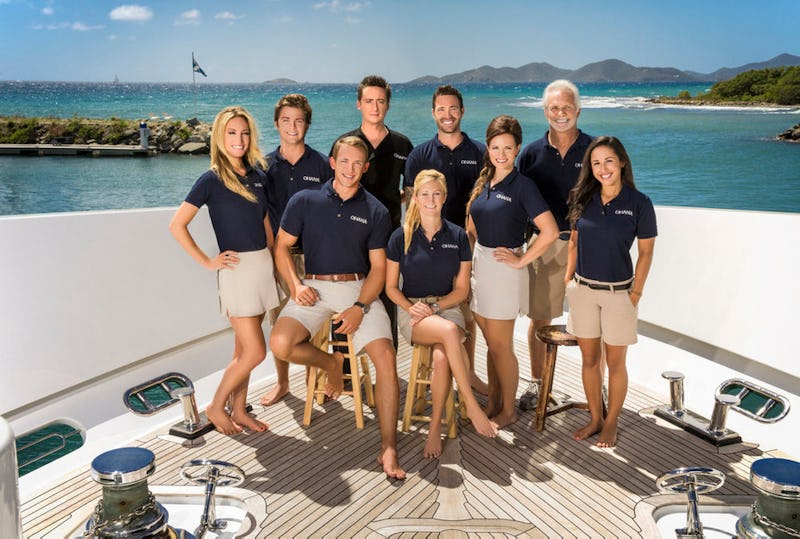 Reality TV shows come and go, but when a special one enters your life, you've got to hold onto it. That's how I feel about Below Deck, which is currently in the middle of Season 2 on Bravo. With all of the drama, egos, and ridiculous charter guests mixing together to create a delicious stew of reality TV gold for Season 1, Below Deck won my heart, hook, line, and sinker. And with Season 2 kicking all of this up a notch, I'm still in the Honeymoon Phase with this Bravo show. Naturally, I'm praying Bravo will give Below Deck a Season 3.
The ninth episode of Season 2 will air on Tuesday, and we're getting close to the end of the season, which means it's time to start speculating about the fate of the series. Bravo has made no formal announcement regarding the possibility of a Season 3 for Below Deck. The network renewed Below Deck for Season 2 the day after its inaugural season wrapped, so it's possible we may see the same sort of swiftness with Bravo's decision on Season 3. However, the ratings are down from last season, and there doesn't seem to be as much excitement surrounding the show as there once had been.
All of this means Bravo may be a little less eager to renew Below Deck as quickly. Still, the series has a passionate following, so I would be surprised if it didn't set sail again. Not to mention, there are plenty of reasons why Bravo would be crazy to not bring Below Deck back for Season 3.
1. It's consistent
While it's difficult to sustain a series during one season let alone into its sophomore effort, Below Deck has consistently been entertaining. This is because the premise of the show just guarantees that there will be drama, which is all anyone wants out of a reality show. With horny men and women cooped up in a tiny vessel for days on end and working in high-pressure situations on little sleep, there are bound to be flare-ups, slip-ups, and hook-ups. Plus, the charter guests are the gifts that keep on giving with their often over-the-top requests and even more over-the-top behavior. It is literally impossible for Below Deck to have a dull moment.
2. Kelley and Jennice will have unfinished business
Part of the description for Tuesday night's episode reads, "Kelley and Jennice make a decision about their relationship." The sexual tension between the pair during the season has been as obvious as Kate's penis-shaped blanket. However, Jennice has mostly put the kibosh on getting romantically involved with Kelley because she thinks he has an anger problem, and, oh yeah, she also has a boyfriend. Seeing as how the two have been friendly on social media since filming ended, I feel like we haven't seen the last of "Jelley" yet, and don't they want to continue whatever it is they've got going on for our entertainment anyway?
3. Captain Lee needs to be in our lives, always
A world where I don't see Captain Lee on my TV screen every Tuesday is a world I don't want to live in. The no-nonsense leader of the Ohana knows how to run a tight ship (literally), amusingly thinks his crew members are a bunch of idiots, and always makes the best facial expressions of complete mortification at the charter guests' actions. In short, he is a blessing from the reality TV gods, and you just can't take that away from us, Bravo.
4. We've barely gotten to know new crew member Logan
Weeks after Andrew was fired, the Ohana crew finally got a much-needed deckhand to replace him: Logan. He seems to be more capable than Andrew and even wilder. By the time we finally get to know what Logan is all about, this season is going to be over, so we need Season 3 to be able to get all of our money's worth.
5. None of The Real Housewives have been charter guests yet
Many of The Real Housewives casts have chartered yachts on the show, such as The Real Housewives of New Jersey cast in the most recent episode of this season. So why not have one of the casts charter the Ohana or whatever the next yacht name will be, and bring all of their catty drama and backstabbing to the high seas with the Below Deck crew getting in on the action as well? What a perfect series crossover opportunity that Bravo just seems to miss out on season after season.
Well, it doesn't get any better than this, Bravo. Let's take Below Deck out for another charter, shall we?
Images: Tommy Garcia/Bravo; realitytvgifs, simpsonsgifs/Tumblr; Giphy (2), Gifbay