So Cheeseburger-Stuffed Donuts Are a Thing Now...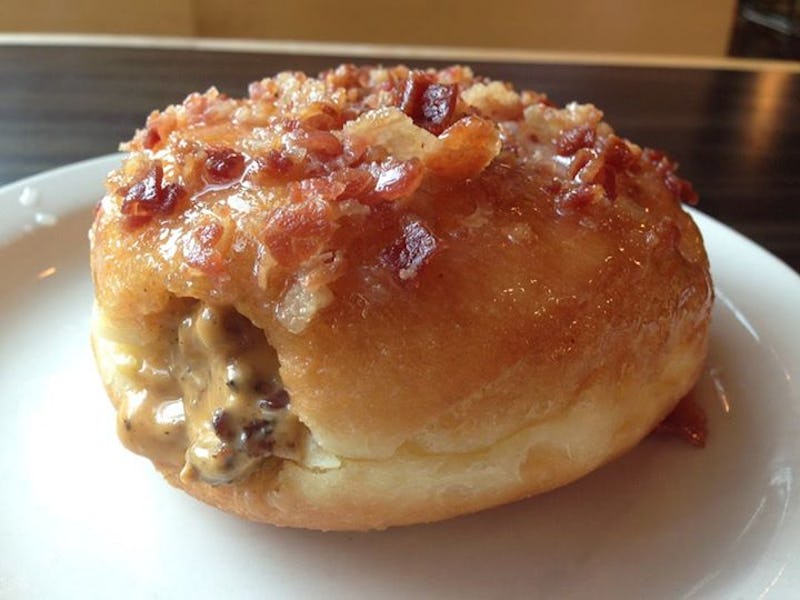 I'm not totally sure what compels us to do such bizarre things to donuts, but apparently it's become a great American pastime to come up with the strangest donut combinations imaginable. I thought we'd seen the worst of it with Tim Horton's buffalo chicken donut...but I was wrong: A cheeseburger-stuffed donut exists, and I just can't even deal with it. What? Just… what?!
Philadelphia burger joint PYT Burger specializes in weird and unusual burger combinations; its "Burger of the Week Club" is full of things like the PB&J Bun Burger ("deep-fried kettle chip coated PB&J sandwiches are buns, banana-Sriracha marinated juicy beef patty, Applewood bacon on top") and the Beerger ("pretzel-coated fried PBR with cheddar on a juicy beef patty, topped with pickles and mustard-dill aioli"). But the one that we're concerned with today is the Doh! Nut, which, as you might have guessed, is an homage to Homer Simpson. I can't recall Homer ever stuffing a cheeseburger inside a donut, but he does love his breakfast pastries, doesn't he? In any event, for $13, you can chow down on a glazed donut topped with bacon on the outside and stuffed with a beef patty and American cheese on the inside.
But here's my big question: How do they get the burger in there in the first place? I mean, that's not just a donut sliced in half and used as a bun — the donut actually has a cheeseburger filling. I'm kind of having a Zoolander moment right now.
So in an effort to deal with my bafflement, I've come up with a number of theories as to how this magical creation may have come to be. Got any to add?
1. Rejected Harry Potter Spell
Donutus cheeseburgerum!... Or something.
2. Squeeze Bottle Burger
A squeezable cheeseburger sounds kind of horrifying to me, but maybe it's a necessary evil.
3. Elves
No, not that kind of elf; sorry, Thranduil. I'm thinking of something more like the Keebler variety.
4. It's a Gift from the Bacon Gods
Or the cheeseburger gods. Or the donut gods. Or possibly all three working in tandem with each other. It probably sprang fully formed out of the head of some food deity or other.
5. It's Just the Way It Is
I suppose it would be possible for the cheeseburger ingredients to be wrapped up in donut dough, then fried all in one go, right?
6. It's a Trap
Because of course it is. Anything this ridiculous must be. Right, Admiral, Ackbar?
Images: PYT Burger/Facebook; Giphy (5); Photobucket; GifWave