13 Dog Sweaters To Keep Your Best Friend Warm This Winter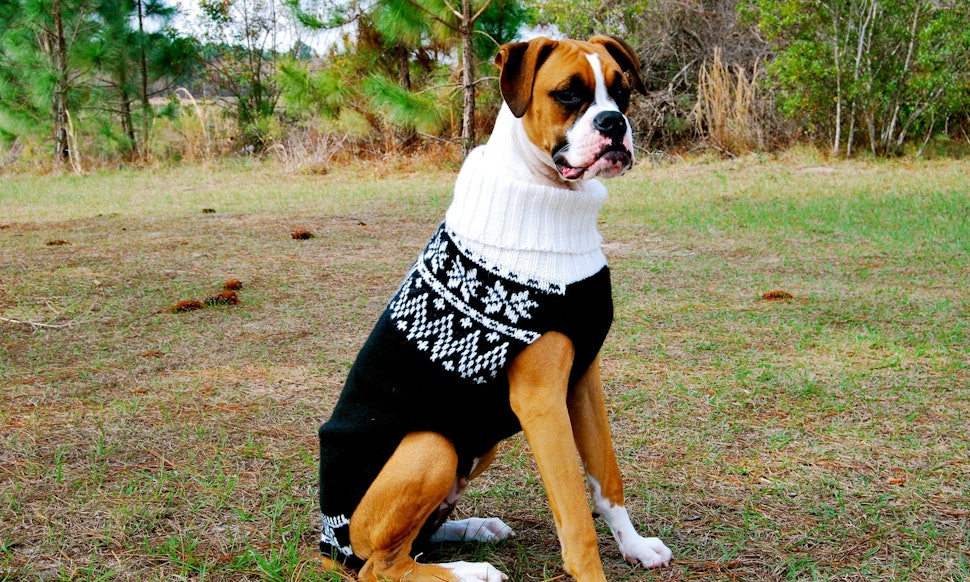 Lately, I've been spending a lot of time thinking about how I can stay warm. Should I bundle myself in a blanket coat? Stock up on scarves? Layer with leggings? (Yes, yes, and yes.)
But every day the Internet reminds me that cute furry friends exist — and don't they deserve to be swaddled too? Of course. I mean, pets have to go to the bathroom outside ... where it's cold! This is why dog sweaters are necessary.
Okay, so they're probably not really necessary, but are certainly a source of amusement for us homo sapiens. In the same way that food disguised as another food is fascinating, isn't there something fun about pets wearing human clothes? It's peculiar in the most perfect way and I'm going to be so bold as to say that even people who aren't crazy animal lovers still enjoy a good pic of a puppy in costume.
So, since we all agree that seeing dogs dressed up is right up there with things like cookie butter cups and rap star Daniel Radcliffe, here are 13 pictures of dogs in sweaters with information on where to buy them.
Boyfriend Dog Sweater
Scandinavian Dog Sweater
Cable Knit Dog Sweater
A classic cable knit will keep your pup looking sharp.
Bee Dog Sweater
Could this puppy bee any more adorable? (See what I did there?)
DIY Button-Up Dog Sweater
This DIY doggie sweater is as cute as a button.
Pattern by Anna Tillman
DIY Christmas Dog Sweater
Hooded Dog Sweater
A hooded sweater is especially practical on windy days and for early morning walks around the block.
Hooded Fair Isle Sweater, $9-$17, drsfostersmith
Dog Sweater with Tie
A sweater for formal occasions, like Bring Your Pet to Work Day.
Pink Dog Sweater Dress
Dress your bitch in her Sunday Best.
Alpaca Dog Sweater
If you feel your four-legged friend deserves nothing but the best, then this alpaca sweater is the way to go.
Alpaca Sweater, $84, Free People
Dog Hoodie
For when a sweater's just too formal, keep it casual with a hoodie.
Pewter Flex Fleece Dog Zip Hoodie, $28, American Apparel
Monster Dog Sweater
Unleash your dog's silly side with the colorful monster sweater.
Funny Monster Dog Sweater, $32, Bloomingtails Dog Boutique
Star Wars Dog Sweater
The force is strong with this one.
Star Wars Darth Vader Dog Sweater, $16, Petco