What We Learned In The 'PLL' Halloween Special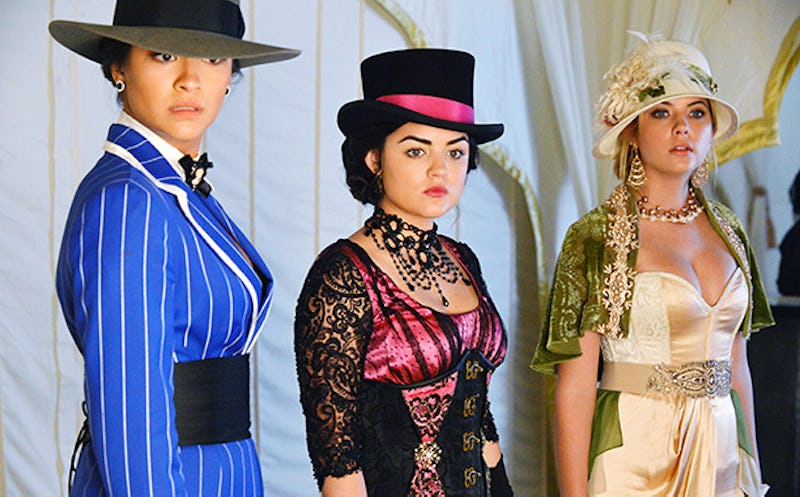 This year's Pretty Little Liars Halloween special wasn't a traditional episode, but instead, a "fan appreciation" hour in which the cast and crew answered questions from the most diehard fans of the ABC Family drama. The talking head format — complete with the Troian Bellisario, Sasha Pieterse, Shay Mitchell, Ashley Benson, and Lucy Hale at their very own "sleepover" in Spencer Hastings house — was a celebration of the show's past five seasons, and the actors and crew members reflected on everything from the most romantic onscreen moments to the most horrifying ones. But when it comes to the future of the series, there is one thing that the cast and crew hinted at: Don't trust anyone in Rosewood.
Any longtime Pretty Little Liars fan knows that there's no good reason to trust anyone fully on this show, but given that the show is in its fifth season, it's hard to believe that there are still more people harboring dark secrets behind closed doors. The ABC mystery already shocked us with reveals about characters we used to think were squeaky clean (remember how Ezra was actually writing a book about Alison and stalking the girls to get intel?) but as the Pretty Little Liars Halloween special suggests, they aren't done just yet. So who is left to disappoint us? Here are the top suspects who could secretly be evil.
Paige
Emily's honey has a violent streak — she did try to drown her, after all. Even Mitchell, who portrays Emily on the show, reminds fans that Paige wasn't always so sweet. Could she be harboring even darker secretes?
Lucas
Lucas was bullied badly by Ali, and he never truly forgave her for what she did. Lucas could have snatched the A game away from Mona a long time ago and kept his true intentions a secret by pretending to work for her.
Caleb
Sure, he's always been on the liars side — but what if his time in Ravenswood caused some sort of mental break? Split personalities? Say it isn't so!
Mrs. Hastings
I'm calling it now — Mrs. Hastings was the one who tried to murder Ali. It makes so much sense!
Wren
Just so I have it in writing: Wren is A. There is no way that Wren is not A. See you in Season 6, Big A.
Image: ABC Family