This Battle Could've Gone Badly Wrong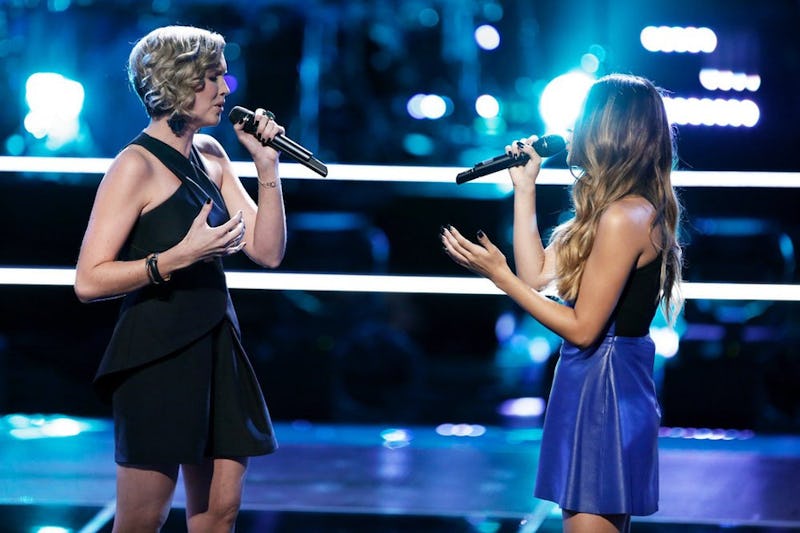 Can we just talk about how no one should ever sing Christina Aguilera songs besides Christina Aguilera? OK, fine, we can't because this post isn't about Christina Aguilera returning to The Voice — this post is about the final Tuesday night of The Voice Season 7 battle rounds. And, specifically, Mia Pfirrman and Beth Spangler's "I Turn To You" battle, which really just wasn't fair for either contestant or Adam when it came time to judge. Because, like Stevie Nicks said during rehearsals, "Don't try to ever be Christina Aguilera. I can't be her and neither can you." #Harsh but absolutely true, regardless of whether or not Gwen used her final steal to keep Beth in the competition.
Sure, Adam made a big deal about choosing this song because it would challenge the two powerhouse singers that each earned four turned chairs during the blind auditions. But, a Christina Aguilera song? And this wasn't just any Christina song either — this was and OG Christina jam from her debut, self-titled 1999 album. There's nothing easy about singing the ballad that is "I Turn To You." And it was totally obvious that both Beth and Mia were pushed to their musical limits with this performance. Which, surprisingly, they managed to both do well enough with that Mia was a unanimous winner and Gwen acquired Beth with her last save. (Nothing like waiting until the very last battle and last minute, Gwen, to make a decision.)
There might be a method to Adam Levine's absolute madness, as this difficult battle brought out what might be the best we'll see of Mia and Beth in this competition. But I still can't get over how cutthroat it was for Adam to spring a Christina Aguilera song on these two — heck, after years of singing along to "I Turn To You" in the shower, not even I could take it on without a panic. I'm just thankful that neither of these ladies had to go home because their performance on Tuesday night showed some serious guts and a hell of a lot of talent.
Watch the battle and try not to feel terribly sorry for these two here:
Well, I mean, as sorry as you can feel for two girls that might have their dreams come true in the next few weeks.
Image: Tyler Golden/NBC