Carrie & Aayan Could Both Be Playing Each Other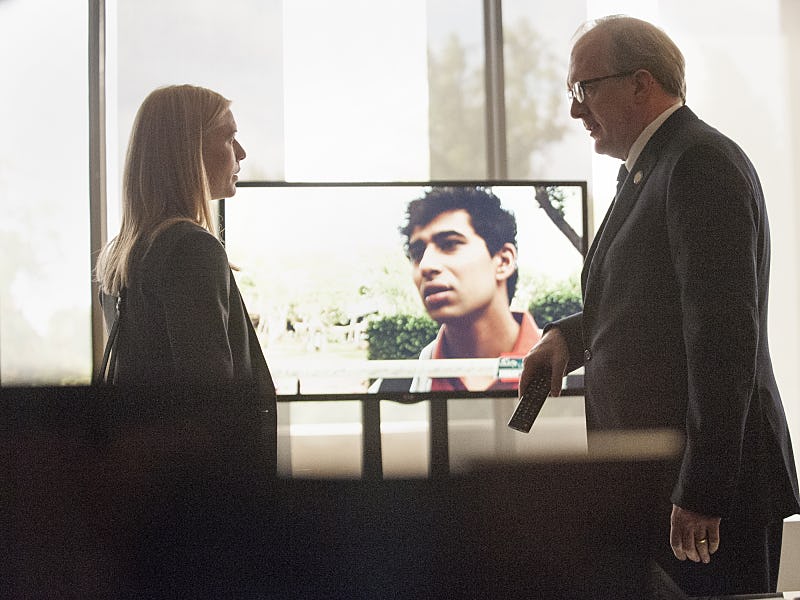 Somehow, even after their first charged meeting, I did not think that Carrie would use sexual prowess to win over Aayan. But I was proven wrong when Carrie had sex with Aayan in the Homeland Season 4 episode "Iron in the Fire," making me wonder if she has any morals left. Aayan seems so convincingly naive and scared, but since we know his terrorist uncle is alive, maybe he really is a master manipulator too. What if he has been playing Carrie this whole time? It's impossible to say who's playing who in their dynamic.
All of Carrie's actions this season have been pretty disturbing. While I do not always love Carrie Mathison the person, I still love Carrie Mathison the character, and she has always made edgy, tough decisions that I admired her for. But this season has seen the people around her who love and respect her question her — and for good reason. Quinn sees how cold Carrie is being and I think when Fara finds out what she did with Aayan, she's going to be pretty disturbed as well. Of course, I still want Carrie to succeed in her mission of figuring out what's happening between the U.S. and Pakistan, but her actions in Season 4 are pretty inexcusable and it's time that they should come back to bite her.
In the preview clip for Episode 5 below, Carrie says she wants to be "totally honest" with Aayan.
Now, Carrie does have an advantage here since she knows Aayan has been lying about his uncle. Who knows if her seduction tactics will actually work on Aayan the way she thinks they will. At this point, I'm not sure why he would trust her in any capacity. She has shown him no credentials and none of her promises to him seem founded in any sort of reality. Even if he is not playing Carrie, he may get hip to the fact that she's not to be trusted.
But what concerns me more with the clip is the fact that their sexual relationship might extend to more than one tryst. The video shows the pair of them tenderly embracing and my boy Quinn calling her out on the fact that she's going beyond normal protocol with Aayan.
But will luring Aayan sexually make him the helpful informant Carrie want him to be? I doubt it will be that simple, but I at least hope her unethical actions get her some information that will help her case.
Images: David Bloomer, Jim Fiscus/Showtime