'Selfie' Had a Coincidental Zellweger Moment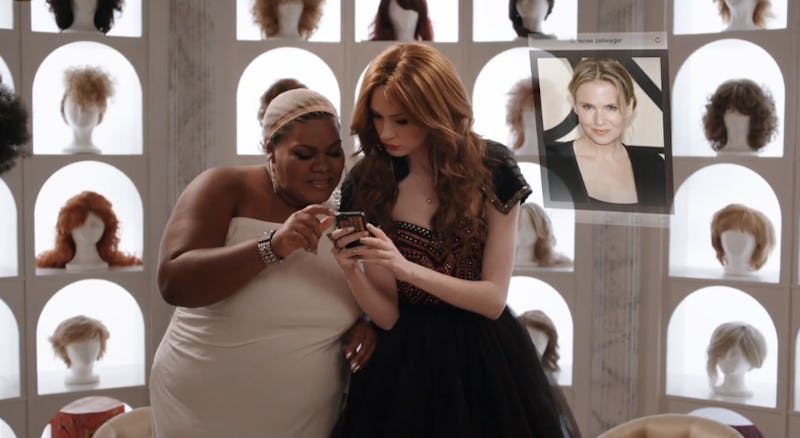 When Renée Zellweger stepped out looking "different" earlier this week, the Internet jumped into a frenzy about how she was completely unrecognizable. There were plenty of terrible and unjustified things said about her "new look," but there's one place that I didn't expect to comment: Selfie on ABC. Surprisingly, the show mentioned Zellweger in Tuesday's episode, which was likely written and filmed weeks before the recent Zellweger photos surfaced. It was an accident as Eliza (Karen Gillan) helped her friend Charmonique (Da'Vine Joy Randolph) try on wigs for a 10-year high school reunion, ultimately making her decide to wear something more classic than a complete change to her look.
"When you completely reinvent your look, you run the risk of people not knowing who the hell you are, i.e. Renée Zellweger who still looks good," Eliza said.
"But doesn't look a damn thing like Miss Renée Zellweger" Charmonique cut in, when she looked at a new photo of the actress.
This proves that we've seen Zellweger on red carpets looking different (a.k.a. just older!) and didn't make a big fuss about it. So there's no reason to do so now. Plus, Eliza is the most shallow person on the planet, so if she isn't even saying something mean, why are we?
As Zellweger said herself in response to the backlash, her look changing is just because she has altered her busy lifestyle during her years out of the spotlight. "I'm glad folks think I look different!" she said. "I'm living a different, happy, more fulfilling life, and I'm thrilled that perhaps it shows." So, everyone, let's just learn a lesson from Selfie — Zellweger still looks good. Now leave her alone.
To see the full clip, you can watch Selfie on ABC.com.
Images: ABC; Chris Evans XYZ/Tumblr