Tom Might Have Moved on from Pawnee in Season 7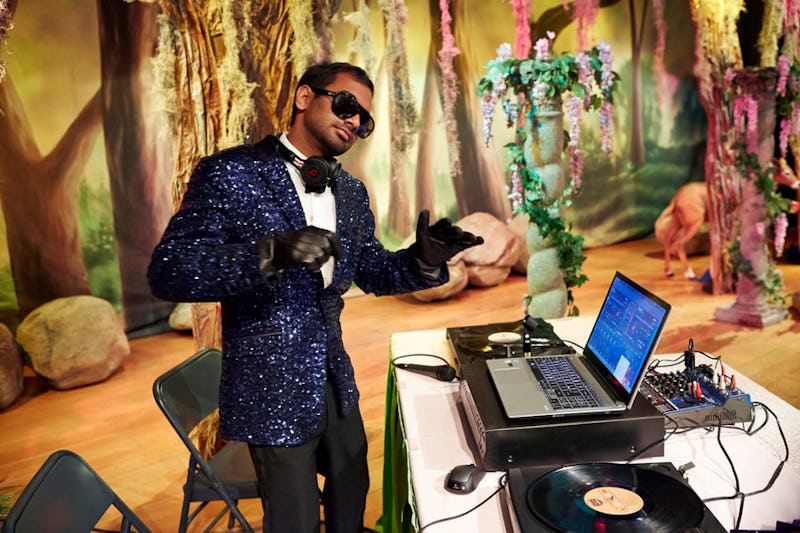 When we finally get to visit Pawnee again once Parks and Recreation returns for its seventh season, it will be three years into the future, thanks to last season's hilarious final scene involving a bumbling Jon Hamm and triplets for Leslie and Ben. While we got a quick rundown of many of the characters still working hard for Ms. Knope, and whatever the heck she's up to right now, a few characters were missing. Most noticeably, Tom Haverford wasn't seen in the future. So where was he? Oh, probably off trying to save the world with his true love, Dr. Nadia Stasky, played by Tatiana Maslany.
Though Dr. Nadia only appeared in two episodes last season, I like to think she had a lasting impressing on our Tom. It's basically love at first sight for him, and then she has to go and make a joke about Blue Ivy's future airline. It's kind of surprising that Tom doesn't get down on one knee and grab a ring from Donna's desk (because I assume that Donna has a surplus of engagement rings that she's accepted and then never returned. Treat yo self). We see Dr. Nadia again at Ben's epic roller skating party, and learn that she's about to head off to save the world with Doctors Without Borders. That's pretty damn impressive.
If there's one character who has changed a lot, and very much for the better, over the last six seasons, it's Tom. Gone are the days where he and Jean-Ralphio would print their own money. Tom has become an actual businessman, and is following through with the plans he sets for himself, which is something that we never would have seen during Season 1, or even Season 2 or 3. Back then, Tom was all talk. Now he's about action. Tell me you weren't overjoyed when he finally opened up his own restaurant — even though Rent-A-Swag fell apart. He's really grown up. A jump from creating the prototype of DJ Roomba to eventually opening Tom's Bistro is a pretty impressive business model to follow.
Parks and Rec's executive producer Michael Schur told Entertainment Weekly after last season's flashforward that it was a conscious decision not to include Tom, "for various reasons." Considering Tom's new adult mentality, might he have made the ultimate adult decision and followed Dr. Nadia somewhere across the world? I think it's possible. It's a completely natural step when you get serious with a relationship, and that seems to be the last piece for Tom to figure out in his life. He's had a string of failed relationships, from his ex-wife Wendy, to trying to woo Ann, to the hot mess of Mona Lisa, to simply being in love with himself. Dr. Nadia might be the perfect woman for Tom to settle down with, but she's a world traveler. Her career is obviously important to her, and luckily, I don't think it'd be hard to persuade Tom to become a jet-setter.
Maybe we don't see him in the flash-forward because he's not currently in Pawnee. Tom hasn't joined Doctors Without Borders as a doctor, but rather as someone on the business side of things. He'll have to return to Pawnee at some point, of course. In his EW interview, Schur confirmed that the whole cast will return for Season 7, and Aziz Ansari's tweets also confirm that.
As we prepare to say goodbye to Pawnee, it's important to know that everyone is going to be OK, and well on their way towards a happy ending. I really want Tom to finally get the girl, and it's just an added bonus if that girl makes his lavish travel dreams come true.
Image: Ben Cohen/NBC