Missing 'Parks and Rec?' We Can Help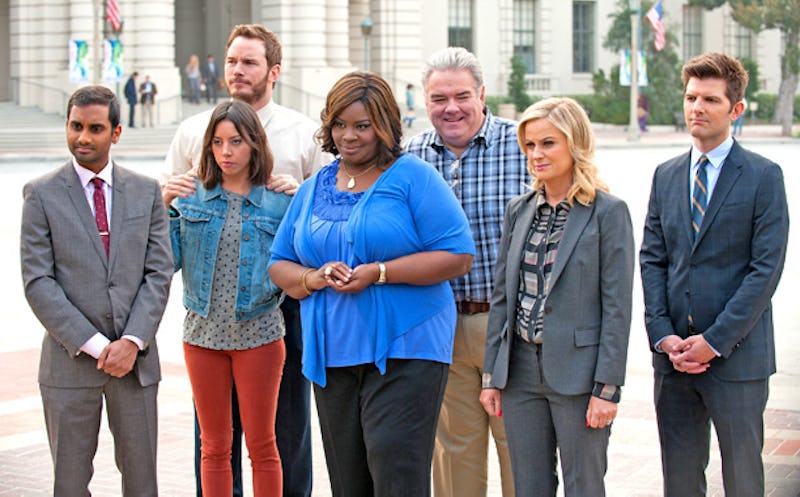 If you've been feeling like this fall's TV lineup has been missing something crucial, it's not just in your head; as of October 24, it'll have been six months since there's been a new episode of Parks & Recreation . The beloved comedy was renewed for a seventh year back in May, but NBC decided to hold the thirteen-episode season until the beginning of 2015. While that might've made perfect sense for the network, it's been a huge bummer for the show's fans waiting to catch up with our favorite Pawnee-ins and find out what happened after that shocking, Hamm-filled three-year leap.
Unfortunately, six months isn't even the end of the wait; while no official premiere date has been released, Parks is going to be a mid-season show, meaning that it'll likely premiere in January or February. Yet while waiting that long to learn why Jerry/Garry/Larry is now being called Terry will certainly be difficult, it doesn't have to be torturous. There are plenty of ways to still have Parks & Rec in your life before the show returns, such as:
Catching Up on Welcome to Sweden
This summer NBC show, created by Poehler's brother, Greg, might've passed you by if you were too busy mourning the loss of Pawnee in your life. Don't fret, though; catch up on all the show's episodes online, and when you do, you might just spot many of the Parks cast you'd been missing so fiercely. Amy Poehler, Rashida Jones, Aubrey Plaza all make appearances throughout the series' first season.
Seeing Aziz Ansari on Tour
Most of Ansari's tour dates already happened, but his last few U.S. shows are still coming up, as well as two others in London. Ansari's real life persona may be a lot more grounded than Tom Haverford's, but the fast delivery, pop culture references, and impeccable fashion taste should be familiar to anyone missing the Rent-a-Swag owner's trademark wit.
Watching They Came Together
David Wain's rom-com parody came out on DVD in September, and if you missed it over the summer, now's the time to check it out; in addition to being a hilarious take-down of every You've Got Mail-ish movie ever ("You like fiction books? I've never met anyone else who likes fiction!"), it also features two Parks & Rec cast members: Amy Poehler in the lead role and Adam Scott in a cameo, plus a handful of other faces familiar to lovers of NBC comedy.
Checking Out All of Nick Offerman's Off-Screen Antics
Here are your options for having the real Ron Swanson in your life during this terrible wait: see him perform stand-up. Read his book. Sign up for his woodshop newsletter. Or, if none of those seem satisfying, attempt to make a meat tornado/not throw up from making a meat tornado. Good luck.
Looking Through Old, Goofy Photos of Chris Pratt For the 34379 Time
And telling everyone you meet that "you loved him before he got famous."
Freaking Out Over Season 7 Spoilers
Very little has been revealed about Parks' final season, but the details that are out are juicy. What we know so far: Tammy II is returning, April and Andy might have a baby, and if Instagrams are to judge, there might just be a sequel to the iconic "Treat Yo Self" episode of season 4. Pawnee-ins, get your Mouse Rat hats and 'Lil Sebastian tributes ready: there's only 13 episodes left of Parks until the end, and it looks like it's going to be one wonderful mess of a ride.
Images: NBC (3); Getty Images; Lionsgate