A Wedding Idea Harry Potter Fans Will Love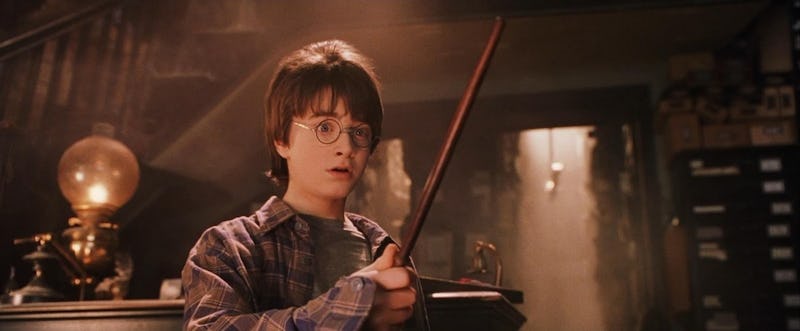 There's no denying that Harry Potter helped shape our generation (like everyone, I'm still determinedly waiting for my Hogwarts letter), so it's pretty natural for fans of the series to want to incorporate the book into what's already supposed to be the most magical day of their lives — their wedding. Which is exactly what bride Victoria Garcia managed to do, thanks to her amazing Harry Potter wedding bouquet. It's literally made from the pages of Harry Potter And The Sorcerer's Stone. Is anyone else jealous they didn't think of that first?
As the Huffington Post reports, Garcia first got the idea when she saw book page bouquets on Etsy, where prices range anywhere from $65 to over $120 per arrangment, depending on the size and materials (there's even a sonic screwdriver bouquet for Doctor Who fans. In fact, even if you don't like the show, you should check it out because it's beautiful). However, as varied as the online options are, Garcia wanted to pay homage to the book that got her into reading in the first place, Harry Potter and the Sorcerer's Stone. In an email to the Huffington Post, she wrote that while weddings are about "two people coming together... I wanted to carry something that stood for me and me alone." I'd say she accomplished that pretty well, wouldn't you?
The flowers, made from pages taken from Harry Potter and the Sorcerer's Stone, were fashioned at a stationary shop, and Garcia arranged the bouquet herself. The results, I think we can agree, are just as enchanting as anything you'd find at Hogwarts. But you don't have to be a Harry Potter lover to get this look yourself. When it comes to incorporating your love for reading into your wedding day, the possibilities are truly endless. Start your search at Etsy, where you can find a variety of book-themed wedding props like Penguin Books save-the-dates, or these library card invitations. And if you're feeling especially creative, here are a few other ideas you can try:
1. Wedding arch
Who knew book shelves were so great at multi-tasking?
2. Wedding cake
Why not go all out and have a cake shaped like a stack of books? (This isn't a wedding cake, but I think it's a super cute idea.)
3. Wedding Decorations
Also, how cute are these table decorations?
4. Wedding Guest Book
If I were getting married, I would find a way to make the guest book shaped like The Monster Book of Monsters from Harry Potter, because that would be hilarious, and nobody can convince me otherwise. It would probably garner disapproval from the older set, but that's going to happen anyway, right? And luckily, there just so happens to be DIY instructions online that show you how to make your very own monster book.These are just a few of the many ways to make your love of reading part of your wedding. Seriously, even if you're like me and turn into a ball of neuroses and anger when confronted with doing crafty things for fun, there's really something for everyone. So get creative, book lovers!
Images: Warner Bros., Vanessa Hayes/Clemson University Library/Dave Catchpole/Flickr, Giphy