I Tried Kim K's "Famous" Mac & Cheese Recipe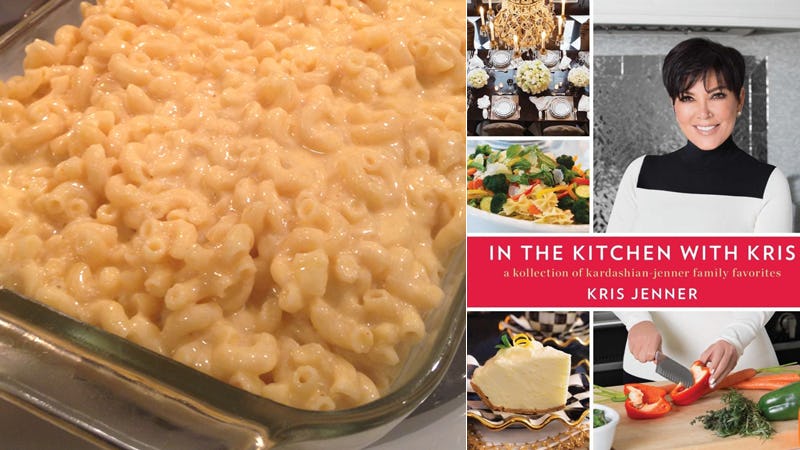 In the latest attempt at Kardashian-Jenner world domination, Kris Jenner released a cookbook called In the Kitchen with Kris . The subtitle reads: "a kollection of kardashian-jenner family favorites," because if a Kardashian spells something with the letter "C," they'll die. As basically everyone who's seen it has said, this cookbook is insane. From the odd selection of personal photos to the lack of photos of actual food to the paragraphs of personal stories to the blatant favoritism of her children, as usual, it's impossible to know what was going on in Kris' brain when she put this thing together. But the end result does actually include recipes for food, so I figured hey, why not try to make it?
Choosing what recipes to attempt turned out to be pretty easy. "Kim's Super Cheesy Macaroni and Cheese" immediately caught my eye, because I cannot even imagine Kim Kardashian eating the food of us commoners, let alone making it. But according to Kris, "it's fabulous." The funny thing is, the recipe in Kris' book isn't Kim's, it's one that Kris developed inspired by Kim's. I like to think that Kim wouldn't give Kris the recipe because she's saving it for her own cookbook. A girl can dream. But for now, we have In the Kitchen with Kris, so break out that luxury apron — it's time to embark on a kulinary journey.
Kim's Super Cheesy Macaroni and Cheese
6 tablespoons unsalted butter
1 pound elbow macaroni
3 tablespoons all-purpose flour
1 tablespoon dry mustard powder
3 cups whole milk, heated (do the Kardashians really ingest whole milk? The recipe's first red flag)
1/2 yellow onion, shredded
1/2 teaspoon sweet paprika (I couldn't find anything labelled sweet paprika, so went with the regular kind)
1 bay leaf (bay leaves only come in pretty large packs, so if you're in need of about 10, hit me up)
8 ounces pasteurized, processed cheese, such as Velveeta
1 cup shredded sharp Cheddar cheese
1//4 cup crumbled goat cheese (I might have forgotten to buy this, but don't worry, I increased the amount of the other many kinds of cheese to balance it out, and Kris' alternate version doesn't include it anyway)
1/4 cup shredded Gruyere cheese
1/4 cup shredded mozzarella cheese
1/4 cup freshly grated Parmesan cheese
kosher salt and freshly ground black pepper
3 large eggs, beaten (ultimate red flag)
1 cup panko bread crumbs
Does everyone else see how long this list of ingredients is? You're probably thinking that this recipe will live up to its "super cheesy" title, right? Not exactly. I followed the recipe, which took much longer to prepare than I thought (and not just because I discovered too late that I don't own a cheese grater and had to chop a lot of cheese into tiny pieces by hand). There's lots of heating and stirring. Why do I have to heat up milk to add to a pot of liquid that's already simmering, Kris? Why did you make me add a single bay leaf to that pot? What do I do with the bay leaf? I'll spare you the small details, but here's a photo of melted butter, flour, dry mustard, onion, paprika, and one bay leaf, simmering until reduced.
Yum? While that simmered, I combined all the cheese into a separate bowl and stopped myself from just digging in with a spoon and forgoing the bay leaf pot of doom. Here's the glorious cheese bowl, held by my sous chef/boyfriend who was much more optimistic about this koncoction than me.
Then it was time to add 3/4 of the cheese combo to the "sauce." (R.I.P. giant bowl of cheese.) I stirred until it melted as told and seasoned with salt and pepper to taste (though apparently my taste was not enough salt). Once the cheese was mixed in, the sauce actually looked pretty appealing.
Then came the moment I'd been dreading — the eggs. I beat three eggs in a separate bowl and added them to the mixture. After they were stirred in and there weren't gross streaks of bright yellow raw yolks, the completed sauce still looked pretty good. I combined it with the macaroni I'd already cooked (but in a separate bowl, because I do not have the giant family-sized kitchenware Kris does), and spread it into a baking pan coated in butter. Yes, coated in butter. I can't remember the last time I didn't use Pam spray to grease a pan, and never could have imagined that the Kardashians of all people would be my inspiration to use whole milk and butter as grease in one dish. What a day. Here's the combined macaroni and cheese gracefully tumbling from bowl to dish.
If you're wondering where that pesky bay leaf is, after a debate with my sous chef/boyfriend, I took it out, terrified of the prospect of biting into mac and cheese and getting an actual leaf. It looks pretty good though, right? Once I had spread all of the macaroni evenly into the pan, I topped it with the remaining 1/4 of that beautiful cheese bowl, then covered that with bread crumbs coated in melted butter. Who knew the Kardashians loved butter so much?
It was supposed to bake in a 350 degree oven for 30 minutes, but since at that point the topping wasn't "golden brown," I left it in for a little longer. Still not brown. But the sauce was bubbling around the edges and I was super hungry by then, so I took it out, let it stand for five minutes as directed, and dug in.
The result? Just blah. Considering the amount of cheese and other full-fat dairy products that went into this monster, I was ready for a gooey, delicious mess. But instead, it was actually kind of dry. Having so much cheese might've hurt it in the end, because you couldn't tell exactly what kind of cheese it was, which was weird. Sous Chef/boyfriend's eloquent response was "it's good, I like it," but he'll eat anything, and I was not impressed. Since we still had about 3/4 of a tray left, I brought in the leftovers to the Bustle office the next day, and the negative response lined up more with my own thoughts. Here's a round-up of some responses.
"What cheese is this?"
"Tastes mostly like regular homemade Mac & Cheese"
"Wish it was crunchier but I think that's cuz I reheated it"
"A little bland but I also like things to be PACKED with flavor so I bet it's good for kids. Like Kendall and Kylie, for example."
"Overall I would say a solid mac and cheese but nothing special. None of that ~Kardashian Kick~ I would have hoped for."
"i don't like it [sad face emoji]...it just kinda sucks"
"It doesn't suck. But it's not as cheesy as you would think."
"If I had to follow a recipe by Kris Kardashian... no."
The most common response was that no one could tell what kind of cheese was in it, including someone who said, "I feel like I'm familiar with most cheeses," so basically an expert. However we did make the important discovery that the macaroni and cheese was much better when scooped up with salt and vinegar chips, and accompanied by peppers.
So there you have it, "Kim's Super Cheesy Macaroni and Cheese" was not very cheesy and it was also dry, bland, annoying to make, unnecessarily expensive (that mustard, paprika, and damn bay leaf did literally nothing), and just disappointing. Maybe there are some secret ingredients that Kim wouldn't reveal to Kris, or Kris ruined Kim's recipe, or since none of the Kardashians have eaten a carb since 2007, they forgot what mac and cheese is supposed to taste like.
Sorry, Kardashian-Jenner family. I'll keep watching your shows, using your nail polish, and liking your Instagram photos, but I just cannot get on board with your cooking. Next time I want mac and cheese, I'll go for the boxed kind (though maybe I'll throw one of these freaking bay leaves into the pot).
Images: Samantha Rullo; Giphy