21 Pun-tastic Halloween Costumes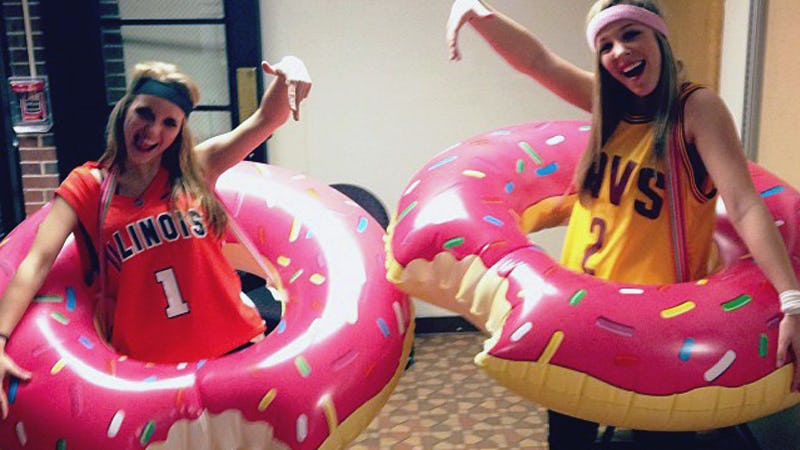 Everyone loves a good punny Halloween costume — and why wouldn't they? They're classics for a reason. The pun-based Halloween costume is simple and cheap to pull together, skips the potential awkwardness of the gross-out costume, and makes you seem like a clever, witty bon vivant to potential sexual partners (which, as we all know, is what Halloween is actually about).
But coming up with a decent pun-based costume is more difficult than it looks. Should you push ahead into new, uncharted pun waters this year? Explore new, exciting idiom-based outfits? Or should you just whip out the old "deviled egg" costume and call it a day? Hey, the "deviled egg" is a fine, upstanding Halloween costume (and also a fine, upstanding snack food, if you're looking for some Halloween party food suggestions).
Just in case you want to mix it up this year, here are 21 pun costumes that run the gamut from the traditional favorites to mash-ups that push the very boundaries of punnage. But no matter what punny costume you choose, go out into the world on Halloween night confident in one thing: Everyone will like you better than that girl in the zombie costume who dripped fake blood into the onion dip.
Check out the entire 'What's Up, Boo?' series and other videos on Facebook and the Bustle app across Apple TV, Roku, and Amazon Fire TV.
PIG IN A BLANKET
Comedy factor aside, you also get to wear a blanket all night — which is going to make you a much happier camper come 3 a.m. than anyone who dressed up as a "cat" in 6-inch heels.
SHOOTING STAR
If you don't really want to get dressed up and also love an excuse to play with fake guns, this is the outfit for you.
CEREAL KILLER
Do you love carbs? Do you love carbs so much that you MUST KILL THEM? Then go to town.
NUTTY PROFESSOR
Finally, enough time has passed that you can bust this one out and not remind everyone of those crappy Eddie Murphy movies where he played like 39 different characters.
POT HEAD
Topical! And also possibly a good way to get people to offer you pot (not that I would know).
SPELLING BEE
No, Drunk Guy Outside the 7-11, I am not the bee girl from the Blind Melon video.
SIGN LANGUAGE
Yes, you'll take this poster board off after ten minutes and lose it in a corner somewhere — but what a thrilling ten minutes those ten minutes will be!
BASEBALL BAT
Exercise caution around anyone who invites you to check out their "base balls," though.
GINGER BREAD PERSON
He's a ginger bread man, you could be a ginger bread woman ... we're all just ginger bread PEOPLE, man.
HAWAIIAN PUNCH
An easy and stylish tribute to America's most violent soft drink.
SOMEONE YOU CAN COUNT ON
The only Halloween costume that also qualifies as light workplace brown-nosing.
FORK IN THE ROAD
No matter what you do, you're going to accidentally stab someone with that fork before the night's over, so best to start preparing mentally now.
LIFE, GIVING YOU LEMONS
Well, for God's sake, don't take them! It's a trick!
DUNKIN' DONUTS
Will they give you free donuts if you show up at a Dunkin' Donuts dressed like this? You try and then tell me what happens.
BIG BABY
Sometimes making a Halloween costume out of the insults your ex called you during your last break-up is actually really cathartic.
BRUSH WITH DEATH
And then floss with a nagging sense that your best years are behind you.
BREADWINNER
And if the party you're at isn't everything you'd hoped for, well, at least you have some snacks.
WILSON PHILLIPS
Yes, that's Captain Phillips from Captain Phillips and Wilson the volleyball from Castaway. Of course, the real question is: is there a secret thread relating early '90s lite rock girl groups running through all of Tom Hanks' movies? Has anyone checked Larry Crowne?
TIE FIGHTER
It's a pun and it's related to Star Wars, so you're testing high in two demographics (two demographics with a fairly strong overlap, perhaps, but still)!
JACKIE O-LANTERN
Yeah, we're getting a little more conceptual here right now. Can you take it? CAN YOU TAKE IT OR DO YOU NEED TO RUN CRYING BACK TO YOUR "DEVILED EGG" COSTUME, HUH?
JURASSIC PARKS AND REC
I die.
Images: Giphy