Ashlee Holmes May Have Joined the Family Feud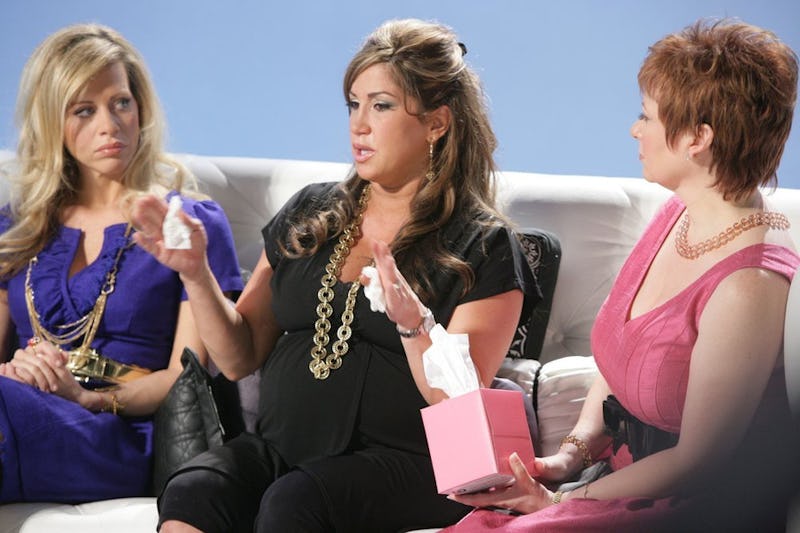 After a whole season of all of The Real Housewives of New Jersey fighting amongst themselves, it seemed like everyone finally made up during the surprisingly conflict-free finale. But the feuding may be rekindled going into the reunion special. There's an unconfirmed rumor from Jacqueline Laurita's daughter Ashlee's Twitter alleging that upon seeing her behind the scenes in the green room, Dina Manzo was furious, and refused to get ready while they could see one another. The phrase "childish tantrum" comes up frequently in the articles where this incident is covered. Freaking out that badly is in direct contradiction to Dina's "zen" philosophy and personality. I know she loves to avoid conflict, but if this did happen, it tips the scale much closer to instigating conflict — in a really immature way.
We already knew that Jacqueline and Dina don't get along, but refusing to even share a room with a member of her family? Could things have really gotten that bad between them? They haven't been close since Season 1, and things got worse this summer, when Jacqueline and Ashlee were roasting Dina over Twitter and Instagram. After the finale taping, Ashlee took to Twitter again in order to vent about Dina's behavior at the reunion.
It doesn't sound like we'll be getting any answers by the end of the Season 6. Ashlee promised to keep quiet about what really happened until the season ends. Jacqueline will not be appearing this year on the reunion, and Dina has already promised that she won't return for Season 7 after the chaos of Season 6. But just recently, Jacqueline tweeted a coy "season 7" in response to the question of what's going on between her and Dina.
Rosie and Kathy haven't chimed in on whether or not the story about Ashlee and Dina getting into a big conflict is true. But Ashlee is insistent. She wrote a very long Instagram caption (seriously, people, there are places for longform writing, even a Facebook status would be a more appropriate forum for this) describing the incident in enough detail that it seems obvious that they had some sort of altercation, even if she didn't add any details until later on Twitter. Ashlee quickly deleted the Instagram caption, but never apologized for or recanted what she said.
Is Dina the type to disrupt someone and antagonize them on purpose so they can't do their job? Usually, no... unless it's Jim Marchese.
Image: Virginia Sherwood/Bravo