Why Are They In 1994 On 'TVD'?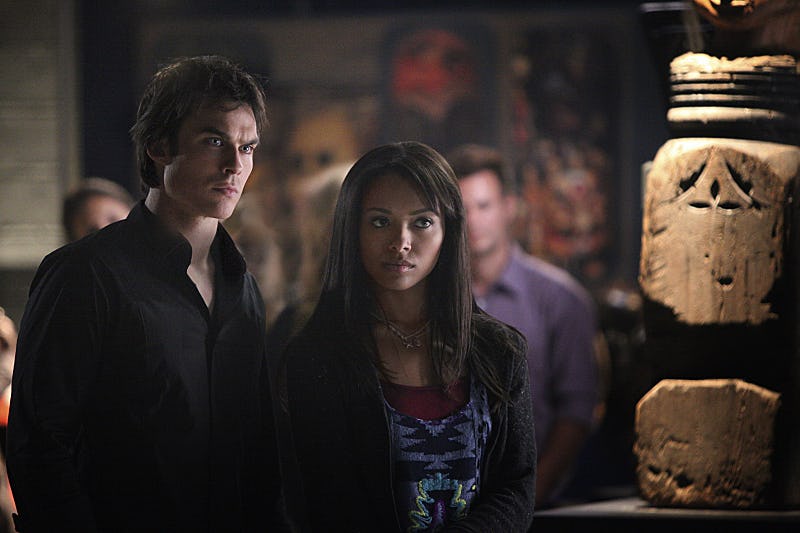 The big question still remains on The Vampire Diaries : WHY are Damon and Bonnie in 1994? So far, the series has thrown a few theories out there, the most likely of which seems that Bonnie's Grams sent her and Damon to 1994. However, during Thursday night's new episode, "Black Hole Sun," introduced two new theories into the mix and a way for Damon and Bonnie to get home. Yes, you read that correctly — a solution to their problem has been revealed. But TVD is still trying to figure out why they've been sent to May 10, 1994 and apparently, they could be in one of two very different personal hells.
I mean, no one was under the impression that wherever Damon and Bonnie had been sent would be safe, right? And the circumstances through which they arrived there would absolutely not be pleasant? Well, apparently they're even more unpleasant than anyone thought. "Black Hole Sun" introduced two extremely bleak theories as to why Damon and Bonnie ended up with Kai in early '90s Mystic Falls. And, unfortunately, one of them paints out dear, old Damon in his worst light yet. Yes, an even worse light than the time he broke Jeremy's neck just for fun.
According to Kai and Damon, May 10, 1994 could be either of their personal hells, both for pretty gruesome reasons. And, while I'm leaning towards the fact that this has everything to do with Damon this time, anything's possible on TVD. So, here's what Tuesday night's episode revealed:
Kai's Personal Hell
Well, is anyone surprised that Kai is a black sheep? He's as antagonistic as Klaus and apparently his parents had the same view of him and Esther and Mikael did of their hybrid son — Kai was perceived to be an "abomination" by his coven. Why? Well, because, like he demonstrated at the end of Thursday's episode, he can take other witches' powers just by touching them. So, what did he do when his family treated him like an outcast? Kai killed them — all of them. He just straight-up massacred his coven, probably after he swiped all of their powers. And he believes that they're in HIS hell, on May 10, 1994 because of what he did.
And, while that seems entirely possible, especially now that he's established himself as a foe and not a friend and someone that has the key to helping them escape, I still feel like TVD can't be all about him. I mean, this Other Side collapse is the Damon and Bonnie show, after all.
Damon's Personal Hell
I'd been wondering about this since Damon mentioned it in the Season 6 premiere because, unlike other periods of Damon's life before the present, TVD has never addressed the '90s. And here's why — remember "Uncle" Zach? Well, apparently, in May of 1994, Damon returned to Mystic Falls to find Stefan and Zach running the Salvatore Boarding House. (I know, weird.) And, naturally, Damon wreaked havoc, but this was a more sinister form of havoc — Damon killed Zach's pregnant girlfriend and promised Stefan a lifetime of misery after he did it.
And now that TVD also revealed that the baby Zach's girlfriend survived and has become Sarah — the new girl in Mystic Falls — it seems more likely that we're in Damon's hell after all, having him live this day where he committed so much violence over and over. I mean, that connection means everything.
Image: Annette Brown/The CW