This Is How to Get Diverse Books On the Shelves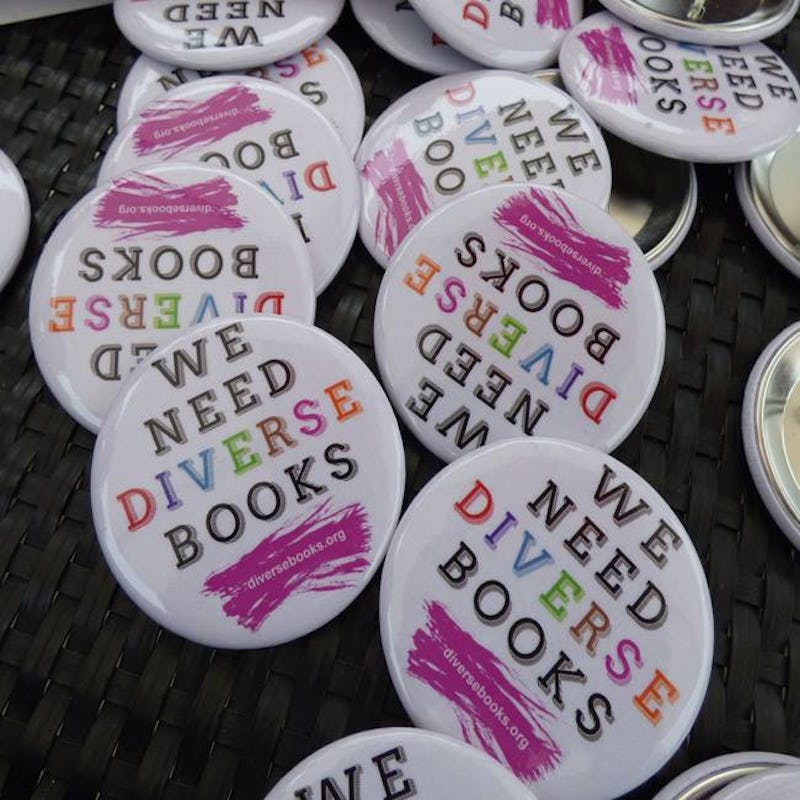 Junot Díaz famously once said, "If you want to make a human being into a monster, deny them, at the cultural level, any reflection of themselves." It's with this idea at the heart that We Need Diverse Books' IndieGoGo campaign launched Thursday. The grassroots organization aims to promote the "story of us all," ensuring that children's and young adult books shelves contain diverse, non-majority narratives of LGBTQ, disabled, and all different races human beings.
The IndieGoGo campaign, through supporter donations, hopes to achieve five concrete goals:
Diversify classroom literature, particularly in disadvantaged schools
Support new diverse authors through the Walter Dean Myers Award and Grant Program
Promote diverse programming across the country
Develop educational kits by working with School Library Journal and the American Booksellers Association
Host the first Kidlit Diversity Festival by Summer 2016 in Washington, D.C.
We Need Diverse Books, which has since incorporated, began back in April. The Twittersphere reacted after a list of 30 participating authors at BookExpo America's BookCon was released — and all of them were white. Further, the panel of "luminaries" in children's literature was all white men. The hashtag #WeNeedDiverseBooks swept the Internet, prompting BookCon manager Brien McDonald to reach out to author Ellen Oh and other WNDB supporters. BookCon added a panel called "The World Agrees: We Need Diverse Books."
If you want to support We Need Diverse Books' campaign, you can donate as little as $5, for which you'll receive the "perk" of a virtual high five. There are loads of other perks you can purchase with your donation, including a We Need Diverse Books canvas tote bag, a logo t-shirt, and even illustrated holiday cards that celebrate diverse reading among children.
For all you writers out there, there are also some serious perks to donating. For $200 you can get a seasoned agent to critique the first 10 pages of your middle grade or YA manuscript. For $500, you can help WNDB with their first goal, by sponsoring a classroom and sending a diverse author to visit the school. Jacqueline Woodson, who is currently a favorite for the National Book Award for Young People's Literature, will have dinner in Park Slope, Brooklyn with one lucky person who will donate $3,500. And if you donate $7,500, you get an amazing prize package that includes a day with Newbery Award-winning Grace Lin.
If none of this has yet convinced you to donate, the video on the campaign homepage will surely bring a tear to your eye. The We Need Diverse Books team will participate in a Twitter chat Friday at 1 p.m. to discuss why this campaign is just so important. You can follow #SupportWNDB to join in.
Images: We Need Diverse Books/Facebook; We Need Diverse Books/IndieGoGo