Your 20 Finalists For the National Book Awards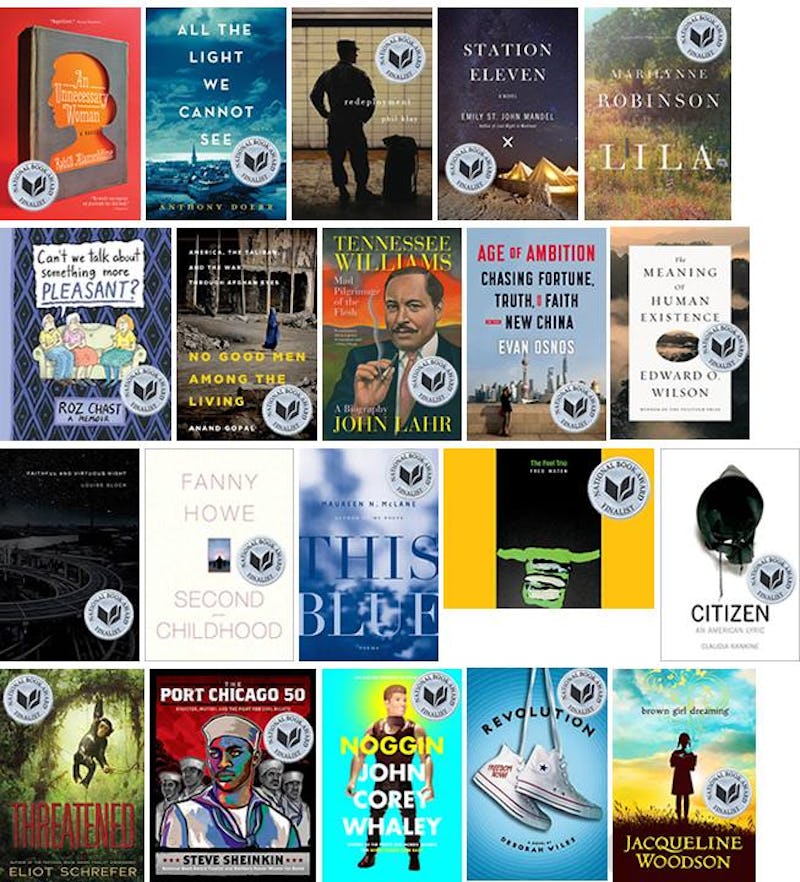 They're here, they're here! On Wednesday, the National Book Foundation announced the 20 finalists for the 2014 National Book Award on NPR's Morning Edition. Mitchell Kaplan, former president of the American Booksellers Association, was on hand to help present the five finalists in each of the four categories: fiction, nonfiction, young people's literature, and poetry.
Nearly half of the finalists this year are women, thanks mostly to the poetry category, which saw women dominate men 4 to 1. In each other category, women were the minority. Still, it's incredible to see some standout voices make it this far. Ready for the names?
Fiction Finalists
Rabih Alameddine, An Unnecessary Woman (Grove Press)
Anthony Doerr, All the Light We Cannot See (Scribner)
Emily St. John Mandel, Station Eleven (Knopf)
Marilynne Robinson, Lila (Farrar, Straus and Giroux)
Phil Klay, Redeployment (The Penguin Press)
First of all, hooray for women! Second, it really stands out in this current global climate that, as Kaplan pointed out in the Morning Edition broadcast, four out of the five finalists are set against a backdrop of war or some kind of political and sociological strife. The exception, of course, is Robinson, who returns to her beloved Gilead to capture the prize.
Nonfiction Finalists
Anand Gopal, No Good Men Among the Living: America, the Taliban, and the War through Afghan Eyes (Metropolitan Books/ Henry Holt and Company)
Evan Osnos, Age of Ambition: Chasing Fortune, Truth, and Faith in the New China(Farrar, Straus and Giroux)
John Lahr, Tennessee Williams: Mad Pilgrimage of the Flesh (W.W. Norton & Company)
Edward O. Wilson, The Meaning of Human Existence (Liveright Publishing Corporation/ W.W. Norton & Company)
Roz Chast, Can't We Talk About Something More Pleasant? (Bloomsbury)
Let's just go ahead and talk about Chast, who was the breath-holding last finalist announced. Everyone on this list has very different approaches to nonfiction, said Kaplan, but Chast stands out as being the very first graphic novel to be on an adult list of finalists.
Young People's Literature Finalists
Eliot Schrefer, Threatened (Scholastic Press)
Steve Sheinkin, The Port Chicago 50: Disaster, Mutiny, and the Fight for Civil Rights (Roaring Brook Press/ Macmillan Publishers)
John Corey Whaley, Noggin (Atheneum Books for Young Readers/Simon & Schuster)
Deborah Wiles, Revolution: The Sixties Trilogy, Book Two (Scholastic Press)
Jacqueline Woodson, Brown Girl Dreaming (Nancy Paulsen Books/Penguin Group (USA)
I will admit when I am wrong, and I am flat-out shocked this wasn't the year for Laurie Halse Anderson's relevant The Impossible Knife of Memory . However, I'm stoked to see Woodson still make the list for her novel in verse, and definitely interested in seeing Noggin, which has such a bizarre premise, to be recognized.
Poetry Finalists
Louise Glück, Faithful and Virtuous Night (Farrar, Straus and Giroux)
Fanny Howe, Second Childhood (Graywolf Press)
Maureen N. McLane, This Blue (Farrar, Straus and Giroux)
Fred Moten, The Feel Trio (Letter Machine Editions)
Claudia Rankine, Citizen: An American Lyric (Graywolf Press)
While some of us are still reeling a bit from the non-inclusion of Ellen Bass and others, it is nice to see so many women and smaller presses (well, Graywolf at least) on the list of finalists.
If you're more of a visual learner, this helpful graphic can sort through all of the finalists for you.
We'll just have to wait until November 19 to see who takes home the big, coveted prizes.
Image: National Book Foundation via Facebook