Watch Spike Lee's Doc About This Amazing Pitcher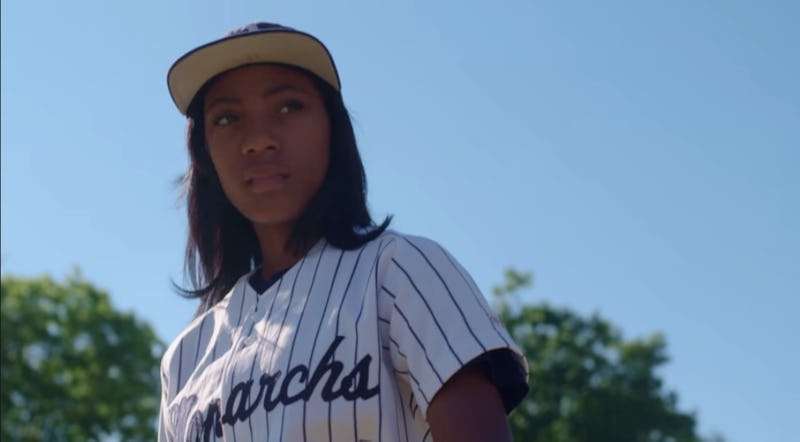 Mo'ne Davis recently bumped Kobe Bryant off the cover of Sports Illustrated. The 13-year-old pitcher, however, isn't too thrilled by the photo. "I look like a blowfish," she said. This is just one of the many excellent and telling moments from Spike Lee's new documentary about Mo'ne, called Throw Like A Girl. It's a must-watch, and there are no excuses not to, since it's only 16 minutes long. Her Chevrolet commercial comes at the end of the larger documentary, which was directed by Lee for Chevy Baseball.
For those unfamiliar with her story, Mo'ne is the first female pitcher to win a Little League World Series game. But watching the documentary, you learn that this is only the tip of the iceberg of her success. Mo'ne comes off as a real girl, eschewing soundbites and inspiring speeches for straight talk. She doesn't even consider baseball her favorite sport; it's basketball. She's also an honors student at a great school, and she has a sky high IQ. But when asked what she does for fun, she cooly answers "sleep."
It's great to see her story told in such a sophisticated, nuanced way. Because it's associated with such big names as Chevy and Spike Lee, the production value is high. More big name directors should make films like this, using their talents and sway to tell unusual stories like Mo'ne's.
It's also easy to turn something like this into a generic cheesy success story, and it's been done many times in advertisements. Though the documentary was made for Chevrolet, it isn't schmaltzy, straying away from the spine tingling inspiration of the shorter ad for a more realistic feel. This is probably due to Lee's direction, who, in addition to making many famous films, is an accomplished documentarian. I like that this documentary doesn't try to create a false dedication in Mo'ne. She's hugely modest, and doesn't engage in the "baseball is my life" rhetoric that one might expect from such a documentary. "I don't really think about it," she says. "I'm not that serious." The documentary also does a great job highlighting her sense of humor and her relationship with her family. It's a thoughtful piece of art more than it's an advertisement.
The message of needing more women in sports is powerful. My favorite moment in the documentary is when someone describes two boys fighting about who gets to "be Mo'ne" in a play game of baseball. The idea of two boys competing to emulate a female sports figure is groundbreaking, and it's great that Mo'ne has that influence in her Philadelphia neighborhood. And with her eye focused on the WNBA, it looks like that influence might soon expand.
Image: Chevrolet/Youtube