Lizzie Bennet Didn't Live Happily Ever After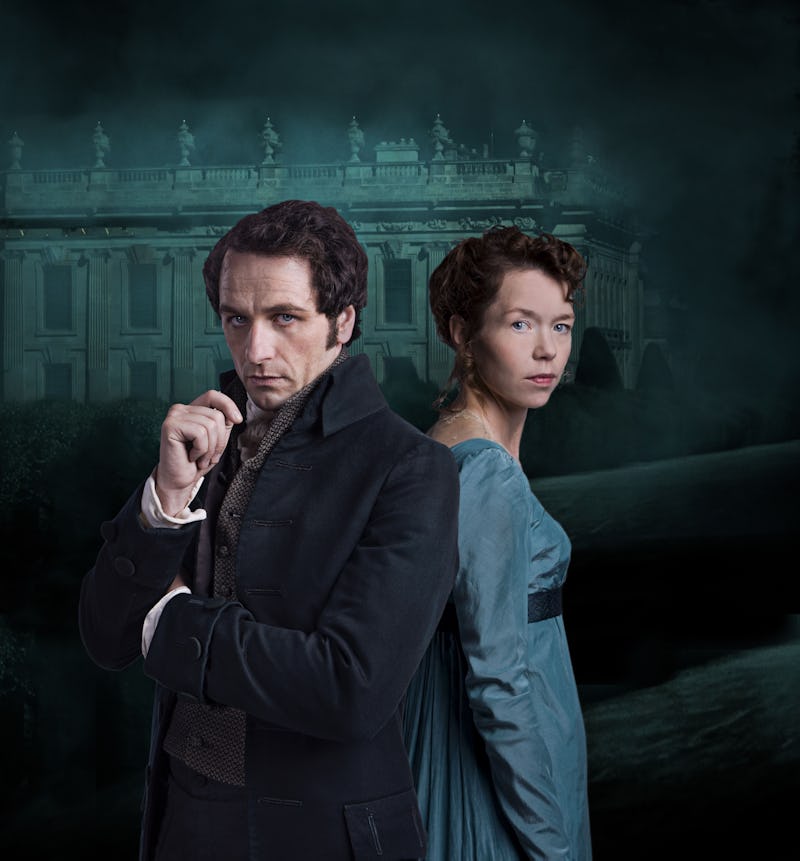 Ever wonder what happens to your favorite literary characters after you shut the book? Well, thanks to the public domain, you don't have to anymore. Many classic novels are now open to interpretation and several creators have put their spin on it, like PBS' new miniseries Death Comes To Pemberley.
It's not officially fanfiction — not that there's anything wrong with that. Jane Austen is a beloved author who was ahead of her time. Today, her work is re-imagined in many fun forms. There's Pride and Prejudice and Zombies , which has a film adaptation on the way; there is Pemberley Digital's The Lizzie Bennet Diaries, an Emmy award winning transmedia web adaptation. (That's a mouthful, but you should check it out, nonetheless); not to mention Bridget Jones' Diary (and definitely not to mention the sequel) which modernized the tale. This Sunday, Oct. 26 on PBS, another spin on this classic romance will captivate Austen fans titled Death Comes to Pemberley . Spooky. It is based on the novel by P.D. James and stars Anna Maxwell-Martin and The Americans' Matthew Rhys as Mr. and Mrs. Darcy, respectfully. What is the story about? Luckily, I can clue you in without giving away too much of the mystery.
Word to the wise? Do not confuse "P.D. James" with "E.L. James" in your head as I have been doing all week. That would make Death Comes to Pemberley a very different story. One you could certainly find on the internet, but not on public broadcasting.
First, you need to catch up on Pride and Prejudice, and PBS can help you. When we left off, everyone was married! Darcy with Elizabeth, Jane with Bingley, and Lydia with George Wickham. So many weddings. Death Comes To Pemberley takes place six years later. The Darcy home, Pemberley, is hosting its annual ball. That's so nice of them. I wouldn't think that William and Elizabeth would be into hosting dances. They're so anti-social by nature (and by comparison to their friends and siblings). Maybe it's an homage to the awkward courtship.
Anyway, the ball is interrupted by Lizzie's sister Lydia. She screams "MURDER" and a hunt in the woods reveals a body, a scandal, and a mystery to solve. Is there a detective in the estate? Too bad Sherlock Holmes can't time travel, because the game is a'foot!
There's so many questions to be answered already. Who died? That's what I'm most looking forward to finding out. Is that morbid of me? It has to be a familiar character from Pride and Prejudice. Could it be Mr. Collins, thus freeing Elizabeth's friend Charlotte from a loveless marriage? Or one of those soldiers we were always hearing so much about? Hopefully not Mary Bennet. Poor Mary Bennet. She just wanted to play the piano forté in peace. What if the victim is from another Jane Austen novel? That would be a fun crossover.
So there you have it. Familiar characters locked into a house with a crime to solve, sort of like Clue. It's airing as a part of Masterpiece Mystery. Between Downtown Abbey and Sherlock, did you ever in your life think you'd be watching this much Masterpiece before the age of forty-five?
Images: Robert Viglasky/Origin Pictures 2013 for MASTERPIECE; Giphy (2)