'Manhattan Love Story's Cancellation Isn't Alone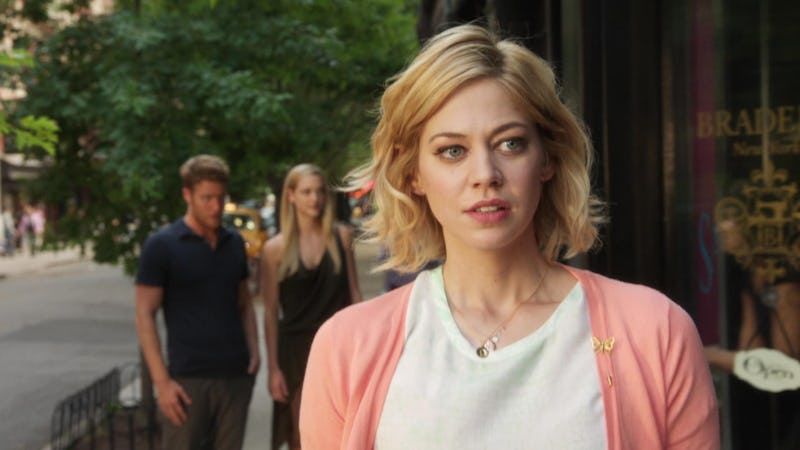 For many people, fall is typically that season you look forward to most. With big sweaters, seasonal Starbucks flavors, and the changing of the leaves, there's really nothing better. However, for actors trying to make it in television, fall isn't as exciting: Instead, for them, it's when they discovers if they'll receive their next paycheck, or if the TV show they've been starring in is going to make it past episode two. This year, unfortunately, it looks like Analeigh Tipton (Crazy, Stupid, Love) and Jake McDorman (Greek) are the first to receive the worst news: According to ABC, Manhattan Love Story was the first show to be canceled this fall season.
Even though the show was suffering from low ratings, still, you can't help but feel bad for them. I mean it's one thing to be cancelled, but it's also another to be the first. That's like being the first to die in a horror movie, or the first chef to leave on Chopped. It's not good.
Though the show only had four short weeks on air, at least it wasn't as bad as it could have been: Other shows yanked from the air before their time haven't even survived more than one or two weeks. And while it may be a bit embarrassing and definitely heartwrenching to be the first to go, at the very least, Manhattan Love Story can rest assured that they are not alone: The show now joins the long list of former TV shows which went through the exact same ordeal.
Lucky 7
In 2013, ABC's Lucky 7 wasn't quite so lucky when it got the boot after only airing two episodes and premiering to a mere 4.4 million viewers, making it "ABC's lowest-rated drama premiere in years," according to Entertainment Weekly. The show, which was meant to follow seven individuals from Queens who win the lottery together, didn't star any big name actors and ended up releasing the rest of its season on iTunes. Perhaps it was the fresh faces that made everyone iffy about it — or maybe watching YouTube videos of people winning the lottery in real life is a lot more interesting.
Made in Jersey
Anything with a title like this doesn't exactly sound appealing in the first place, and unfortunately for the creators of Made in Jersey, the show tanked after two episodes as well in 2012. With a focus on a working-class woman trying to fight her way through the ranks at a New York law firm, this actually was a pretty great concept for television. After all, we need more shows that empower women. Yet with shows like Jersey Shore, Jerseylicious and The Real Housewives of New Jersey, maybe using the name Made in New Jersey was a bit taboo.
The Playboy Club
Apparently, no one really cared that much about what the Playboy Club was like in Chicago in the 1960s. Quite frankly, I wouldn't be impressed by a show about a gentleman's club filled with playboy bunnies either. Sorry, but not sorry, Hugh.
I'm honestly not surprised that the show's third and final broadcast only brought in a little over 3 million viewers. I really stopped caring about anything Playboy-related after Mr. Hefner kept rejecting Holly Madison's ideas to get married.
Lone Star
After two poorly rated episodes and an open letter from creator Kyle Killen begging TV viewers just to watch the second episode, this show was pretty much doomed. Fortunately for main character and actor James Wolk, he moved on to bigger and better projects like Mad Men.
The Beautiful Life
Sadly for the CW, this TV show involving stars like Mischa Barton and Corbin Bleu got sacked in the 2009-2010 season due to poor ratings (again) after two episodes. Poor Ashton Kutcher, who was the producer of the show that chronicled the lives of fictional models, probably had a hard time when the first episode premiered with only 1.5 million viewers. Ouch! On the plus side, his career has since moved on and he now has a beautiful baby with Mila Kunis. Like its sad friend, Lucky 7, obviously people are much more interested in watching shows about real models.
Images: ABC, Perez Hilton, angelthegreat/Wordpress, moviefancentral, headoverfeels, WiffleGif