'Benched's New Lead is a Cult Comedy Icon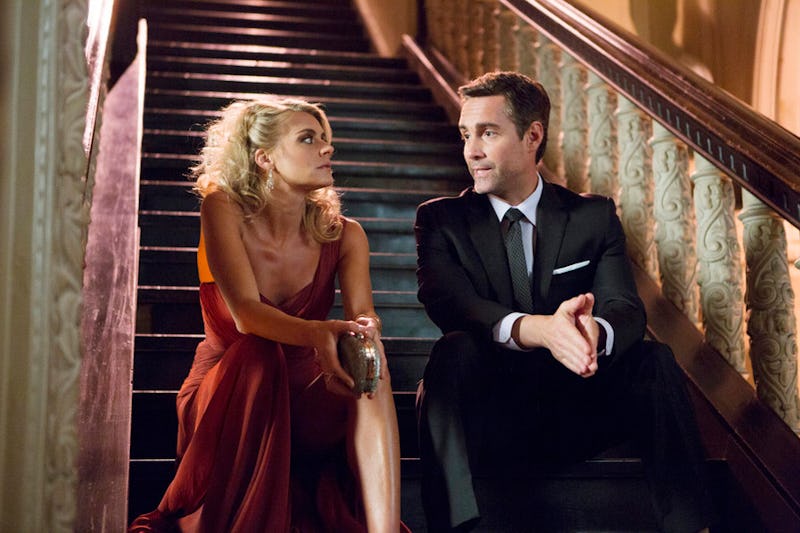 When you tune in to Benched on USA you're going to see a lot of familiar faces pop up. The cast almost seems completely comprised of television darlings from past shows that have ended or been canceled. Of those faces, one happens be one of the stars of Benched , Jay Harrington. If his name isn't familiar right off the bat, his appearances across television will be. From starring roles, to guest starring roles, he's played a wide variety of characters on a great deal of shows. It's easy to assume you've probably seen him somewhere before, because — spoiler — you probably have.
On Benched , Harrington plays Phil, the once golden boy of the office, but has since lost hope in the job and himself (hey, sounds like something Eliza Coupe's Nina could help with — that's a clear cut situation with the promise of comedy!). He's a drinker. He's a gambler. And he only seems to be putting forth 30 percent effort on a daily basis. As for Harrington himself, he's no stranger to the work place comedy, whether either be an actual office or seaside doctors office. Instead of racking your brain trying to figure out where you've seen him before, here's a short list of some of his more notable work on TV:
BETTER OFF TED
This is maybe his best known role to date, if only because it was so loved, and canceled so quickly. Better Off Ted was a great workplace satirical comedy, that also included lots of dark comedy, and also instances where Harrington's Ted broke the fourth wall — which is always a plus in my book. Two seasons in, after continued low viewership, ABC canceled the show.
COUPLING
Now for a British comedy import that didn't last too long on TV: Coupling. Fun fact: The British version and its American counterpart were both created by Steven Moffat (Sherlock, Doctor Who), so we could have had more Moffat on television and we let it slip through our fingers. After only four episodes it was sadly canceled.
SUMMERLAND
Hey, remember Summerland? I do, because it featured Zac Efron and Jesse McCartney and Lori Laughlin (the former Mrs. Uncle Jesse). It also featured Harrington as Laughlin's love interest, but he sadly called off their wedding in Season 2. Shortly afterwards, The WB canceled the show.
PRIVATE PRACTICE
In another romantic triangle, Harrington played Dr. Wyatt Lockhart on Private Practice during the second season of the show. He had a little bit of a forbidden romance with Kate Walsh's Addison, but he left afterwards to go pursue pharmaceuticals, because that's what all the good guys do.
HE ALSO LOVES SPORTS
Harrington is an avid sports fan, and it looks like he in good company with Coupe.
Images: David Moir/NBC; The WB