These 'RHONJ' Are Re-Using Old Drama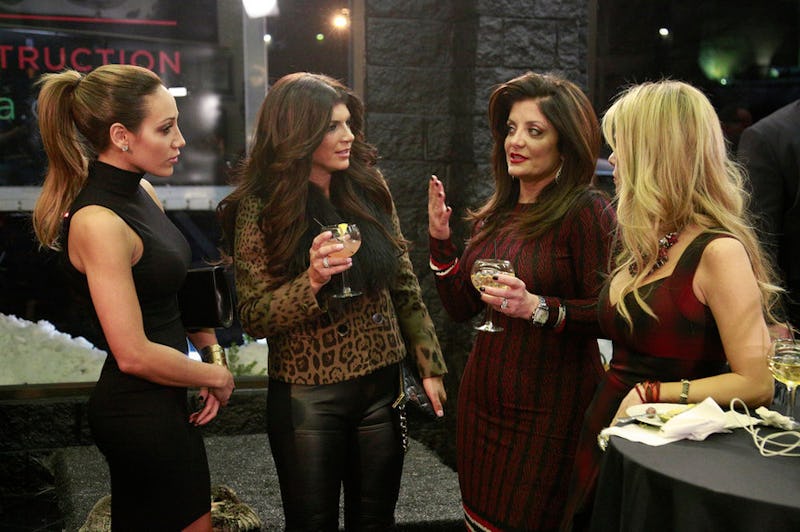 Kathy Wakile barely made it into the sixth season of Real Housewives of New Jersey at all, save for her occasional appearance with Jacqueline or when it was revealed that Kevin Jonas is her contractor. But as it turns out, she wasn't just making cannoli all season long — Kathy was also fighting over a cookbook with Teresa Giudice… sound familiar? We saw the holiday get-together when Kathy gave Teresa a gag gift dictionary, which everyone laughed off as a funny and appropriate gift for their often less than articulate family member. On the regular season, that was the end of it. But since this is "secrets revealed," we get to see that Teresa was very offended by the implication that she could do to expand her vocabulary, especially once Kathy tentatively asked if Teresa would be interested in writing a blurb for Kathy's new cookbook.
Kathy's frustrations aren't super compelling drama — even rage from her comes across as vaguely boring — but Teresa is really throwing barbs for no reason. At a white elephant or secret Santa get together, a gag gift is expected. And honestly, if Tre didn't want to write the blurb, all she had to say was "my ghostwriter is busy this month." Seriously, though, all she had to do is politely decline. Everyone all season has been treating her with kid gloves, and Kathy asking if Teresa would lend a little of her reality show sparkle to her cookbook? Not crazy, considering Teresa also wrote a cookbook.
But instead, with Dina as witness, the two spend a dinner sniping at one another and I don't believe were seen together again for the rest of the season. Non-existent mystery solved! Or, excuse me, secret revealed. Teresa is fed a "how do you spell "bitch?" "K-A-T-H-Y" line, which she delivers as flat and woodenly as possible. Kathy does a little better with "Tre is putting the "dick" in "dictionary," but oh, boy, are those some stale jokes. This may have been a good choice for the cutting room floor, but it's interesting to see that even during this "busy" season for Teresa, she did have time to be a petty jerk to her extended family.
Images: Heidi Gutman/Bravo; Giphy (2)