How Long Will These Dunphy Neighbors Last?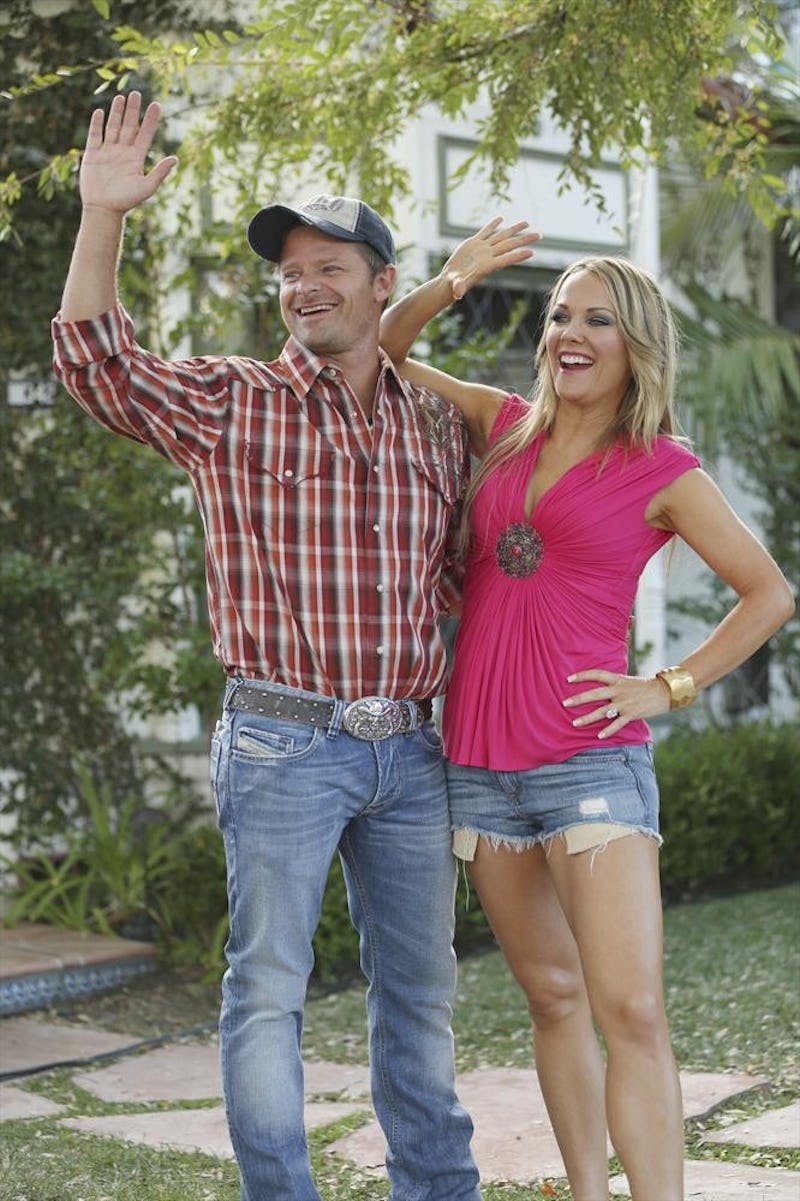 Modern Family was already wacky on its own, but the show just upped the wackiness significantly with the addition of Steve Zahn as the Dunphy's new neighbor Ronnie in the Oct. 22 episode "Won't You Be Our Neighbor." Zahn will be back on Modern Family in the Season 6 Halloween episode, but how long will he — and the rest of his clan — stay on the show? When Entertainment Weekly initially reported that Zahn would be joining Modern Family , they stated that his character was described as a "recurring guest-star role." That means the Dunphys may be getting more Zahn in their future, which is not good news for them, but definitely good news for viewers.
As we know, Zahn is no stranger to playing annoying characters (I have such a bizarre soft spot for him from Saving Silverman) and his obnoxious, medical marijuana-selling neighbor is the perfect foil for Claire. Usually Claire dominates Halloween by going all out with decorating the house and getting the family involved with elaborate costumes. This year, Phil is in charge of the holiday — but of course, Claire's personality never really lets her give up complete control. The fact that Ronnie will be popping up (literally as seen about seven seconds into the promo video below) is sure to drive her crazy.
Zahn is the patriarch of the not-so-classy LaFontaine family consisting of his wife Amber (Andrea Anders), daughter Tammy (Brooke Sorenson), and son Ronnie Jr. (Finneas O'Connell) — who called Alex "hot."
After the Dunphy's neighbor Jerry (portrayed by Matt Besser) had to sell his house after his divorce, Phil took over the sale. Of course, Claire attempted to get the perfect couple to move in, but Phil and Claire came on too strong (way too strong), and the LaFontaines moved in.
Now, the LaFontaines said they felt sexual tension between them and Claire and Phil, but I'm really pulling for Alex to start a relationship with Ronnie Jr. Not only would it be a hilarious change for Alex, but Claire and Phil would go on parenting overload to stop that blooming romance.
ABC is not explicitly releasing how many episodes Zahn will actually be on the show. In the past, the neighbors of the Dunphys haven't been featured for very long on Modern Family. Kevin Hart portrayed neighbor Andre (who helped Phil build a tree house and buy a sports car), but those were the only two episodes he was in. Jerry also only had two episodes. Their elderly neighbor Walt — who Luke befriended — died after being in three episodes. I get that neighbors pop in and out of your life, but annoying neighbors seem like a constant presence, so it would be nice if the show changed it up and let the LaFontaines reign trashy terror for a bit longer than a few episodes.
Claire said, "You know a bad neighbor can ruin your life," so she better hope that Zahn's Ronnie doesn't start doing any naked yoga outside next to his lawn couch.
...and we better hope he does.
Images: John Fleenor/ABC; modernfamily-, damonargent /Tumblr; Columbia Pictures