David Clarke Wants Revenge, Too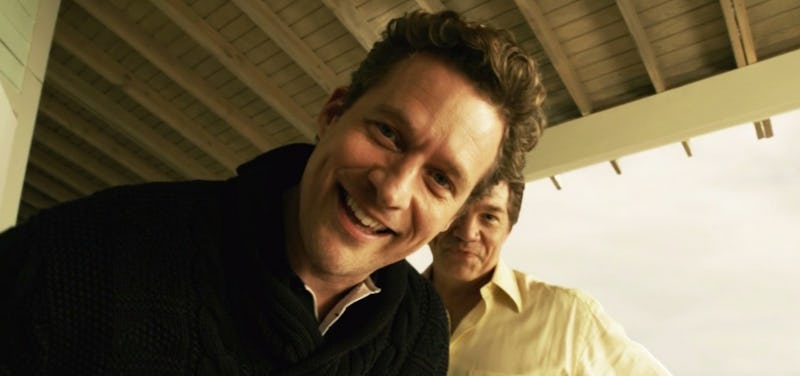 So, who exactly will Revenge Season 4 follow? Fans are officially five episodes into the fourth season of the ABC drama and the title of "Most Vengeful" is still up in the air. Going into the new season of Revenge, ABC led us to believe that Victoria Grayson would get revenge in Season 4. But, since the Season 4 premiere, the focus has switched between Emily and Charlotte before finally taking on a new face during Sunday night's new episode. During Revenge's fifth episode, "Repercussions," David Clarke vowed to take revenge. But, against who?
I know, you're surprised — how the heck did we get here? I mean, David should at least have to wait his turn, right? Wrong. On Sunday night, after attempting to strong-arm Victoria into letting her get to her dad, Emily decided on a new approach to get David Clarke to remember his real daughter. Emily sold her old house to the Graysons, thinking that returning David to the scene of the crime would force him to remember his daughter. Well, it seems like that plan might be backfiring, because David's less nostalgic and more totally pissed off as a result of this big move.
Which really doesn't play into Emily's plan of letting him settle in, remember, and then reveal herself when he's good and ready to accept her. She might have to speed up the process if there's any hope of a happy and/or healthy reunion between her and her father. After listening to some records, staring off at the ocean, and remembering good times with his daughter, David sat down and vowed to get revenge on Sunday night. But, here's a good question: Who the hell is he getting revenge on? This man lived underground for years, he's being manipulated by Victoria even thought Nolan got in his face and told him that, deep down, he knows something isn't right with Victoria's story. So, who will it be?
Emily
I mean, he obviously knows that Emily sold that house back to the Graysons for him to live in. And, even though he might have had a revelation when he considered killing her, that doesn't mean he believes he's her daughter. It's possible that David's so damaged, traumatized, and manipulated that he doesn't know what to believe anymore, but Emily seems like the perfect first target for answers.
Odds: Slim — Someone will either tell him about Emily before she gets a chance OR they'll stand by her side and vouch for her identity. There's no way Revenge would let Emily go down in flames if David's alive.
Victoria
David has to eventually realize that Victoria's lying to him, right? I mean, Charlotte's good and ready to let the cat out of the bag about Emily being the real Amanda Clarke. And, after David's meeting with Nolan on Sunday night, the seed's been planted for him to start doubting everything Victoria's told him. He's a smart man, even if he's quite literally been living under a rock and Victoria, honestly, deserves whatever he'd have in store for her.
Odds: Through the roof — Victoria's got it coming.
Image: ABC (screengrab)