The 'Drumline' Sequel Brings Some Familiar Faces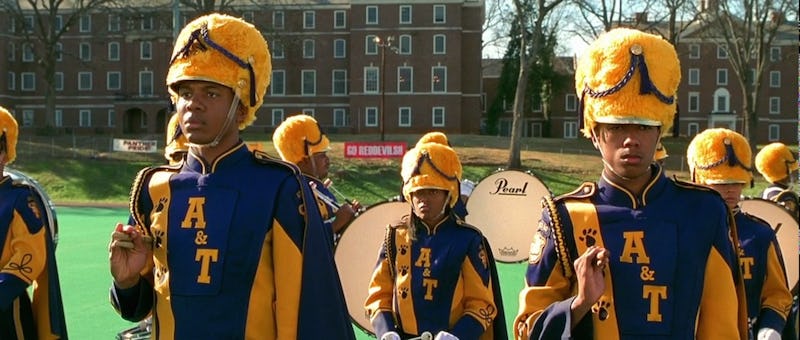 If you were a band geek in the early aughts (or just someone who loved epic musical battle movies), chances are you loved Drumline, starring Nick Cannon and Zoe Saldana. Well, the movie is back with Drumline: A New Beat , hitting screens via VH1. The original film followed Cannon as a new recruit to the drum section of a historically black college's marching band. While it's great to see the movie back in all of its drumming glory, just how new is this New Beat? Which actors from the original Drumline are in the sequel?
There's definitely a ton of new blood floating around the talent pool this time around, with plenty of fresh recruits arriving to lay down their drumming skills, but there are some familiar faces as well. Cannon will reprise his role as Devon Miles, while Leonard Roberts will return as Sean Taylor. Among the new recruits, we have Alexandra Shipp playing a feisty drummer with dreams of being the film's fictional school's first female percussion section leader. The film also features Letoya Luckett as the dean, who also happens to have romantic ties to Roberts character. If Luckett's name sounds familiar, that would be because she is one of the infamous scorned ex-members of Destiny's Child, who sang on hits like "Bills, Bills, Bills" and "Say My Name" only to find herself replaced alongside Latavia Robertson in the latter song's video by new recruits Michelle Williams and Farrah Franklin.
While the cast is fairly juicy, the star behind the project has some deeper reasons behind the new movie than just rehashing old territory. Cannon wanted to bring the beloved film back with the hopes of developing Drumline into a TV series, remarking on MTV 2 that he wants to revisit the idea of the black college experience. On his own website, Cannon cites works like School Daze and A Different World as the types of stories you don't see anymore. If you were a '90s kid with an older sibling, chances are you may have caught them watching some episodes of A Different World, the Cosby Show spin-off following black college students in the late '80s/early '90s. That was the last time we saw a show about black students, and as The AV Club posits, the last time America had a successful black show, period. (Though it should be noted that ABC's black-ish continues to succeed after its September debut.)
Here's to hoping that Cannon can throw some color into our television landscape, not only through casting, but through the types of stories being told. Regardless if the project goes to series, (come on TV gods, give us this one), A New Beat should give us plenty of all-drumming action to survive on for the time being.
Image: VH1