A's Coming To Steal Your 'PLL' Holiday Cheer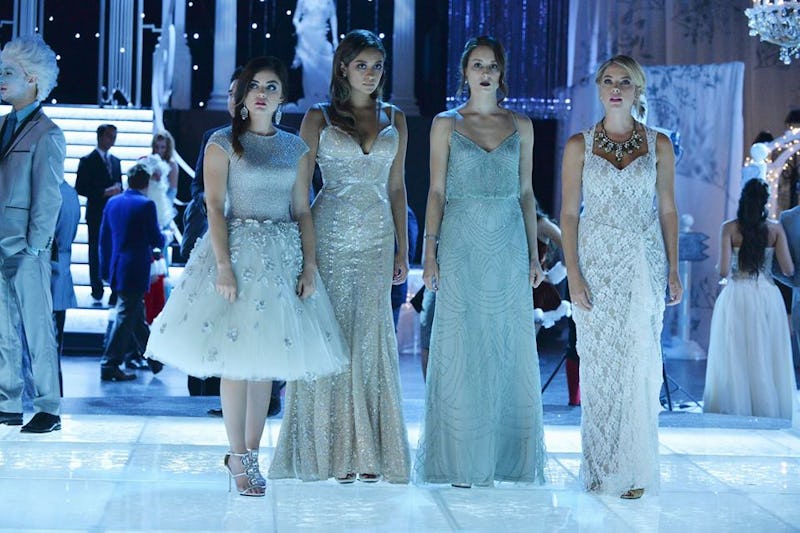 How did Marlene King know exactly what I wanted for Christmas this year and yet still doesn't know how frustrated I am that Pretty Little Liars still hasn't revealed A's identity? Instead of its standard, midseason Halloween special, ABC Family is shaking things up a bit this year by giving fans the Pretty Little Liars Holiday special, "How The 'A' Stole Christmas." Because there's nothing we've ever wanted to see more than Rosewood covered in fake snow and Spencer sitting on Santa's lap. Right, PLL fans? During PLL 's Halloween special "fan appreciation hour," the cast revealed spoilers from the upcoming PLL holiday event, but, obviously, they didn't reveal the whole story. Not that I expected them to, this is PLL after all.
So, will we learn A's identity for Christmas? Will we at least find out who killed Mona? Honestly, "How The 'A' Stole Christmas" probably won't reveal the answers to either of those big questions. It will, however, introduce some terrifying new ideas into the already thick mix of drama in Rosewood. PLL Season 5a left off with Mona's death, Spencer potentially getting charged for murder, and the liars being increasingly more terrified of Alison. So, in the interest of helping you prepare for the most horrifying holiday season you'll hopefully ever have — here are all the details we know about the Pretty Little Liars holiday special so far.
It'll Air On Dec. 9
Mark your calendars now, PLL fans! Because you're absolutely not going to want to miss the return of A to haunt your dreams of sugarplums and dancing ponies. Pretty Little Liars "How The 'A' Stole Christmas" will air on Dec. 9 at 8 p.m., so plan accordingly because no one will spare you while they live-tweet how incredibly terrified they are by whatever holiday horror Marlene King's cooked up this time.
Alison's Got A New Army
We've traded creepy, baby-face masks for masquerade masks, I see. A sneak peek from the upcoming PLL holiday episode, revealed that Alison's made new friends in lieu of the liars' desertion. I mean, we all saw this coming when she tried to get Mona's army on her side, but it would appear that Alison's succeed. Also in the promo, it seems like the former leader of the liars has gone totally rogue — Hanna, Emily, Aria, and Spencer all seem surprised to see Ali with four new friends, actually they seem surprised to see Ali at all. Which is strange, considering this is her family's party.
Ezria Is Going Strong
These two are back together, people. And it's getting pretty serious — like, giving fancy jewelry as a gift serious. In this photo from the DeLaurentis' Ice Ball, it's obvious that Ezria is out in the open these days, but in this sneak peek of "How The A Stole Christmas," Ezra gives Aria a super-fancy gift. So, at the very least, this PLL 'ship is no where near sinking. For now.
Mona's Taking On A Classic Dickens Role
Back in August, Janel Parrish revealed that Mona would return in "How The A Stole Christmas" as the Ghost of Christmas Past, Present, and Future and would "mess with Alison" in a fabulous costume. But that's not all Mona's spirit will be up to in Rosewood — Parrish also revealed to Zap2It that Mona will leave the liars a clue in "How The 'A' Stole Christmas" to help them figure out how exactly she died. And, possibly, who did the killing (though, considering how long it's taking to find out who A is, I wouldn't be surprised if we never found out).
A's Onto The "Winter White" Trend
Well, doesn't A clean up nicely? The same promo that introduced Alison's new clique also gave PLL fans their first glimpse of A in Season 5b and in "How The 'A' Stole Christmas." Or, rather, whoever the series is set to poise as A until Marlene King reveals A's true identity in PLL Season 6. Black hoodies and red coats aside, the alleged A in this promo seems to have a feminine build (a cloak like that wouldn't fall quite so nicely on a broader, male frame). Also, this is confirmation that we won't have to wait an entire episode for some A action in the ending credits. Thank god.
Spencer's Not In Jail But She's Not Home Free
Thankfully, it was revealed during the Halloween special that Spencer Hastings hasn't been charged for murder. Yet. Which is obvious, considering she's in attendance at the Ice Ball and clearly roaming free around the Rosewood area. But, of course, PLL fans shouldn't take Spencer's freedom granted — the other shoe will ultimately drop, considering A is hellbent on getting her to take the fall for Bethany Young's murder. That will absolutely have to factor into what goes down during "How The 'A' Stole Christmas."
Images: Pretty Little Liars/Facebook (3), YouTube (2), Giphy, stopthewedding/Tumblr