22 Halloween Costumes You Can Wear to Work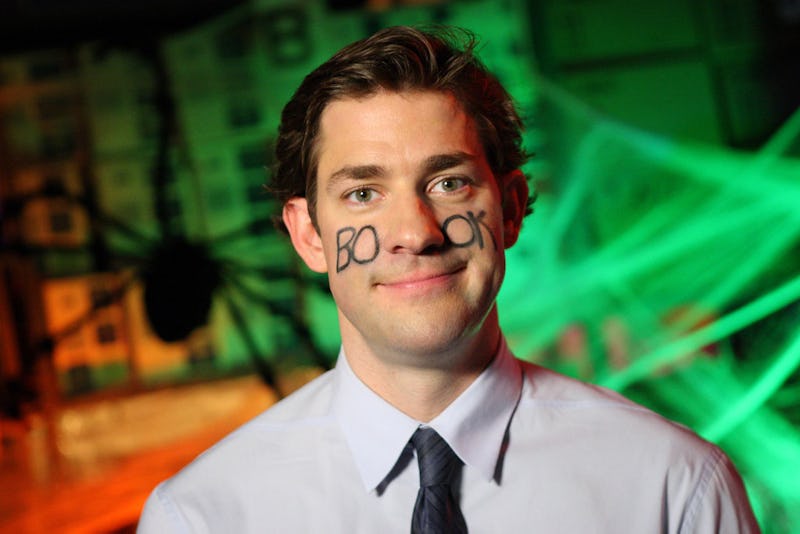 There are a lot of great things about going to work on Halloween — no one expects you to be particularly productive, there are buckets of candy everywhere, and you'll never find a better day to shove a fake severed arm into the copy machine — but picking a Halloween costume appropriate for work is often not one of them. Office Halloween costumes demand that you walk a very tricky line: they have to convey that you're a team player and like to have fun, but not that you like to have so much fun that you can't be trusted with a company credit card. They have to be noticeable, but not distracting. You can't get too sexy, you can't get too gory, and you can't wear the giant inflatable penis costume that you bought at Ke$ha's yard sale. Picking the exact right look can be quite the struggle.
And yet, when done right, office Halloween costumes present an opportunity to bond with coworkers, show off your creativity, and, if your workplace is having a costume contest, win a gift certificate to Chili's. So why not suit up with a charming, office-appropriate Halloween costume this year? We promise, there will still be plenty of time to change into your "zombie stripper" outfit later.
ROSIE THE RIVETER
We can do it! (In this case, "it" = finish typing up all your financial reports before cutting out early to hit the bar.)
GIRL SCOUT COOKIES
A loving tribute to the many, many boxes of Girl Scout cookies you bought from your coworkers' daughters this year.
CAT
Listen, there is almost no situation on earth in which I will advocate for a cat costume, but I think they're perfect for work. It's a costume that's easy to put on, easy to take off if you feel weird waiting on line at Chipotle with whiskers drawn on your face, and doesn't reveal too much of your actual bizarre personality to your coworkers. Same goes for "tasteful devil,""classy witch," and "half-assed vampire," in my humble opinion.
THE GREAT PUMPKIN from 'Peanuts'
Pretty much any character from Peanuts makes a great work costume, actually — they're all inoffensive, cute, and guaranteed to be a hit with older bosses who don't understand what the hell all these "minion" costumes are all about.
MICHAEL JACKSON FROM THE 'THRILLER' VIDEO
From the part of the video before he becomes a gross zombie with all his skin peeling off, natch.
WONDER WOMAN
Looking for a low-commitment office Halloween costume that ALSO makes a statement about your expectations for the next DC franchise film? Well, here's your one and only chance.
MIA WALLACE FROM 'PULP FICTION'
Dress this costume up for your post-work party by adding some tasteful nosebleed make-up.
POST-ITS
You're in the prime spot for office-supply-based humor right now, so I say, roll with it.
'AMERICAN IDOL' CONTESTANT
Halloween is a great time to dress as the only thing that you and your boss have ever had a personal conversation about.
AUDREY HEPBURN in 'BREAKFAST AT TIFFANY'S'
The most glamorous you'll ever look while approving T&E requests.
TEA BAG
For use only in offices where no one is going to make an off-color joke about tea-bagging.
WALDO FROM 'WHERE'S WALDO?'
That sweater's pretty cute. I bet you could just wear it for the rest of the year and no one would notice.
DOROTHY FROM 'THE WIZARD OF OZ'
Office Halloween is a great time to revisit the classics, and remember that in elementary school, you used to have a Dorothy costume that didn't involve a vinyl mini-skirt. Memories!
JELLYBEANS
Yeah, this'll make fitting into the elevator a little harder, but I think it's worth it.
LIZ LEMON FROM '30 ROCK'
Make sure to bring some night cheese to really get your point across.
MICROSOFT WORD PAPERCLIP
Depending on your office, you may want to go with a mellower sign; but hey, I don't know your life.
WEDNESDAY ADDAMS FROM 'THE ADDAMS FAMILY'
Yeah, you have a pained and sullen expression on your face today because it's "part of the costume." That must be it!
'OPERATION' BOARD GAME
A good excuse to make a loud beeping noise anytime anyone bumps into you all day.
TAYLOR SWIFT
Ooh, which of your coworkers will you make the most uncomfortable when you flash that "I Love You" sign at them? I can't wait to hear all about it!
CAT LADY
Yes, I know that I come in every day with cat hair all over my tights, and guess what? I'm owning it.
Jim's halloween costume from 'the office'
Meta.
DAMIAN FROM 'MEAN GIRLS'
Smile politely and nod at your weird older coworker who asks if you're dressed as Rocky Balboa.
Check out the entire 'What's Up, Boo?' series and other videos on Facebook and the Bustle app across Apple TV, Roku, and Amazon Fire TV.
Images: Giphy