Meet The Ladies Behind Your New Fave Sex Toy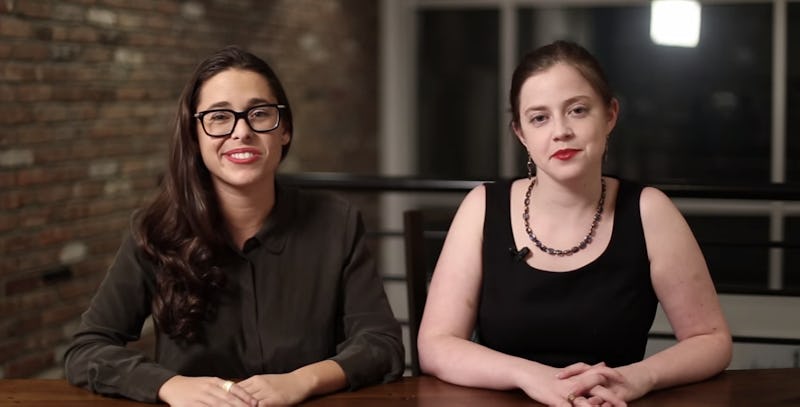 At first glance, the result of Dame Products founders Janet Lieberman and Alexandra Fine's efforts to develop a revolutionary sex toy resembles little more than a computer mouse. Among 3D printers and piles of accounting files, several samples of these small, gray spheres are scattered around an unassuming office space in Long Island City, New York.
Posters of female anatomy, the kind you'd find inside a doctors office, hang on the walls; the shelves are stacked with piles of sexual health books. Competitor prototypes, in all of their bright pink, girly glory, are casually strewn around the room. This is the birthplace of "Eva" the world's first hands-free, strap-free, non-intrusive couples vibrator.
As the founders of Dame, which was established last June, Lieberman and Fine are determined to bridge the "pleasure gap" — the fact that men are twice as likely as women to have an orgasm during sex. Only 30 percent of women are able to orgasm from intercourse alone, so stimulating the clitoris during sex becomes paramount to female satisfaction. With dynamic arms that tuck inside the vagina, Eva provides clitoral vibration without needing to be held in place during sex.
"When I was doing my research, the thing that would get me really riled up was just the amount of pleasure that women were having from sex versus men," Fine tells Bustle. "Men, just based on anatomy, tend to determine when it's over. About 70 percent of women need clitoral stimulation in order to have an orgasm at all."
Unlike other popular products on the market – such as the Venus Butterfly or the We-Vibe – Fine and Lieberman claim that Eva's subtle size and external placement doesn't encroach on the penis' territory.
"I wanted something that I didn't have to hold in place, that my partner didn't have to hold in place, that we didn't have to be constantly aware of," says Fine.
Fine arrived at Dame Products with a lifelong interest in human sexuality. After graduating from Columbia University with a Masters in Clinical Psychology concentrating in sex therapy, she conducted sex education at the Red Cross and Planned Parenthood. With a passion for sexual health and great deal of empathy for the female experience, her contribution to Eva is predominantly an ideological one.
"I'm going to get so hippy dippy on you," Fine says. "I just think that there are few things that as humans we do that are universal… It's something that everywhere in the world you go, people do. It's love, baby. Why not dedicate your life to that?"
Meanwhile, as the company's engineer, Lieberman spends the majority of her workday consumed by a 3D printer, designing Eva's nuts and bolts to ensure that the company's vision is superbly executed.
"Consumer product design and development is where my heart is. As a sex toy user, I realized that the products I had weren't made to the same standards that I felt like other consumer electronics were," says Lieberman. "Good engineering is all about optimization…no more bells and whistles than you need."
"I love that concept," adds Fine. "When things are engineered well, they're 99 percent invisible…it's almost not there."
Fine and Lieberman have relinquished themselves from the responsibility of choosing Eva's color. After several months of agonizing deliberation, they have decided to let Indiegogo backers determine whether Eva will be red, white, blue, or turquoise. Pink was never an option.
"I think that's one of things that sets us apart…we didn't just slap flowers on the product cause we kind of think women like flowers," said Lieberman.
Those women anticipating all that Eva promises to offer can look forward to February of 2015, when the toy is set to hit the online market for $95. While this price is based on a savvy business plan, it is also related to the founders' opinion of the inflated costs of female-oriented sex toys.
"The sex toy industry used to be porn's ugly sister," said Fine. "Then with the women's movement, products like Jimmyjane came out…in order to not be 'dirty' they made them look absolutely beautiful…and they charged a lot, because if they're expensive, then there's a certain amount of prestige and class involved. But now I feel like we're a little bit beyond that. It's OK to own a vibrator…and you shouldn't have to pay a lot of money to feel like you didn't do something wrong."
"At some point in the future we'd like to get even a little bit more approachable, but we're still starting out," said Lieberman.
Since Dame Products was founded in June, the company's biggest challenge has been collecting data on users' experiences. Given the intimate circumstances in which Eva must be tested, the founders can't exactly marvel at their creation in action.
"Normally you can watch a little kid interact with his new toy you just built, and you figure out why he couldn't find the special button he's supposed to find," said Fine. "We can't watch people have sex."
Since the prototypes are so expensive to create — each costs about $600 — only a few are in circulation. After providing feedback through a survey, each beta tester must return their Eva sample to the company's office. Fine and Lieberman sterilize the products with bleach and re-inject them with new coatings of silicone before they are redistributed to more testers. This process has hindered the efficiency of the data collection process.
"We don't have a rolodex of a thousand women who show up here, and we hand them Eva, and then 15 minutes later they've had sex with it and they tell us exactly what they thought," said Lieberman.
Dame Products is currently analyzing the data from their last round of testing and plans to have finalized a design by the end of October. Their Indiegogo campaign, which they launched on October 21st, will help them finance tooling and the first round of production. Up until this point, however, Fine and Lieberman have been entirely self-funded, and their progress is certainly motivated by the feedback they've received.
Lieberman smiled, recalling a question posed by one of the beta testers: "Can we keep it for another couple days?"
Images: Annelise Jeske