3 'Gotham' Costumes That Are Surprisingly Easy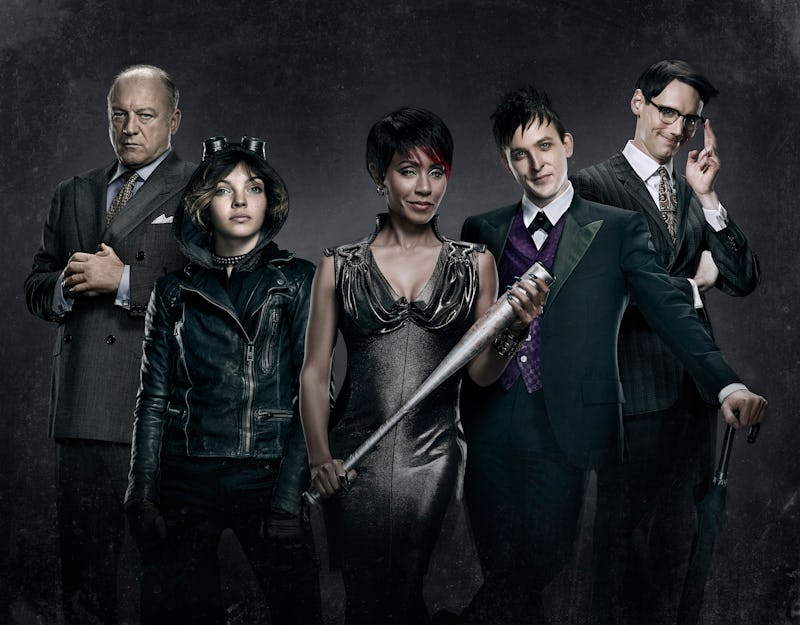 Think back: When was the last time you went to a Halloween costume party without a Batman in attendance? There are plenty of other citizens of Gotham who make for great Halloween costumes, but Batman gets all of the attention. There are people who dress as the campy Adam West Batman. There are those who try to be the badass Christian Bale Batman. (No word yet if anyone is going to try and jump the gun with the Ben Affleck Batman, with the cuter, shorter ears and the emo frown.) Then there are the lazy sods who just put on a Batman t-shirt and call it a day. It's time to give Batman a rest. This year, try dressing up as someone else from Gotham for Halloween instead, like Fish Mooney or The Penguin. The show is stocked with characters, and there's not a caped crusader among them (yet). Surely, you can draw on some of these people for Halloween inspiration. In fact, I'll give you a head start.It's probably better to skip the heroes: Jim Gordon and Harvey Bullock just don't really make for fun dress-up. The villains and future-villains are a lot flashier. Here's how to dress like some of the best non-Batman Gotham characters without spending the money you've been saving for post-Halloween discount candy.
How to Be Fish Mooney
It's All About the Hair
Pink Hairspray, $4, Party City; Short Black Wig, $20, Party City
Mooney isn't Mooney without the pink highlights. It's basically the crux of her whole personality. Luckily, it's easy to achieve with a little pink hairspray from Party City (which washes out, if you're not into the whole permanent Manic Panic vibe). Depending on your haircut, though, you might have to start with a short, black wig first. The Clothes Make the Mooney
Glittery Metallic Dress, $119, Modcloth; Peacock Feather Collar, $25, Party City
Mooney works in the theater district, so her clothes are, well, theatrical. A glittery metallic dress would work well (and, bonus, you can re-use on New Year's), but her peacock-collar outfit is the real standout. Again, Party City to the rescue — though you might want to stop at a craft store and supplement with some more feathers if you don't want to attempt the bare midriff underneath. There's also this feathered collar on Etsy for only $20. Pair with any blue skirt and you're good to go.
Essential Prop: Aluminum Bat
Buy at any sporting goods store, or borrow from your local little-leaguer.
How to Be Oswald Cobblepot
He's a Dapper Dresser
Black Neck Tie, $5, Tie Mart; Suit Vest, $15, H&M
We're talking suiting upon suiting: Jacket with peak lapels, vest, and tie. The important thing is to get the tie right. It's a crossover tie, which you can pick up at Solid Color Neckties. You get extra points if you can find a red pin to stick through it. After that, any black vest/jacket combo should work — H&M often has them for cheap if you don't already have a set.
Don't Wash Your Hair
Bed Head Matte Seperation, Workable Wax, $6, Amazon
Cobblepot lets his hair get matted and crazy in the front. If you don't have the right cut/color, you can start with the same short, black wig suggested for the Mooney costume. After that, a little bedhead is going to go a long way. Don't try to make it look cute or polished — he's supposed to be a little deranged.
Essential Prop: An Umbrella
It's not that the $3 Duane Reade umbrella won't do, but the fancier the better — and, when Halloween is over, you'll have a fancy new umbrella to take you through the rest of the fall.
How to be Selina Kyle
Headgear
Radioactive Aviator Black Goggles, $15, Halloween Costume
Really the goggles are half the costume. You can find them for cheap online at places like HalloweenCostumes.com, but if you want a helmet, you'll have to buy it separately. Personally, I think it looks cuter without it. If these goggles aren't to your liking, you can try Etsy, where they have all sorts — God Bless steampunk fans — including ones with Hello Kitty-style cats on them, fitting for a future Catwoman.
Don't Have a Leather Jacket?
Leather Jacket, $30, Party City
Don't worry about it. This cheapo leather jacket from Party City will do the trick. (And you can re-use it for a Kanye West costume later.)
Don't Forget the Gloves
Nothing says badass-chic like a pair of fingerless gloves. These black fishnet gloves from Partypalooza won't keep you warm, but they will complete the Selina Kyle look for less than two bucks.
Images: Justin Stephens (2), Jessica Miglio (2), Michael Lavine/FOX; Party City (3); Getty Images; Solid Color Neckties; Bed Head; HalloweenCostumes.com; Partypalooza