Break Hearts this Halloween as FitzSimmons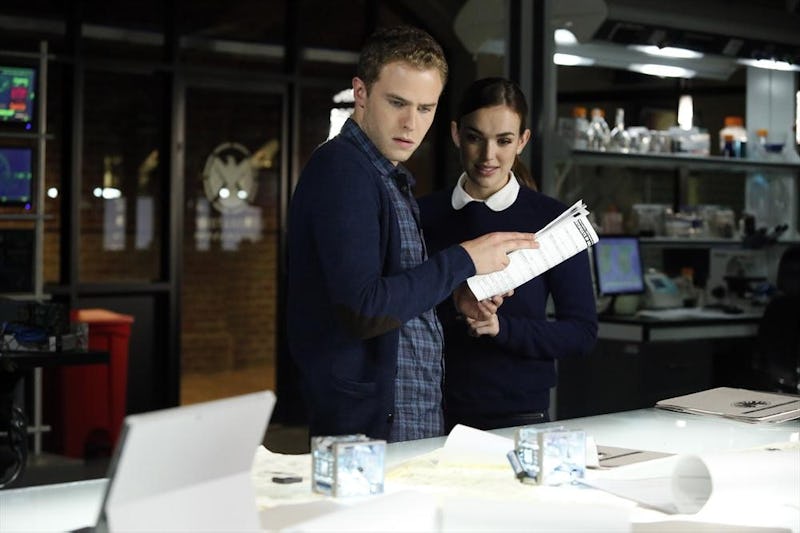 They may be breaking your heart on television, but I still think that separating Agents of S.H.I.E.L.D. science duo Leo Fitz and Jemma Simmons was the best way to go. Relationships need change in order to grow, right? Yeah? I hope so. Anyway, if you and your special someone are into the drama that is FitzSimmons right now, or want to re-visit their cutesy, bickering past, FitzSimmons would be a great Halloween costume. Especially at this late hour. They are pretty stylish scientists, so you may already have many of these items. You could go all out and get lab coats, especially if Halloween is chilly in your neck of the woods. You could even carve S.H.I.E.L.D. logo pumpkins, if you aren't worried about Hydra knowing your location. But honestly, these scientists have a pretty standard costume without all of the theatrics. Practice your accents and remember — Fitz is Scottish, not British.
Both of you will need your S.H.I.E.L.D. badges. It is absolutely essential. Print these out (courtesy of the Marvel website), laminate them if you can, and keep them safe. You can get holders and clips at Staples or any office supply store. If you have a lanyard to keep them on, that's even better. The Agents may be outlaws now, but this is Halloween. You need your ID if you want to get any treats.
Leo Fitz
Oh, my stars. Iain De Caestecker has really been bringing it this season, acting-wise. Aside from the occasional mix of patterns, Fitz doesn't dress like your stereotypical television nerd. He's comfortable. He talks a lot with his hands. It shouldn't be too hard to pull this costume off.
Cardigan
Knit Cardigan, $30, H&M
Without Simmons around, Fitz's wardrobe became extra-comfy to compensate, including a grey knit cardigan almost exactly like this one from H&M. It's important that the cardigan has pockets, for gadgets on the go!
Plaid Shirt
Plaid Shirt, $20, H&M
Fitz typically likes blues, and plaid. This H&M shirt is a good example of his style, complete with Fitz's signature crossed arms!
Accessories
The engineer is fond of clashing ties, and I think this polka dotted choice from The Tie Bar would be a nice nod to one of Simmons' preferred patterns. However, I've noticed that Fitz hasn't been wearing ties lately. What if his brain injury made it difficult for him to tie a tie? Oof. Now I'm gonna cry at the very thought of that possibility. Pardon me for a moment.
As far as something for Fitz to carry or fiddle with, I would suggest a tablet or a wireless gaming controller, if you think that wouldn't be too difficult to explain. You might not need it.
Jemma Simmons
Bustle writer Rosie Narasaki has already done an excellent piece on how to dress like Agent Simmons. Here's my take, with the second season in mind. Simmons went undercover for Hydra and has been doing some growing, and her look has matured as well. Still, we'll maintain some of her original pieces!
If you absolutely insist on going as Phantom Simmons (which would admittedly be Halloween appropriate), you can refresh on that costume here. It's a simple Peter Pan collar shirt, which is in right now, a blue pullover, jeans, and a sad ponytail. I'd prefer you didn't wear the outfit, as those scenes depressed me.
Collared Shirts
No matter what, Jemma will always like collars and polka dots. Forever 21 has this option. You can make it as slouchy or uptight as you choose!
Ballet Flats
Ballet Flat, $50, DSW
Simmons has ditched the chucks and is going with flats nowadays, like these from DSW.
Blazer
A signature piece for the professional lady, from TopShop. I chose red to symbolize her time in the belly of the Hydra beast. If you need to justify this price, remember that you can use a blazer like this for a job interview down the line! Or hit the thrift stores for a blazer that suits you.
Safety Goggles
Safety Goggles, $22, Amazon
Finally, every biologist should protect herself! Even if you don't want to wear a labcoat, goggles like these from Amazon are a nice touch.
Images: Kelsey McNeal/ABC; agentsdaily, skyewardz/Tumblr; Amazon; DSW; TopShop; H&M (2); Nordstrom