All the 'Mockingjay' Trailer Clues in One Place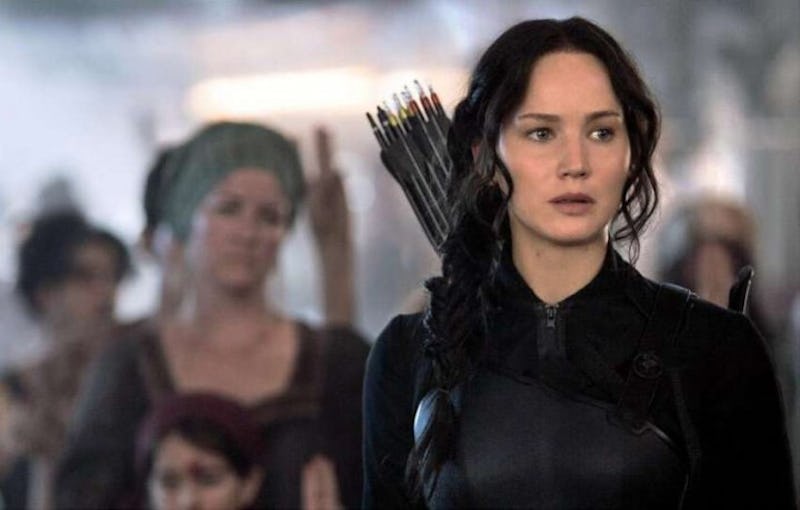 Over the past few months, we've seen many different trailers and teasers for The Hunger Games: Mockingjay — Part 1, and the final one dropped today. Looking back, most of the footage is the same — especially Plutarch and President Coin questioning if Katniss can handle leading the revolution — but there have been new scenes and shocking elements in each video. The latest is the most chilling as Peeta tells Katniss everyone "will be dead by morning" and she, in turn, threatens President Snow right back: "If we burn, you burn with us." This girl is (literally) on fire.
Looking back, however, there have been plenty of jaw-dropping moments in various TV spots and official teasers from The Hunger Games, ranging from Beetee interrupting Snow's Panem address by saying "the Mockingjay lives," to Katniss first discovering Peeta is alive, to seeing Effie in her prisoner uniform. To fully prepare for the movie, check out all of the footage we've seen so far below, arranged in the order of release. And with the film only a few weeks away, you can also buy tickets to Mockingjay — Part 1 starting today. Seriously, is it Nov. 21 yet?
President Snow's Panem Address #1 — "Together as One"
This first teaser showed President Snow's creepy threat to Panem ("If you resist the system, you starve yourself. If you fight against it, it is you who will bleed.") with Peeta as prisoner by his side. Bad news bears.
President Snow's Panem Address #2 — "Unity"
The follow-up teaser showed both Peeta and Johanna as prisoners, but they were interrupted by Beetee's pirate transmission. "The Mockingjay lives," he said from District 13. Dundundun.
First Official Teaser Trailer
This teaser trailer showed everyone just how bad things were in all the districts. There was panic, chaos, and fighting, all while Katniss emerged as the face of the rebellion.
First Official Full-Length Trailer — "The Mockingjay Lives"
Katniss came face-to-face with Snow (well, at least on a screen) in this full-length trailer, and their interaction is chilling. "It's the things we love most that destroy us," Snow tells her, referencing both Peeta and her sister.
Preview — Return to District 12
In order to get Katniss to become the Mockingjay, she has to be convinced. How do Plutarch and President Coin do so? Making her see what the Capitol did to District 12. As Lorde's "Yellow Flicker Beat" plays, we see the devastated look on Katniss' face as she discovers what happened.
CapitolTV — District Voices
This CapitolTV spot shows seemingly happy (read: prisoners) "loyal citizens that serve the Capitol," including Johanna and Peeta. It's basically a threat campaign from President Snow to anyone who wants to rebel — he promises "power that protects."
TV Spot — "Most Anticipated Event"
Among the other small revelations, this TV spot shows Effie talking to Katniss for the first time. She looks pretty rough in her prisoner outfit, and tells Katniss, "They either want to kiss, kill, or be you."
TV Spot — "The Choice"
This spot highlights when Katniss discovers Peeta is alive, and all she wants to do is save him. But first, there is much work to be done.
Final Trailer — "Burn"
The final trailer is by far the most chilling, with Peeta telling Katniss she and everyone will die and Katniss threatening Snow that if they burn, he'll burn with them. Counting down the days!
Image: Lionsgate