Bow Down To Det. Erin Lindsay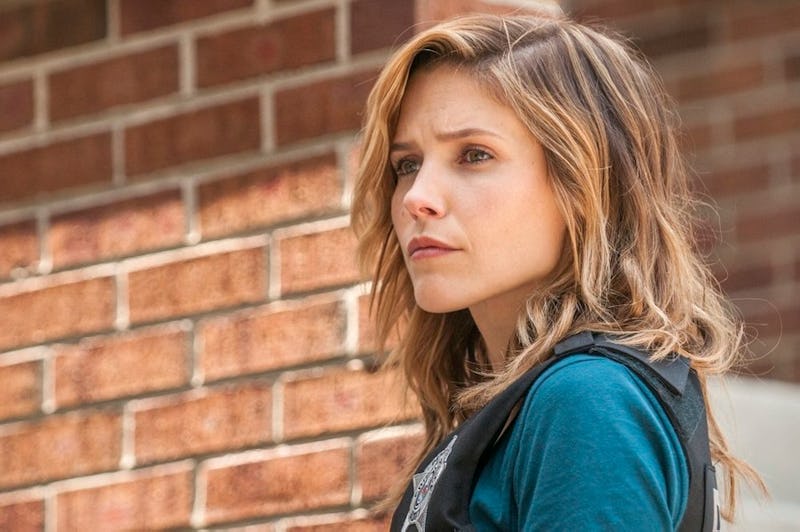 It might be scientifically impossible to not love a character played by Sophia Bush — I dare you to find someone who doesn't love Bush as One Tree Hill 's Brooke Davis. Actually, it's just impossible to not love Sophia Bush, who's a serious Hollywood feminist, in general. She's committed, she's compassionate, and well, a totally awesome badass. All qualities that translate over to Bush's Chicago P.D. character, Detective Erin Lindsay, which is why we're seriously girl-crushing on her. Well, that and because she's BFFs with the one and only Olivia Benson.
So far, Chicago P.D. Season 2 has thrown a bunch of curve balls at Lindsay — it's tested her relationship with police chief and her surrogate father Voight by having her question his morals and brought her mother out of the fold. And, during last Wednesday's episode, a lawyer offered Lindsay a new job to be the head of her own federal task force, a promotion that she totally deserves, but would take her away from Chicago. Basically, Lindsay's got a lot on her mind right now, but she's still out there kicking total ass.
I tell anyone who listens that they should start watching Chicago P.D. because, no, this isn't just a show for people who are always watching Law & Order marathons. The NBC series is all kinds of awesome, but mostly, it's Sophia Bush's Erin Lindsay that deserves a lot of the credit.
She's Played By Sophia Bush
I mean, this reason alone should be enough to make you love Erin Lindsay. Sophia Bush is amazing and, by extension, Lindsay is also. End of story.
She Gets You
We've all been here.
She Kicks Ass
Lindsay kicks some serious bad-guy ass without breaking a sweat.
She's Got The Coolest BFFs Ever
I mean, Olivia Benson is one thing — that woman is one of the single toughest women on television. But add Debra Messing's Laura Diamond from The Mysteries of Laura and this is a trio that no network can challenge.
She's A Total Feminist
Boom.
She's All About Honesty
No, women are not too sensitive and emotional for the truth. In fact, Erin Lindsay prefers it and so do I.
And She's Got Sass
And she's totally not afraid to use it, generously, when necessary.
Images: Matt Dinerstein/NBC; georgiamoffts, nbcchicagopd (2), sloangrey, haleyjamess, detectiveerinserveride, kellyseverride/Tumblr