Myself Belts Are Easy to Use (Yes, for Adults Too)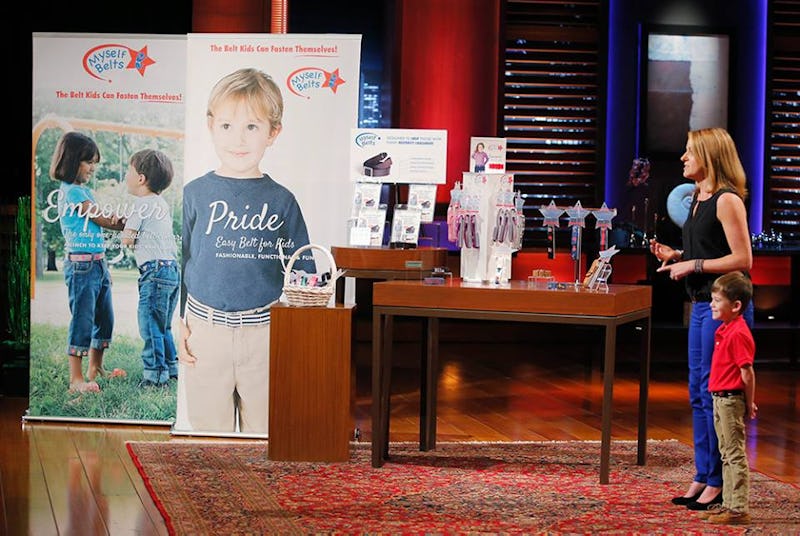 Look, belts can be tricky sometimes. Which notch should you use? Did you put it through the correct loops? Which side is the front and back? And if it's confusing for adults, imagine what it must be like for a child. When I was a kid, I mis-looped, mis-notched, and put my belts on with the wrong side showing so much that I still can't bring myself to wear one without a big sigh. But Myself Belts, a company appearing on Shark Tank on Friday, promises to make the accessory easier. Myself Belts are available for purchase on their website, as well as on Amazon and in many retailers around the country.
These new-and-improved waistbands say it's "the belt kids can fasten themselves." You just loop and snap one end, run in through the other loops and then buckle. It's simple, can be done in less than 30 seconds, and, as the product promises, kids can do it without adult supervision. And yes, they have a version for adults who struggle with belts, such as myself. The product's website says that Sarah Jessica Parker, Madonna, and Shaquille O'Neil have purchased belts for their kids, too. But will the Sharks bite on this clever idea? Here's why they could — and should.
It's So Easy Because It Was Invented for a Toddler
Sisters Talia Bahr Goldfarb and Danielle Bahr Eason, who are both moms, came up with the design and concept after Talia and her husband looked everywhere for a belt that their potty-trained toddler could use himself — and found none. So Talia approached Danielle, a veteran of the retail industry, and together they designed and patented the Myself Belt.
They Come in a Variety of Designs (Even Personalized)
Myself Belts come in lots of different colors and patterns — from cupcakes and flowers to sports and trains. You're sure to find one (or many) to match various outfits in your child's wardrobe. You can even get a personalized one with your kid's name on it. Adult Myself Belts aren't as colorful, but they look just like a regular leather belt, so the rest of the grown-up population will be none the wiser to your easier-to-use belt.
They're Affordable
Myself Belts for kids are currently selling for about $16.95-$20.95, depending on the design. Adult belts are a little pricier, going for about $27.99-28.95. That's pretty good, considering regular kids belts on Amazon are priced anywhere from $7.99 to $22.00. The Mybelts website itself is also offering Shark Tank specials coinciding with the product's appearance on Friday night's episode.
Images: MyselfBelts/Facebook (3)