21 Halloween Costumes for Moms and Kids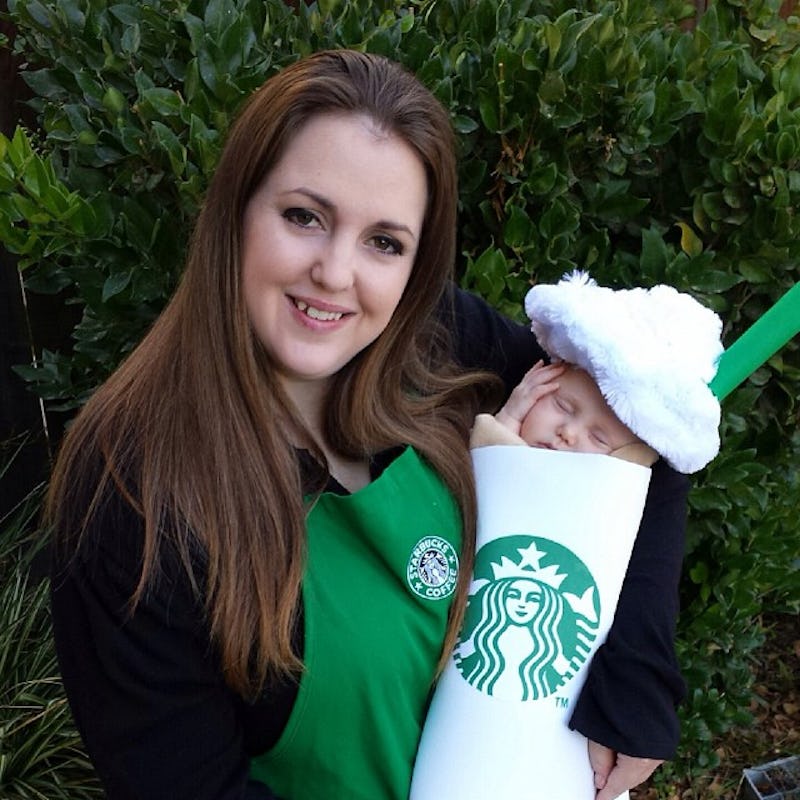 Halloween is a lot of things — a reason to eat so much sugar that you see the face of God, an ancient tribute to the undead, and the only night of the year when thigh-high yellow vinyl boots might legitimately qualify as a "Big Bird" costume — but really, more than anything, it is the ideal excuse to stuff your kid into an elaborate mom and kid Halloween costume that they don't understand. Because Halloween is the best family holiday around. Think about it: every other family holiday is sullied by tense interactions with distant relatives, expensive and high-pressure gift-buying situations, or pretending that you cousin Mark's weird marshmallow-and-cocktail weenie casserole is delicious. But Halloween is free of those kind of pressures; Halloween is simply a time to drop the expectations, grab your kid and some funny hats, and let your freak flag fly.
So let Halloween achieve its full potential as an awesome family holiday with one of the 21 mom and kid Halloween costume combos below. And if your kid happens to sleep through the entire thing and you have to eat all the trick-or-treat candy yourself, well, that's tragic, but I'm sure you'll figure out a way to manage.
ALAN AND BABY FROM 'THE HANGOVER'
"Oh, no, he's not mine — this baby came with the costume."
PIKACHU AND POKEMON TRAINER
But be warned: if you dress your baby up as Pikachu but you don't specifically dress up as Ash, a lot of 8-year-old kids are going to be rolling up and giving you a piece of their mind all night.
STARBUCKS BARISTA AND DRINK
You have pumpkin spice lattes, pumpkin spice pedicures, pumpkin spice Oreos — just grab yourself a pumpkin spice baby and really commit to this thing.
THE GIRLS AND MISS CLAVEL FROM 'MADELINE'
Hopefully, your girls are less interested in bad hats than their literary counterparts.
LITTLE RED RIDING HOOD AND THE BIG BAD WOLF
Ending the night at Grandma's house is not required, but it would be a pretty funny coincidence.
WILMA, PEBBLES, AND BAM-BAM FROM 'THE FLINTSTONES'
Sure, this photo was cute, but a few hours later, Pebbles tried to make a computer out of two rocks and a bird, and the results were extremely disappointing.
WEDNESDAY AND PUBERT FROM 'THE ADDAMS FAMILY'
Did you know that "Pubert" was actually Pugsley's name in the original Addams Family comic? Television producers thought the name was too gross to say on TV, and what can I say, they were right.
LITTLE BO PEEP AND SHEEP
Your kid wasn't trying to "eat grass off your lawn" the other day, she was merely trying to "get into character" for this costume.
FINN AND PRINCESS BUBBLEGUM FROM 'ADVENTURE TIME'
Remember that plot arc where Finn began to finally be able to distinguish shapes and colors?
LION AND LION TAMER
Not saying you should compare your kid to a wild animal; just saying, if you gotta, this is the season to.
GHOSTBUSTER AND STAY PUFT MARSHMALLOW MAN FROM 'GHOSTBUSTERS'
Much like the Stay Puft Marshmallow Man, babies are also known to rain viscous goo down upon the confused local folk, so this costume really works on two levels.
CHEF AND PLATE OF SPAGHETTI AND MEATBALLS
Isn't childhood the real Never-Ending Pasta Bowl of Life?
MR. INCREDIBLE AND SYNDROME FROM 'THE INCREDIBLES'
Yes, there's a chance that when you kid is a teenager, she'll use this photo as proof that you've "always been a cruel, horrible villain who wanted to destroy me," but that's, like, nine years from now, so try not to think about it.
BANK ROBBER AND SACK OF MONEY
"Is that all the money you're going to have to spend when she goes to college?" your coworker chuckles. You look at her darkly, then walk away without saying anything.
CRUELLA DE VIL AND A PUPPY FROM '101 DALMATIONS'
Guys, it looks like they worked that whole "puppy fur jacket" thing out and now they're friends. Good for them!
SPIDER AND WEB
Yes, that web is sticky because it's covered in baby drool, not because it's the weapon of one of nature's most efficient predators, but really, who's counting?
MALEFICENT AND PRINCESS AURORA FROM 'SLEEPING BEAUTY'
Go old school and teach all those Maleficent moms what's up.
FRUIT OF THE LOOM GRAPES
You know what they say: "the family that emulates an underwear commercial together, stays together."
BEETLEJUICE AND LYDIA DEETZ FROM 'BEETLEJUICE'
For those looking to truly embrace goth parenting at its finest.
HARRY POTTER AND MINERVA MCGONAGALL from 'HARRY POTTER'
The Boy Who Lived (and Pooped, and Ate Some Strained Carrots, and Then Pooped Some More).
MAX FISHER AND BIRD FROM 'RUSHMORE'
It's never too early to teach your kids how to wear frustrating hipster Halloween costumes that nobody else gets.
Images: Giphy