Yoo-hoo! Oaken Is Coming to 'OUAT'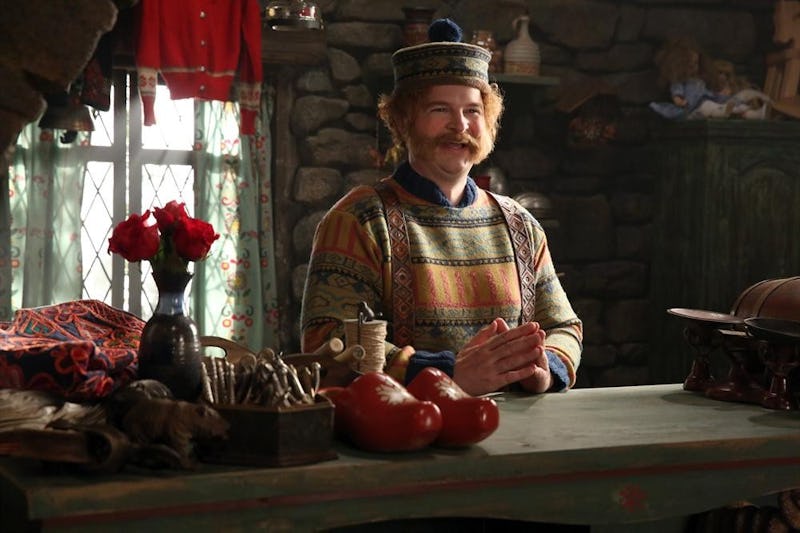 Yoo-hoo! Big summer blowout! Anna may still be missing on Once Upon A Time and we have yet to hear any useful spoilers as to where she might be. But in the meantime, a new Frozen character is coming and he should be able to shed a little more light on what happened between Anna's return to Arendelle and now. So far, the show has been hugely successful in bringing the Frozen characters to life — from the humans all the way down to Grand Pabbie and Sven. OUAT creators even managed to CGI Elsa's snow monster, so who's next? We were all undoubtedly expecting Olaf, but nope. A summer sale is about to roll out with the minor but oh-so-memorable Frozen character Oaken appearing on OUAT this Sunday. Darcey Johnson plays the owner of Wandering Oaken's Trading Post — oh, and Sauna.
The episode's title, "Family Business," and photos suggest that when Oaken comes to the small screen, he'll be in his own shop, ready to sell swimming suits, clogs, and a sun balm of his own invention. In other words, you can expect Oaken won't be showing his face in Storybrooke — at least for now. But my guess is that Anna and Kristoff won't be stopping by the Trading Post for a simple handful of extra carrots.
Promos for Sunday's episode showed a flashback of Anna's first meeting with Belle, who arrives in Arendelle to seek council with the ever-helpful rock troll, Grand Pabbie. Spoilers already revealed that Belle's mother (Frances O'Connor) would appear in Season 4, which tells us that Belle might seek Grand Pabbie for the same reason as Elsa and Anna: to discover answers about her mother.
If she discovers any useful answers and Anna is willing to help (which, of course, she will be), these two ladies will be needing supplies for yet another adventure. OUAT wouldn't bring Oaken into the mix for something as simple as snacks for the road though, right? Maybe Oaken will have some more answers as to who's been passing by his shop than he did when the animated version of Elsa hastily headed toward the North Mountain.
Regardless, the episode's preview and synopsis make it fairly clear that it will be dedicated primarily to Belle. Flashbacks to Arendelle will uncover some answers about her mother, while Storybrooke finds the Dark One and his new wife in the midst of a trust battle. Storybrooke Belle will do the unthinkable by using the dagger (even though it's fake) against Rumple to find out where the Snow Queen is. On one hand, she'll break their trust by doing so, but on the other, he's pretty much done that himself already and the Snow Queen really needs to be found. Watch the preview for the episode below.
So yet another character has a connection with Elsa and Anna, though I never thought Belle would know the sisters. Since this journey with Anna appears to take place before she ever meets Rumple, we can assume Belle survives. But now we have to wonder whether Belle knows anything about Anna's disappearance and if their journey together had anything to do with it.
In the mean time, OUAT newbie Johnson shares an uncanny resemblance to Oaken and is bound to throw in enough "Yoo-hoo's to satisfy our every Frozen need.
Images: Jack Rowand/ABC (2); Disney