Is Olive Kitteridge a Real Person?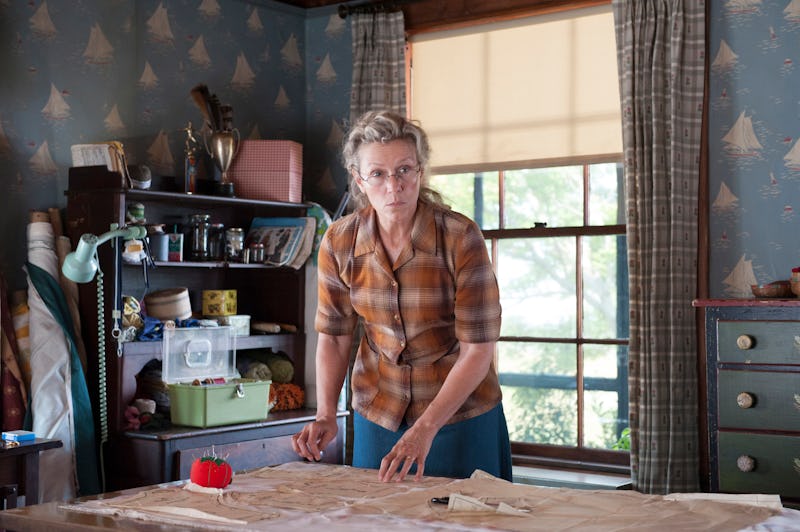 HBO's latest miniseries, Olive Kitteridge, is already getting incredible reviews and raves for its naturalistic performances. And after watching it, you may be asking yourself — was Olive Kitteridge a real person? Of course the miniseries isn't a documentary, but it's not surprising that she seems real. Her story is so intimate and human-sized that it feels real, filled with emotional struggles and concerns like broken dreams, disappointments, and the toil of growing older. But, no, unfortunately, Olive Kitteridge is not a real person — she's a character from a book. Instead, Frances McDormand's performance in the HBO series is the only real-life Olive we have. Even though McDormand doesn't perfectly fit the detailed physical description put forth in the novel, but she captures the bitter, acerbic woman who blames her ornery nature on depression, even while she also proves that even a dry, practical person can have a meaningful, emotional connection to many people's lives.
The miniseries Olive Kitteridge is based on the novel of the same name by author Elizabeth Strout. The novel is different in form — it's presented as a collection of thirteen short stories that switches perspectives and time seemingly at random, building the fictional town of Crosby, Maine, into a richly detailed landscape for the story to take place. Olive Kitteridge the TV series is more straightforward by necessity. But they are similar in that they don't shy away from the passage of time and big changes for the characters. Years pass, and the only constant is Olive's place in the story, as stubborn and insistent as any real wife, mother, or in-law would be. While the particular details aren't real, everyone involved with the HBO project seems as though they'd be flattered to hear if you assumed Olive was based on a real woman from a real place.
Strout grew up in Maine and New Hampshire, so small New England towns are a landscape she is intimately familiar with. So her novel-bound Crosby feels like a place you can imagine walking through or visiting during a road trip. And her parents were both teachers, so while Olive may not be real, the inspiration for her was built from plenty of Strout's personal experiences. But it doesn't really matter whether or not Olive is real — she's just an extremely well-realized woman from northern Maine. A seventh-grade math teacher from coastal Maine? It's the perfect canvas for Strout to use to tie together her fictional town.
Image: Jojo Whilden/HBO