Is 'Game of Thrones' Season 7 Happening?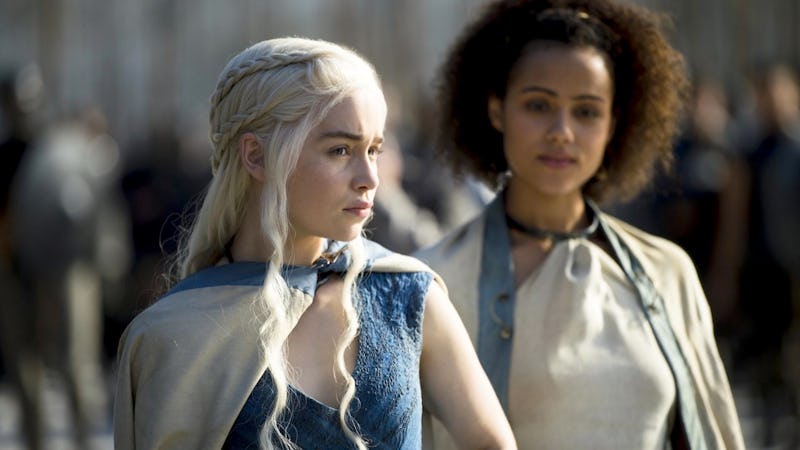 Good news for those who are still struggling to get through George R. R. Martin's A Song of Ice and Fire book series before Game of Thrones ends: It looks like you'll have at least three more years to finish reading. According to multiple reports, the Game of Thrones cast has officially signed on to the show through season 7, backing up previous reports that writers want the series to end after either season 7 or 8. While this isn't an official season renewal, of course, it does bode well for the series — HBO clearly wants the show to stick around, and it's not like ratings are anywhere near disappointing.
Even better, the actors were given major incentive to stay — they all received major pay raises, which makes them some of the highest paid actors on television. So, i other words, no worries about them breaking contract leaving before the show's over: When you're making about $300,000 an episode, I doubt that gig is something anyone would want to give up.
So, who all signed on to the series through season 7? It looks like everyone major is around to stay — however, as The Hollywood Reporter points out, just because an actor has signed on to the show for this amount of time, it doesn't mean that their character won't be killed off in the first second of season 5 or 6. That said: Peter Dinklage, Kit Harington, Lena Headey, Emilia Clarke, Nikolaj Coster-Waldau, Maisie Williams, Natalie Dormer, and Sophie Turner have all renewed their contracts through season 7, amongst "an even more lower tier of actors" whose names were not included in the report.
Now, let us all watch Joffrey being slapped over and over in celebration:
Never gets old.
Image: HBO, reactiongifs.us